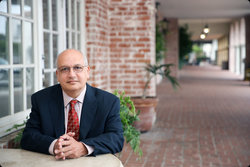 Dr Shahid Sheikh

Palos Verdes Peninsula, California
Executive Coach
Doctorate in Organization Change, MBA (Marketing), Executive Programs in Management, Strategy, Business Leadership, and International Marketing
When you absolutely need to succeed in your career, leadership, and life!
Details

Palos Verdes Peninsula, California 90274
310.928.3501
Send Message
Visit Website
Hourly Rate: $350 US Dollars
Gender: Male
About Me
I help high-impact individuals who are unsure why they aren't making the career & life progress they desire.

You're educated, professional, and ambitious. You want to be successful in your career and life.
But there's a problem…
As a high-impact individual, you're not making progress as fast as you'd hoped, and you're unsure of how to speed things up.
You're tired of being passed over for promotions, and it feels like you are treading water in your career.

And since you aren't a "below the line thinker," you are ready to tackle the challenges and overcome the (often self-imposed) obstacles that are holding you back.
This is extremely good news.

Because it means you appreciate that you, and only you, are in control of what you achieve both in your career and in life.
You just need some guidance. And that's where I can help.
After a 10-year stint in the military and then focusing on my education, I went on to a successful business career holding positions from Captain (R) to Marketing Specialist (IT), Managing Partner to Provost & Chief Academic Officer to President.
Since 1997, I've been an Executive Leadership & Corporate Coach. Here's what some of my clients have to say about me…
"I was shocked when we met because he was so different from the other coaches I had previously interviewed. He really made a connection with me. His approach is just perfect."
Srinivas Pothuganti, Sr. Director & Business Leader at FinTech
"Shahid Sheik is a powerful force of brilliant insight, direction and getting you to get the most out of what you are struggling with."
Wendy Plumb, clothing storeowner
"He changed me. He gave me the strength and confidence to move forward." Raj Bhakta, high-level manufacturing executive
"He's helped me analyze my own thinking and develop the most positive direction to take my career in. He's a great listener and is very insightful as far as the obstacles that I put in my own way…"
George Bosson, CEO, architectural lighting
Reviews
8 reviews (5.0)
"I am senior manager/director at a large multinational corporation. With help of Dr. Shahid I was able to identify my strengths, weaknesses, values and passions which have led not to only greater satisfaction in my current job but also a clear understanding of my next move. He gave me the tools I needed to influence my staff, my colleagues and superiors. I have been working with Dr. Shahid for past 3 months and I have noticed significant improvement in my leadership, coaching and executive capabilities."

Director IT (Automotive Industry)
"Although we started the program with skepticism and doubt, all of us quickly realized the power of Executive Leadership Coaching process. For the first time in our organization's history we established a company Vision, defined Core Values, and started implementing Organizational Goals in a manner that would foster their achievement."

CEO, Non-profit Organization
"The Executive Leadership Coaching process helped us get things done through our employees. We now have a core group of dedicated people who want to make our vision a reality."

Director IT
"As a result of our commitment to the Strategic Plan, our revenues are up over 100% from our sales as of this date one year ago."

Owner Restaurant Franchise
"I have had different people comment on the changes they have observed since the Executive Team Building program started. When I came in here as the new CEO two months ago, this place was like a morgue. Now I believe that our executive team is working together in a collaborative way that I had not seen before."

CEO, Wealth Advisory
"I never would have believed that we would accomplish the expectations that were set out in the first meeting, but we did! We have only just begun to implement the Strategic Plan and already after only two months, we have increase in revenues than we have ever had and, per plan, we are opening our second location."

CEO & Owner, B2B Service Company
"Executive Coaching made me very aware of myself."

CEO, IT
I am pleased to write a letter of recommendation for Dr. Shahid Sheikh. Dr. Sheikh is the principal executive and business coach with Significant Consulting Associates (SCA). SCA offers services that transform business leaders and their organizations using proven tools for people performance improvement and organizational performance excellence. He has demonstrated a comprehensive knowledge, understanding, and acumen of the array of nuances in business and management related issues, specifically in People Performance Improvement and Organizational Performance Excellence. Dr. Sheikh is approachable, an excellent listener, and a person of passion about the necessity of providing nothing short of excellence in helping his clients. Dr. Sheikh understands the frustration and lost opportunities resulting from poor communication channels. As executive coach and management consultant, Dr. Sheikh works hand-in-hand with business and organizational leaders to create a culture where corporate values and mission statements are clearly defined and communicated. He understands the need to improve business processes and management practices, insisting on the continual need to question the status quo, and reach-out to all stakeholders with a sincere measure of individual consideration. Most importantly, Dr. Sheikh is remarkably consistent in displaying the very best of inspirational and transformational leadership. Dr. Sheikh's focus in his practice is overall commitment to inspire the clients while they are increasing productivity and balancing the needs of the organization, which can leave leaders feeling depleted. He believes that well-grounded leaders grow well-grounded companies that stay true to values, while fostering positive relationships among employees and stakeholders. I have been managing my businesses over four years. The type of personnel I would search for to assist in creating a business plan, corporate mission, best practices, and institute a paradigm of inclusivity and commitment to the collective goals is a profile of Dr. Sheikh. If you are looking for an executive coach and management consultant to help you work through some changes that will have a positive influence on your company, I believe Dr. Sheikh can make a difference with your company. Please feel free to contact me should you have questions or want to discuss Dr. Sheikh's qualifications.

President and CEO, California