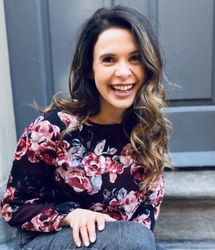 Shanna McAlarnen

Philadelphia, Pennsylvania
Life Coach, Career Coach, Relationship Coach
ICF Accredited Coach Training Program
I help millennials in hiding go from what's predictable to their own true north: discovering purpose, finding direction, and shaping an authentic ideal future.
About Me
Are you ready to choose a career path and aren't sure how to decide?
Are you unsatisfied in school or at work and don't know where to start in making a change?
Are you feeling pressures of figuring out what to do with your life and are still coming up short?
Are you in the midst of a transition in life or career and aren't feeling confident about it?
If you're feeling any similar version of these questions, it usually means you're ready for growth, and aren't connected to your own process. Although it may feel like you're behind or at a loss, you can gain the confidence about who you are and the choices you want to make for your future. I coach those who are in an "in between" phase, to help them gain clarity about their life, so they can have a true understanding of what they have to offer, and confidently apply it to their current and future situations. It's a unique opportunity to connect to your own self, regardless of what you think your life should be, based on society or those around you.
I'm a former medical and training professional who went through a life transition, and it felt like I didn't know who I was. Working with a coach, I discovered my passions and gained the tools I needed to make clear decisions that were right for myself, without having to look for the answers somewhere else.
I have over 10 years of adult education and mentor experience, and my professional training is accredited through the International Coach Federation, and known as "The World's Finest Coach Training Program." My coaching style is positive and understanding, yet direct and honest in order to move obstacles in the way of clients achieving at their best. It will inspire growth, change, and confidence to head in a direction that's natural for you.
Reviews
4 reviews (4.75)
Shanna is great! Shes incredibly supportive, positive and uplifting. The exercises we did were instructive and helpful. During our coaching sessions she was gentle and accommodating while still pushing me to figure out solutions to my own perceived blocks and problems. Would definitely recommend working with Shanna!

Celine
Shanna was very good at listening to my business and goals, recapping & clarifying to make sure she understood correctly, asking me questions that made me think and answer honestly, and discussing steps forward. She helped me create a plan for the coming months that was achievable. It was definitely a helpful session and made me look into my business with a different set of eyes.

Sarah Nolan
Shanna is an excellent coach. She radiates a grace and boldness that not many people can master, and she has an ear for the conversation beyond what's being said. She is insightful and fierce and naturally makes you feel like you can do anything in the face of your fears. I walk away from conversations with her feeling seen and empowered. I highly recommend her to anyone who is looking for support in creating the life that they want.

Meghan J.
I have only positives to say. Shanna is the best coach you could possibly get. She has helped me get into a better and more motivated mental state already in just a few months and I cant wait for what is in store next. I highly recommend her to anyone!

Fahd