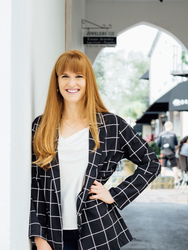 Shannon Rollins

Orlando, Florida
Life Coach, Career Coach, Health and Fitness Coach
MS, Health Education and Behavior, Certified Career Coach, Certified Master Professional Life Coach
I help business professionals create more fulfillment in their work life. I am passionate about helping my clients find rewarding work, achieve work-life balance, and perform better.
About Me
Are you wanting to make a career change and don't know where to start?
Do you have a hard time getting along with your boss and your coworkers?
Do you dread going to work everyday?
Do you find yourself running on empty and feeling pressured to be able to do it ALL?
Let's face it, feeling fulfilled in Corporate America is hard. We have so many responsibilities we are juggling at work and at home. I know what it's like to feel overcome with constant stress, fear, and worry during the workday. To help you, I have created specific intuitive strategies to help you get out of overwhelm and create more ease in life and find joy in your career and home life. With our partnership, you can step into an ambitious lifestyle that suits you while feeling joy throughout your workday.
I take you through my self exploration 3 phase process which has caused endless transformations in my clients. Each session will be tailored to you and your coaching needs along the way to meet your goals.
Clients I have worked with feel more confidence and happiness in their daily lives because they get along better with their boss, have received the promotion, or feel more confident as a leader.
I have 10 years of experience in the the healthcare and corporate wellness field helping my clients with their personal goals, and 5 years of life coaching experience. I also have about 6 years of experience leading teams to optimal results.
In addition to 1-on-1 coaching, I also provide workshops to companies on topics such as leading authentically, work-life balance, stress relief, and building healthy habits.
I have a Masters in Health Education from the University of Florida and also have taught Health courses at Eastern Florida State College. My experiences have fueled the desire for me to help others meet their goals through neuroscience techniques, proper accountability, and goal setting.
Schedule a free consultation with me!
Reviews
Shannon has been a huge help in helping me get my goals straightened out. In just a few weeks, she has helped me find confidence in myself and helped me make positive changes by also holding me accountable. Working with Shannon has made me realize just how much I was missing out on, and because of her, I'm living a much happier life than I was before. I look forward to every single session with her, and I highly recommend her and LivWell Paige Life Coaching!

Gabriela Rodriguez