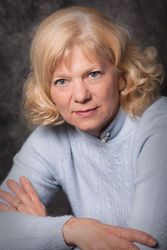 Sharon Ball

Marion, Illinois
Health and Fitness Coach, Life Coach, Christian Coach
BS, MS, MSN, Nurse Practitioner, Certified Life and Wellness Coach, Certified Christian Coach
If you are struggling unsuccessfully with weight loss issues and the related poor self-esteem, fatigue, and health problems that often accompany excess weight gain, then YOU are my ideal client.
Details

Marion, Illinois 62959
Gender: Female
About Me
If you've lost weight before but this time the pounds won't budge, if you are tired of being tired, if you are fed up with restrictive diets that leave you hungry and tired, if life is just too busy and hectic to allow you to lose weight, I will teach you how to take a more realistic and lasting approach to weight loss and make easy lifestyle changes that will not only get the extra weight off but keep it off long term. If you are ready to lose the excess weight that is dragging you down and begin to live the healthy, happy life you deserve plus ready to say NO to rigid diets, strict menu plans, gimmicks and pills and start eating REAL food and get REAL and HEALTHY results, then I am the expert that you seek.
There are many reasons people become overweight or obese and most people have multiple interacting reasons. Some are emotional issues such as bingeing, emotional eating, sugar addiction, etc. Then there are physical problems such as insulin resistance, diabetes, PCOS. Add the easy availability of calorically dense foods, chemically altered foods and our sedentary lifestyles and it is amazing only two thirds of Americans are overweight. I will help you design a personalized 4 step program that address all the weight gain issues that affect you personally so that this time you will succeed.
I graduated as a registered nurse over 30 years ago and I learned from cardiologists, pulmonologists, and other specialists on what to do to be healthy. I acquired two master's degrees along the way; one in Community Health and Wellness Promotion and the other in Geriatrics and Diabetes Management. I became a Nurse Practitioner (also known as a mid-level provider) and honed my expertise in weight loss management through working in a medical weight loss clinic. Finding that people needed more emotional support to lose weight, I became certified as a Health and Wellness Coach and more recently as a Christian Life Coach.
Reviews
7 reviews (5.0)
I signed up for coaching with you not expecting miracles but also being open-minded and wanting to make a difference in my life for health and better living. Your weight loss classes were awesome. I enjoyed the method of teaching me how to modify my lifestyle toward healthier alternatives, it was truly different and a breath of fresh air to receive great information and advice! Wow - now this was different. Since joining 2 and 1/2 months ago I have lost a total of 30lbs! You rock!

Jonathan Cummings, Tampa FL
I had many issues to achieve physical and emotional wellness; however I must admit that I could not clearly identify many of these issues on my own without the help of Sharon's virtual weight loss coaching. As I was able to clearly isolate many of these issues; my needs, goals and desires become obtainable. By the end of our first month of coaching I lost 23lbs and now love my future. Thanks so much!

Samantha Brightwell, Dallas TX
Reinventing Your Life Today has given us the ability to make our relationship better. We were a bit skeptical about buying a guide to help us better ourselves, however the author Sharon Ball has a unique point of view. She made a clear and to the point action plan for us to identify what truly matters in life. These are the things we say we know, but sadly overlook! Her call to action methods were easy to follow and opened our eyes to a point of view we can use as a couple to make our relationship better. When my girlfriend and I get into an argument, we now are able to take a minute to find the core of what we are really disagreeing about. We have discovered that a lot of the choices we had made before studying this program were actually unimportant to us. We are at the point now where we can do anything as a couple and be happy. We appreciate each other more and realize spending money is not necessary to make us happy. We have also started to take care of our health as a couple! Life can be as beautiful as you make it. Thank you, Sharon, for making our relationship amazing!

Bill and Perla, Boca Raton, Florida
I've always believed that we hold within us the answers to our problems, but sometimes Life's stressors make organizing our thought processes difficult, muddying our ability to see these answers clearly. Sharon's book and workbook help to put the chaos into an order where choices and priorities can be more visible to the Mind's Eye. Doing the workbook exercises makes the book personal, a sort of two-way street with the author. Calming the mind and learning to look at our own thought processes honestly and objectively is the beginning of true change for "the man in the mirror," the key to avoiding knee-jerk responses to the difficulties we face.

Teresa M., Marion, Illinois
Sharon Ball has helped me pinpoint exactly what was causing my sporadic dieting. I'd go through times where I would follow a strict diet and then suddenly end up eating every junk food in sight. Once I started to realize that I had unresolved issues and worked through those, my diet has been right on track. My digestion has been so much better lately. I credit her exceptional program for helping to keep me motivated with proper exercise, getting my eating where it is healthier and keeping the weight off. The carb counting was a big help for me and I'm never starving or famished.

Shelly H., MO
The "Reinventing Yourself Thinner and Healthier" program has helped me tremendously. With the balancing of energy, proper nutritional and activity, I feel revived. I was able to do my daily activities with increased energy and clarity. I finally felt healthy again. This wellness program has been a blessing to my health, and that of my family's. This has changed my lifestyle completely for the better. I am amazed at how much more energetic and happy I feel by following this plan.

Chris Rangle, NV
I was so frustrated that I could not lose those stubborn last 20 pounds. I had already lost 25 pounds on my own by going to the gym and reducing my calories, but I could not get rid of that last bit of weight. The program was so easy to follow and helped me narrow in on the problems that I was having in my personal life. I had no clue these issues could affect the weight I saw on the scale. I'm happy to report that I am now 17 pounds lighter than when I first started Sharon's coaching plan. This is by far the best value for the money and your health.

Callie J, AZ.
The Smart Way To Find A Coach

1 Describe Your Goals

2 Get Matched

3 Free Consultations
Find My Ideal Coach Now