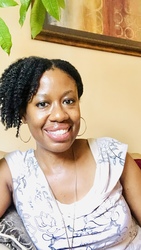 Sharon Callender

White Plains, New York
Spirituality Coach, Life Coach, Christian Coach
MA, MFA, Certified Spiritual Life Coach, Certified Life Purpose & Mindfulness Life Coach, Ordained Elder, Mental Health First Aid Responder
I coach women stuck in doubt and indecision rediscover their inner confidence, courage and wisdom so that they can fall in love with themselves & create the life they have always dreamed of living.
About Me
When my seven year relationship unexpectedly ended and the man I loved walked out of my life, I wrestled with deep rooted limiting beliefs around self-esteem that slowly seeped into all areas of my life, negatively impacting my twenty year career in higher education, along with my physical and emotional health.
After being diagnosed with a stress related illness, I knew I needed to make drastic changes in my life. I embarked on an internal quest to rediscover meaning and wholeness. Spanning a five year period, I immersed myself in the deep waters of transformation and creative expression. During this time, I became an ordained elder and experienced a life-affirming mindset shift that unleashed a joy filled, soul awakening.
While on this transformative journey I earned my MFA in Creative Writing, published two fiction novels, obtained certifications in life purpose, mindfulness and spiritual life coaching, found new love, created an online faith community and developed & served as the leader for an annual interactive prayer service to support spiritual healing, renewal and a connection to God through prayer.
By consciously hitting the reset button, I was able to positively alter the trajectory of my journey. From this place, emotional and physical healing began to organically bloom in my life.
In my coaching, I use the loving spiritual practices that guided me to healing and soul deep wisdom - mindfulness, intentional imagining and creative process. These heart opening gifts will also help you to transmute life's roadblocks into catalysts, molding them into beautiful stepping stones to a new beginning.
I specialize in helping women facing life challenges, breakups, end of relationship grief, confidence issues and stress/anxiety reconnect to healing, purpose, clarity & self-love.
If any of this resonates with you, feel free to reach out to me.
Peace & Blessings,
Sharon
Reviews
Sharon doesn't have any reviews yet.