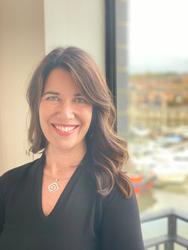 Sharon Oakley

London, England
Career Coach, Life Coach, Executive Coach
MBA, CFA
I coach committed professionals seeking change in their career or personal life to gain clarity on what they want, find momentum to make the change, build confidence and take action.
About Me
I am an American expat living in the UK. I offer online coaching to clients all over the world and face-to-face in Liverpool, London, and Boston (USA). I help you get clear on your goals, overcome obstacles, and create a path forward to where you want to be in your career or personal life. Coaching areas and outcomes include:
Career coaching
• Understand your values and natural strengths in order to find your ideal career
• Identify actionable steps to transition your career
• Build your confidence to prepare for the next step in your career
• Regain your confidence after being out of the workplace
• Create strategies to handle challenging situations in the workplace
• Become more assertive and more visible
• Cope with job loss from a redundancy
• Prepare for your next job interview
• Customise your CV to show your unique talents, relevant skills and career highlights
Life coaching
• Overcome blocks and become a more confident person
• Find what matters most to you and create a plan to get you to the life you desire
• Understand your anxiety and create strategies for coping with situations where you feel most anxious
• Become less overwhelmed, unstuck, and clear on the steps to achieve your goals
In addition to coaching, I mentor clients using my business experience to offer clients insight and guidance where they encounter challenges. I have over 20 years of experience working for large multi-national corporations in a variety of roles where I managed and developed people, led large projects and created programs to support business goals, including programs focused on training and career development.
Reviews
7 reviews (5.0)
Sharon was a great help in my search for a new job. I appreciate her advice as someone who has had a successful career -- her suggestions and advice are grounded in first-hand experience. When I would get discouraged, I really appreciated her ability to be positive and encouraging without being out-of-touch, annoying or overwhelming.

Todd Petracek
I reached out to Sharon when I felt I was at crossroads in my career, constantly questioning myself over what I ought to do vs. what I really wanted to do (and enjoy doing). Sharons support and guidance gave me an incredible perspective and provided me with the clarity that I needed. She helped me break down my goal into actionable steps, ensuring that I remained motivated and positive. Sharon is patient, empathetic and sensitive but also will hold you accountable to your goals. I am grateful for the experience of working with her.

Sugandha
I always walk away from my sessions with Sharon knowing exactly which steps I needed to take to achieve my goals, which is something I have struggled with for as long as I can remember. Sharon always offers insightful, relevant guidance to any problem I bring up but always makes sure to push me to come up my own solutions and ideas. Not only has this resulted in the most effective possible solutions, but over time has given me the ability to solve new problems without the need of a coach, which has easily been the greatest take away from our sessions. I can strongly recommend Sharon for anyone who struggles with feeling overwhelmed. Thank you!

Joe
I enjoyed my coaching sessions with Sharon. She listens intently and empathetically; by asking the right questions she steers you towards finding a solution for an issue. Sharon helped me discover a few things about myself that I had not realised before. She is a very warm and friendly coach who helped me gain confidence in myself and believed in me when I was doubting myself. I highly recommend her -- Thank you so much, Sharon!

Kathrine, London UK
Sharon is a warm-hearted and caring professional who has a real talent for making you feel supported and driven to work on your goals. Since working together I have been able to tackle some hidden limited beliefs and reach greater clarity regarding the career change goals I am pursuing. Always supportive and positive, I have found Sharon to be so helpful and would recommend her wholeheartedly to anyone looking for support in driving personal change and growth.

Maria, London, UK
Sessions with Sharon definitely helped me reflect and clarify my goals for a career change. She is a great listener and very insightful in feedback. We have also put together a plan for the next weeks with the precise timeline, which is brilliant for further steps in my career change. Sessions were very productive, and I would really recommend working with Sharon.

Marta, London UK
Prior to working with Sharon, I was struggling with finding motivation and fulfillment in my business. During our coaching session, Sharon helped me to identify what areas of my business didnt align with the vision of my ideal business. With Sharons coaching, I was able to revise an offer in my business that was draining me to one that would truly excite me and create a launch plan to promote it, so I can move forward towards the ideal business I wanted. If you are struggling with fulfillment in your business or life and need coaching on how to take the steps required to realign and move forward towards what you want, then I highly recommend Sharons coaching.

Angela, Michigan, USA