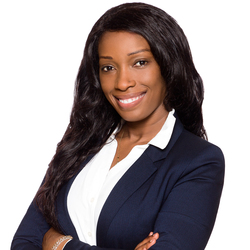 Shauna Vassell

Toronto, Ontario
Leadership Coach, Career Coach, Executive Coach
Certified Professional Coach, Certified Executive Coach
Tired of working more with less? Being pigeonholed in your career/leadership? Or want to build better relationships! I help managers and directors to get to the next level in leadership!
About Me
Leadership can sometimes feel lonely. The buck stops with you and the added pressure can make you feel as if you "should" be working longer hours, "should" be saying "yes" to everything, or "should" be "doing more" to "earn your stripes".
The reality is, you have been successful in your career up to this point, and you aspire for more.
• You want to be more effective in your role
• You want to become the leader your team needs
• You want to make the most of the opportunities, and
• You want to tap into your next level of growth - whatever that looks like...
And if this sounds like you – let's connect!
I work with leaders to bridge the gap between self-awareness to improved performance. My clients come from a variety of industries, including financial services, advertising and marketing, gaming, government, manufacturing, construction, and not-for-profit.
I know your role is so much more than just employee engagement, or playing office politics to hit the monthly, quarterly, and yearly targets.
Managers, directors, and business owners work with me to help them to build more confidence, define their leadership style, grow a cohesive team, improve their performance, and become more effective leaders.
Why? Because I was in your position.
• The constant change/ pivoting/ "changing directions"
• Keeping people motivated in uncertainty
• Firefighting and keeping the lights on
• Working long hours - with little or no support
It is exhausting! And overwhelming.
You need change - not a pep talk in hopes of results
That's why, I take a very practical approach to your career development.
I focus on finding and understanding your blind spots. Working with you to develop the skills and strategies to create key relationships, manage your time efficiently, delegate effectively, and build and nurture a high-performing and motivated team.
Our services include:
Career transition and Interview preparation
One on One leadership coaching
First 15 minutes are on me!
Reviews
15 reviews (7 verified) (4.93)
I started working with Shauna and right away, she nailed down my goals and outlines how she could help me best. I was hired at a new position with a significant pay raise within 3 months. Thanks Shauna!

Christine
yes positive

Montrice Martin
Shauna was incredibly helpful, clearly an expert in her field! She provided tangible and useful feedback that helped to build my confidence.

Feben Aseffa
Working with Shauna was a fantastic experience. Shauna consistently went above and beyond to customize a plan that met my professional needs and goals.Shauna was extremely responsive and flexible. Shauna took the time to review relevant documents and really understand my strengths,weaknesses and the environment in which I was trying to advance my career. As a result in each session Shauna helped me to build on the last. Shauna was well prepared during every meeting and her expertise and knowledge of career development and recruitment was evident. I would recommend working with Shauna to anyone who is looking to advance their career and enhance their competencies in interviews. I look forward to continuing to work with her as my career continues to develop over time.

Heather
Toyin Iyekolo
She had a great personality and was very easy to talk to! A+

Anonymous
Ronald Cyrus
There's no rating higher than 5 stars, but if I could, I'd give them all to you. Thank you for your unwavering dedication, brilliant ideas, and invaluable assistance. You've illuminated areas I hadn't even noticed.

Zeinab
I highly recommend working with Shauna if you need a positive mentor on your career journey. She is friendly, easy to talk too, and she genuinely cares about your outcome because of her caring nature. Shauna's professional process helped me identify my strengths and value, and she offers excellent advice on how to overcome your challenges. She is also generous in sharing her knowledge on how to navigate the job market. After working with Shauna, I have more confidence, and she helped get me on the right path with a clear direction. I am forever thankful.

Owen B.
Highly recommended! Shauna did incredible job with editing my resume . She gave me great tips for interviews and LinkedIn. Got a job interview after 2 days . Very professional and knowledgeable.

Rita A.
Shauna is an amazing career coach. Words cannot express how grateful I am to her and how blessed I am to be working with her as my career coach. My decision to seek a career coach was triggered by difficulty in getting a job after migrating to a new country. I found myself so discouraged and was just looking for a way out of my professional circumstance. Shauna helped me navigate those frustrating feelings. She is an attentive and focused listener that asks a lot of in-depth questions and uses very useful exercises. Those questions gave an opportunity to go back to most of the projects I worked on in the past and it was indeed an exciting exercise. Her coaching has given me the strength and courage to move beyond thought to action and increased my confidence. She is compassionate and supportive, working to bring out the best in me. I would highly recommend working with Shauna as your career coach if you are looking for outstanding results.

Oluwatoyin
Shauna was just the person I needed to help me really get started on my job hunt! She provided excellent advice and always led me in the right direction. Her help with my career planning allowed me to get a real idea of what I needed to do in order to start my career. I would recommend to anyone looking for a coach to talk with Shauna!

Dustin M.
I had a great coaching experience with Shauna. She helped me with my personal issues that once were bothering me so much. One thing I particularly appreciate about her and the coaching sessions with her is she is always so supportive and extremely encouraging and I had valuable takeaways from each session with her. For anyone who wants to overcome obstacles and move from 'good' to 'great' in life and at work, she is the coach I highly recommend.

Min Liu
I was at a time in my life where I was unsure of myself, wondering what the next steps of my life would be. Shauna told me the truth about my life, Her honesty and guidance allowed me to take hold of my circumstances and push myself to start my own business. I think that's what is great about Shauna, is she is candid about your potential. She won't let you give up on yourself.

R.V., Mississauga, Ontario
Shauna was an exemplary career and personal life coach. She took me from a lost, new graduate to a confident young working professional. I was blown away by how much she cared and the tips she gave me for networking and showcasing my abilities in an effective and natural way. Within a year, I was able to land a new job in my field with a solid increase in pay and wonderful and caring colleagues. I would not have been able to do it without her. Thank you, Shauna!

F.C., Toronto