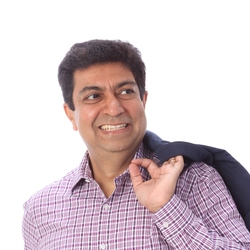 Sheriff Thaver

Toronto, Ontario
Business Coach, Leadership Coach, Career Coach
NLP Certification, Previously certified: Master Trainer DOOR Training, Franklin Covey
Are you an entrepreneur looking for personal empowerment with a desire to accelerate business growth & increase profits? My customized 'Winning in Business' program will get you your desired goals.
About Me
I coach start-up entrepreneurs and small business owners who desire to grow exponentially; however, they are stressed because their business and profits are either not expanding fast enough or are stagnating.
Do you find that despite your best efforts you are unable to move ahead? Do you find that your marketing efforts are not generating the required number of clients? Are you unable to pay bills and want to improve your financial acumen? Do you find that you are unable to hire good employees and are unable to confidently delegate important tasks? Do you find yourself neglecting your personal and family life because your business is consuming all your time?
Running a business does not have to be difficult and frustrating. The reason it is difficult is because of an ineffective business model and some strategies that are working against you.
With my 'Winning in Business' coaching program, I will first identify the challenges in your business and then customize the program to facilitate success. I will work with you to empower you and give you tools to implement your decisions & follow up on your commitments.
My clients have vastly improved their business performance, profitability, employee performance, retained clients with a higher lifetime value, spent more time on their personal lives, and taken vacations since implementing my program. My clients constantly tell me that they are less stressed and more enthusiastic about expanding their business.
'Winning in Business' coaching program is developed from the experience I have gained from being a successful entrepreneur, a business coach with over 15 years of experience and a facilitator for Franklin Covey workshops. I have also included in my coaching business skills and fundamentals of business that I have learned during my MBA and Master in Marketing Management. I have worked across multiple business sectors which gives me a deep understanding of various industries and markets.
Reviews
2 reviews (5.0)
Before beginning to work with Sheriff I had been in business as an energy healer for a little over a year and I had been slowly growing my practice with the aid of my previous business coach. Most of my time was focused on sales and getting new clients. Once Sheriff entered the picture, the focus shifted to processes: Sheriff took a hands-on approach to help me develop a system to keep my clients for a longer term, and to teach me how to present my services in such a way that my clients were prepared to work with me for multiple sessions. Consequently, this approach has allowed me to provide my clients with a better experience and even better results. Now I spend less of my time chasing new leads and more of it improving the lives of the people who put their trust in me to help them. In the first 4 months with Sheriff, I doubled my income! And now within just 3 years of starting with him it is 10x where I started!! If you're thinking of hiring a business coach, do yourself a favour by connecting with Sheriff. Sheriff, I can't thank you enough. You are amazing!!

Renu Arora
When I first unexpectedly met Sheriff, it was exceptionally timely as I had just committed to finding a business coach to help me with my creative tech startup. His experience with smaller businesses, large enterprises, and high-growth ventures convinced me hed be a good fit to help us with our long-term strategy. Sheriff had the breadth of knowledge and compassion to sift through my vast and diverse ideas and challenges. From this, he helped me create a highly personalized process to formalize a strong foundation not only for my company but also for myself. While the majority of the outcomes from working with Sheriff were qualitative more than quantifiable in numbers, I can say this with confidence: before his expert guidance, I was spinning my wheels, unable to prioritize and efficiently produce all the work required to get an ambitious startup off the ground. Within months he helped me focus my processes and start producing a sellable product with passionate repeat customers. Its a testament to the skills I gained working with him that I was able to adjust my companys strategy in the midst of the 2020 global pandemic.

Crystal Wong Kruger, Mississauga ON, Founder of LIOHAN Inc.