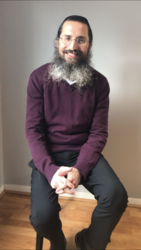 Shmuel Brody

Baltimore, Maryland
Career Coach, Relationship Coach
BA, CCA Certified Life Coach, Rabbi, Meditation Teacher
GET OFF THE COUCH AND GET A LIFE - COACH! I help young professionals who find themselves playing too many video games or watching too much Netflix start living a fulfilling life.
About Me
WHAT I DO: Are you a young professional? Are you doing fine at work but find yourself playing too many video games or watching way too much Netflix? yeah? Are you done with that? If you are you ready to live a fulfilling and energetic life, then we should speak, I 'd love to help you achieve it!

MY EXPERIENCE: I am a Personal Development Coach with over 16 years of experience. I have guided and coached many men and women who have stood confused at the crossroads of life and have helped guide them to their clarity. I am trained in the IFP modality of therapy which is highly effective in moving through suppressed feelings to allow for emotional healing and healthy relationships.
MY X FACTOR: I establish a rapport with my clients that helps them feel comfortable and at the same time my pointed questions allows them to move effectively to their goals. I am a deep listener with a unique voice that helps people feel relaxed. I have a keen ability to sift through confusion and help my clients see things clearly
Check out my website at shmuelbrodycoaching.com to book a free 30 min.
Reviews
4 reviews (2 verified) (5.0)
Anita
Shumel is very attentive to allowing you to direct the sessions based on what you need to get out of them. I left our conversation feeling very motivated. It was an extremely positive experience and I have seen positive changes and results in my life.

Elizabeth
Shmuel Brody is an exelent coach who has insightfully focused me on my issues at hand. I have enjoyed working with him. He has always stayed out of judgement and has carefully guided me in making wise choices. I highly recommend him to anyone who is looking for a life coach.

Richard Adatto
Rabbi Shmuel Brody is an outstanding life coach who has counseled me for over 6 years. There have been many moments in that time that I've had to make decisions both personal and professional and was overwhelmed because I didn't know what to do. It's comforting to know that I have access to someone who has always been able to understand my challenges and guide me towards the best solution. Rabbi Brody's life coaching has helped me build a harmonious marriage and family as well as a successful business. Without his advice and support, I don't think I would have had the courage to take the risks I've needed to take to live my dreams. If you are looking for a life coach, I give him my highest recommendation.

Daniel Rose, L.Ac