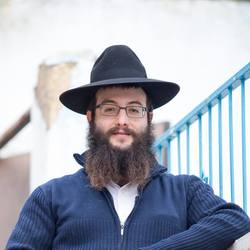 Rabbi Shmuel Kopel

Zefat, Hazafon
Spirituality Coach, Performance Coach, Life Coach
Rabbinical Ordination
You have great ideas you can't seem to get them done? You feel you need to fight yourself, to get through each day? Are you constantly changing careers? Are you traumatized by superstitions? Let talk!
About Me
SEE MAJOR RESULTS AFTER ONLY 4 SESSIONS, GUARANTEED!!!
SATISFIED CLIENTS ON EVERY CONTINENT EXCLUDING ANTARCTICA. IF YOU HAVE INTERNET YOU COULD BENEFIT! IF NOT, HOW ARE YOU READING THIS? LOL!
I coach people looking for motivation, confidence and spiritual clarity. These three aspects of life, are often connected. If you relate with ANY of the following statements, you are likely to gain immense value from my program.
1) You are aggravated by the repetitiveness, simplicity and lack of meaning in life.
2) It bothers you that, you accomplish so much less than your potential!
3) You know what you need to do. However, you can't seem to do it.
4) You yearn for deeper spiritual connection but, you hesitate to explore do fear of religious dogma.
5) You had a deep meaningful spiritual experience but, you struggle applying it to your daily life.
Don't give up! There is a clear paths to solving these issues. You don't need to guess your way to passion, happiness, meaning, and spiritual clarity. I will guide you through an exciting and effective set of reflections that will get you to where you need to go!
For over a decade I have successfully guided hundreds of people to inner peace and endless motivation. My initial program is ONLY 4 sessions and you will see major change in life. I am so confident in my experience that I offer these 4 sessions with a 100% satisfaction guarantee. I don't know ANY other coach with a similar offer.
Life is too short to wait around! You deserve to be proud of who you are and what you accomplish. Let's get to work!
Reviews
3 reviews (5.0)
I was on anxiety pills for nearly two decades. After my second meeting with Rabbi Shmuel, my doctor suggested going off the pill. Wow! Rabbi Shmuel stimulated emotions that I never new existed. As a member of the LGBT community, I never thought I would find what I was looking for from an Orthodox Rabbi. He is a breath of fresh air for me! I don't care how "alternative" it may seem, but this guy is the real deal!

Tina, Chemist, California
As a serial entrepreneur the decisions that I make have an intense impact on people's lives. As much as I love making money, I deeply care about those affected by my decisions. The guilt and confusion was often an impediment to making the right choice. After seeing Rabbi Shmuel for over three months, I built myself a clear moral code that allows me to profit and feel good about it. The clarity and sense of purpose has made me more successful than before. Rabbi Shmuel is the best investment that I ever made!

Adam, Business Owner, Minnesota
Before meeting Rabbi Shmuel I felt like an old man waiting to die. In addition, my religion caused me so much confusion that, I had nothing to look forward to after death. After the second meeting with Rabbi Shmuel, I began experiencing an internal revolution. I am so much happier. I am exited to live the rest of my life, death no longer interests me. Before I even told my family that I began seeing Rabbi Shmuel, my wife and daughter, on separate occasions asked me; "Has something changed? You seem so much happier lately". I have now been seeing Rabbi Shmuel for over six months and it is worth every penny.

Mark, Truck Driver, Maine