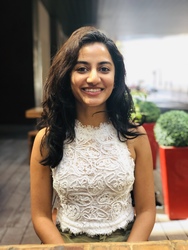 Shreya Maheshwari

Dubai, Dubai
Relationship Coach, Life Coach
BA, Economics and Psychology
Do you feel unloved, overwhelmed, stressed or simply not your best? I work to heal deeply rooted wounds & subconscious thoughts to place safety, peace, meaning back in your life & relationships
About Me
We are capable of leaps and bounds in personal improvement if we put our intention to it. Every obstacle, grief, regret, milestone is temporary if we dare to look and correct it. My work tunes into the emotional muscles and natural instincts that have been dormant; to find barriers and pain points at their root, uplift them and bring you back into your center. Through my training and personal experience, I create an environment of safety, acceptance, and warmth to reach the maximum potential in you. I value truth and personal autonomy immensely and hence accept everyone's reality as it stands for them.
​
Deep conversations and personal work are not difficult, however, sometimes approaching them can seem mountainous. I innovated with my method - combining psychology with art, theatre, movement and linguistics to make conversations easy and safe to approach, keeping the human at the center of the healing.
​
Why carry around pain, when you can put it down. If you wake up feeling distant from love, misunderstood, overwhelmed, stressed or simply that you are not living your best life – we need to talk.
*I am willing to drop hourly rates if it is a good match
Reviews
10 reviews (4.9)
In Shreya, I found an empathetic, sincere, and respectful thought partner as I navigated myself through a series of life experiences past and present, equally alive in memory, and feeling. I am strongly appreciative of her incisive and profound approach, ranging from intimate and thought-provoking conversations to guided self-expression through art, journaling and improv. We dont always choose or control the cards we are dealt, but we always control how we respond to them. In my journey with Shreya, I have continually uncovered insights about myself, and challenged deep-seated beliefs, all the while working towards a realisation of the fundamental truth that I am always bigger than the questions, ambiguities and challenges that surround me. In moments like these, it is important for us to reinforce our faith in principles we have lived by, retrieve our voice, but also, to reiterate and redefine behaviors and beliefs that have never truly served us as much as we like to believe otherwise. Moreover, it is imperative to find closure even when we dont have the answers, and act within the unknown when we dont know enough. I am grateful to Shreya for her earnest endeavor to continually lead me to see this for myself.

Sukriti
I met Shreya when I was going through a difficult time personally. Nothing was going my way and I was on a seemingly never-ending downward spiral. It wont be an overstatement to say that I met finally met myself through her. She helped me see the potential and positivity in myself. The techniques she uses, especially her use of art to retrieve memories that are difficult to access otherwise was the most innovative and effective tool I could have come across.  She brings her personality into the session, providing the most comforting environment to unpack ones self. Shes an excellent listener but knows exactly when to stop you. Interestingly, she stays away from advice. Initially, I was bothered by the lack of advice but eventually, and to my utter surprise, I realized that she had empowered me to make the decisions myself. I cannot be emphatic enough about her kindness and generosity. Occasionally when the sessions continued beyond the stipulated time, she would not point at the clock but would take the opportunity to make tangible progress in the journey. That shows how gracious and committed she is to walk that extra mile to enable her clients to have their best lives.  I was in a pretty bad shape mentally and was almost dismissive of my existence when I started my sessions with her. Today I live in an entirely different world of positivity, fulfillment, and possibilities. Shreya is not just a coach or mentor, she's a true inspiration. 

AM
I was going through stressful time when I met Shreya. I found your work to be brilliant, wise, insightful and pragmatic.Somehow revealing to my true self and our nature of being human. She is very spiritual, honest, caring and generous. She has a gift in her ability to get beyond surface issues and ask questions which move you above and beyond where even you thought you could go. I couldnt have found a more valuable coach thank you Shreya

Tayyaba Raza
I met Shreya at a tough point where I was neither mentally or physically performing to the best of my abilities post a traumatic event. With time, I have poured my heart and secrets out that I have never discussed with my parents or friends. Through her support sessions, I was able to be less insecure and more confident of my abilities. I was able to focus clearly on my thoughts and eventually I was able to return to my peak mental performance and work through my planned goals. If it was not for her support and guidance, I would have missed out on the amazing opportunities that have since crossed my path post our sessions.

Anonymous
I met Shreya for the issues I was facing in my marriage. I was introduced to her through my wife, and initially I was quite reluctant to believe in the entire process. I thought this is going to be about solving our marital problems. However, in some of first meetings, she made it clear the process is not about about the other person, but rather about me. Often the process is about oneself, and hence, we started the work on me, finding me, discovering my inner emotions, my inner fears. I began to realize the sources of my behaviour, and also how that caused issues. The Unraveling of my myself was truly hard, and difficult, specially recalling not-so-good memories, however, with effort and support from Shreya, I managed to do it. I find several new avenues which also allowed me to find my balance. While, I cannot say, the process is complete, what I can say is that I am on the right path, and I have Shreya to thank for. One more point I would like to note, at many points, I just wanted to know the answer to particular emotion, she never lost patience, and constantly encouraged me to find solutions on my own, reflect on my own. That really mattered and still matters. In summary, my experience has been truly rewarding.

SG
I have been taking sessions with Shreya and must say it is amazing that a coach could analyse me so well. She brought out those emotions or thoughts from deep within me that I was never aware of and this has helped me ease my anger to a large extent. She is a very patient listener, soft spoken and yet knows when to stop a person and take charge over a session/conversation. Can coaching help? Was a question/doubt in my mind before I met Shreya and now I can say yes it does. It's like talking to someone who wont judge me for my mistakes and yet correct me without me feeling let down or hurt.

Vijay
Excellent sessions. From my personal experience, Shreya creates a special connect with her clients and is very commited to her work. She is very intuitive and understood my pains with depth and gave actionable solutions, all while maintaining strict confidentiality. Highly recommended for anyone facing troubles and would like a personal mentor and friend.

Elliott Arduino
Dear Shreya, I want to let you know that what youre doing is truly beautiful. I am glad I discovered you on Instagram and attended your group session. I never thought attending a group session would lead me to take up personal sessions with you and then to realizing so much about myself, relationships with my family, friends and my trauma. I knew I was in a bad space mentally but I didnt know why what it was doing to me and why is it so important to heal. When I first started to take up session I had no idea what I was getting into but I knew I needed to heal from within. No matter what I did nothing made me happy. I always used to make myself feel better by emotional eating. Obviously, that didnt work. As you said, I needed to love myself to love others, trust myself and feel safe. I feel so much better since taking up sessions with you. Your words have made a great impact on my life. Taking sessions with you helped me answer my thought and make peace with myself. It wasnt easy to get out of my comfort zone and talk about my childhood sexual abuse but I feel better. It makes me feel good that I came out to my parents and explains so much about my aggression with my partner. Thank you so much for helping and supporting me in getting my voice back, loving myself, learning to say no and working on other insecurities. I will no longer suppress the child inside me and I will bring her out. I am looking forward to our upcoming sessions and be a better version of myself. Lots of love to you

Anonymous
I was very stressed and confused with my thoughts and overthinking all the time. I stacked up with all emotional feelings to myself which I never realized. I reached out to Shreya for classes. Her sessions made me very comfortable to talk to her about everything I was going through. Her questions revealed many answers which I never thought of asking myself. Her guidance made me feel that I was unfolding so many past feelings that I was holding on to and helped me to know my self better. I am very happy that I met her. I can go on how she helped me to become the best version of myself. Thank you, Shreya !! I will recommend my friends to try her sessions which are very helpful, motivative and inspiring.

Rahul Tiwari
Reflecting on the last few months, I have realized that deciding to work on my self-improvement goals with a coach was a great decision. My sessions with Shreya have been crucial to understand my limiting behaviors and the roots from where they begin. I have always felt comfortable in our discussions and appreciate their candid nature. We were able to engage in difficult conversations while keeping things constructive and action-oriented. The post-session assignments allowed for moments of unfiltered, yet structured reflection and were varied enough to uncover different patterns of behavior. As someone having to travel frequently, it was crucial for me that there be flexibility in our session timings and Shreya was always able to accommodate my requirements as well. All in all, my sessions with Shreya have been fruitful and have provided me with ample food for though as well as more tangible actions that I need to unlock the next phase of my personal development.

RI