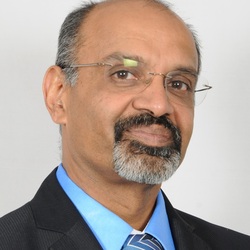 SKG Kartha Bangalore, Karnataka
Career Coach, Executive Coach, Team Coach
BS, Certified on Marshall Goldsmith Stake Holder Centered Coach; NLG; Growmore Avenues; Core 100 from RMT; Gallups Coach
I coach anyone who is focused on intentional and rapid growth in their career, personal life or in contributing to society by finding strength within and taking responsibility for themselves.
About Me
Having spent over two decades in ultimate stress environments and having successfully led men, during my stint in the Army, I understand that limitations and fear are self-imposed terminologies. Environments that stress some, excite others. Obstacles and opponents are universal. People who merely live their lives focus on the obstacles while successful people focus on their destination.
In pursuit of better understanding of human behavior, I have passionately followed the teachings of renowned experts in the field of self-discovery, success and performance enhancement. I have focused on learning the skills of coaching and helping those in need from the best master coaches in the world to ensure that my clients benefit and get the best value in the least amount of time.
The big picture may range from personal goals such as finance, health, intellectual and spiritual growth or relationships to business and career goals. On the other hand, they may range from fun goals such as travel or adventure to contribution goals. Each individual finds his own dream and source for happiness and fulfillment.
My own goal is to help my clients create their own larger pictures and help them pursue each of their goals with unlimited passion. My excitement is to scale the summit and celebrate success with each of my clients.
Reviews
Testimonials
"I have had real value from my coaching sessions with Kartha. With his help, during the course of the sessions which began with a lack of clarity on "how to", I could envision and chart out clear maps and real paths to follow. I also felt myself accountable to my own commitments and hence found it compelling towards following through on my commitments which helped me in achieving my goals. Kudos!"-Sapna

"As a coachee, what matters to me most is that the coach actively listens, silently gives the strength to continue exploring and share thereby deepening my connect with my core. Kartha does all this beautifully and made me feel completely in control and put me in the drivers seat while finding answers to my questions/ anxieties. His extraordinary penchant for perfection amazes me. His commitment, honesty, forthrightness in bringing out the best in me are unique"

Yogita, Training Consultant