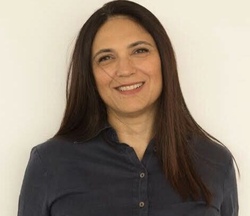 sofia jafar

Manama, Capital
Life Coach, Relationship Coach, Performance Coach
BA, LLB
I coach men and women to understand their own challenges. By using an online Assessment, I help them isolate the stressor and create a personal plan towards a more fulfilling and stress free life.
About Me
I am a certified Core Energy transformation/performance coach from iPEC school of coaching,I am a life strategist, a mother, and a wife but first and foremost I am an empowered woman.
I believe that it takes a lot to accept that we want to change. I believe that change is inevitable,the choice is optional. I believe that everyone wants to realise their dreams.To believe in themselves.Some find it hard to voice their fears, others want to re-invent themselves and be an entrepreneur or form meaningful relationships. Why do they find it so hard to execute what they want?because everything they understand and believe in is questioned and analyzed by those around them. Self-esteem, self-image, building a dream, resisting peer pressure, managing expectations and staying on top of things become daily battles.
Sometimes, it is only a small adjustment to realign. All we need is a purpose - a vision - and to build self-confidence, to push away self-doubt and move away from our default existence so that we can grow ourselves and our dreams.
How do I help my clients?
I use an Assessment to identify the area of stress(the stressor). We then, together set a Future Progress Plan in action which
- explores new goals;
- broadens your sense of what's possible in your life, done by becoming aware of your internal world, your driving motivations and self-limiting factors;
- provides real tools that help you reach your full potential;
- raises the deeper questions that you may otherwise not ask yourself;
- challenges you to think bigger and start questioning the "story" you have been telling yourself and have begun to accept.
All this leads to your striding towards making permanent and profound shifts in the way you approach your challenges, your goals, your world, and those around you. This impact continues way beyond your coaching experience.
Core Energy Coaching helps you achieve sustainable external results by making profound internal shifts.
Reviews
5 reviews (5.0)
I am now a very different person from the one that had the first meeting with Sofia. I am now in a much better place, I am happy. Sofia turned my life around.

Victoria Shaban
My experience with Sofia was positive and thorough from beginning to end. I felt we worked symbiotically to reach where I wanted to be post coaching and beyond. She uncovered areas of my life and my character that I wouldn't have approached yet were necessary for my progress. Her coaching has become a part of my daily life and has made many, many changes for the better.

Gee
Sofia is an amazing life coach. She is very empathic and professional. My sessions with her helped me truly move forward with life. She has a versatile tool box that can help anyone gain clarity, make great change, and create next steps while having a supportive ear by your side. I was blessed to cross paths with Sofia at a super challenging part of my life!

Ally
Sofia has been inspiring, motivational and totally understanding of my needs. She is very insightful and gifted at reading people and challenging them to make the right choices. She came into my life at a very difficult time and helped me to manage my stress levels and to make choices that improve my well being. I would recommend Sofia to anybody. She is amazing.

Andrea Bonham
I am really enjoying Sofia sessions , she works professional and follow the schedule and the plan we puts in the beginning to reach the goal , I like her efficiency and her ability to brake all possibilities.

Iman Fouad