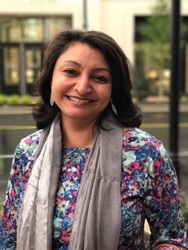 Sona Tank

Alpharetta, Georgia
Life Coach, Spirituality Coach, Health and Fitness Coach
"Women's ReInvent Coach - shift from Survive to Thrive"
Ladies, I bring your dreams and goals ALIVE, by walking every step of the way with you, from conception to implementation! I support you to shift from "SURVIVE to THRIVE", ready to ReInvent yourself?
About Me
As a busy working (inside and/or outside the home) woman, Mom, wife, and daughter myself, I understand and live the various changes and challenges that we are being thrown into, almost on an everyday basis.
I have exclusively coached and supported women, especially Moms, since 2013 to get them to the finish line.
I have a 4-year degree in Engineering from India and have 15+ years of corporate IT experience. I got certified as a Life Coach after trying to walk a fine balance of trying to be successful at a full-time corporate job plus running a home and raising happy & healthy kids in this generation, not to forget my own emotional and physical health. At one point, I realized I had to shuffle a few pieces in order to really LIVE with joy!
A majority of us have had to move away (physically and otherwise) from where we grew up for jobs or studies and sometimes don't have the support and understanding of the people we grew up. In today's world of 24/7 negative fear-inducing news cycle and social media, it's very easy to feel even more overwhelmed and isolated.
I understand it because I have been there and still do some days. But now I have the tools, skills, and resources to work through the changes and challenges and I can help YOU navigate through them, as well.
I can support you through any of life's transition and transformations!
Do check out my recommendations. Give me a call today and let's get you to upgrade to your joy and balance!
Reviews
7 reviews (5.0)
have been involved with Sona's life coaching sessions, while starting a new consulting business in Georgia. This start-up presented with many challenges and barriers. Sona was able to refocus my attention to cultural expectations and healthcare turbulence due to political climate in DC. This helped me to redirect my concerns from myself to the more accurate climate of social change in the work place today. Since participating in her coaching classes I have decided to go back to established healthcare venues and have been successfully interviewing for a new types of clinical positions. Thank you Sona

Anna O., Clinical Pharamcist, MD
Sona is very professional and she creates a very safe environment during the coaching session by being non judgmental and supportive. Although she can readily provide some very good advise, instead she asks questions and provide tools which allowed me to be introspect and begin meaningful changes towards a more fulfilling, balanced and happier life. I can already see the results within a short time. I highly recommend Sona as a life coach.

Runa, working Mom in NJ, USA
Having stayed home for a number of years after having kids, I needed help to go back to work. Sona helped me clear my doubts and build my confidence, with a positive attitude by giving me handouts that explored and clarified my long-forgotten passions, skills and interests. As a result, I was able to narrow down some exciting career options to pursue.

Savita, Mom, choreographer, local personality in GA, USA
Sona changed my life. Really, she did. I'm a professional early 30s woman with an established career, good friends, positive self-esteem and a bright future. Yet, there was a low level feeling of frustration, blocked energy and mild dissatisfaction… at the topsy-turvy world I found myself in, conflicting desires between love, work and family, and the general balancing act of being a woman. I felt stuck. I needed help. That's how I found Sona. She helped me to navigate my seemingly conflicting desires (I learned how to make them compatible), clarify my values and identify a new vision for my life. There was laughter, tears, and the sheer joy from connecting with a truly kind, insightful soul that holds space for my greatness. Four months later, my life is back on track, better than ever with a promotion in the wings, new love on the horizon and a happier, more serene me. I'm so glad I took the initiative to invest in myself by working with Sona!

S.W., Medical Student, Sister, Daughter, Aunt, Columbia,SC
My Dear Sisters, On a whim, and out of curiosity, a friend and I decided to attend a workshop called Women in Transition, which was led by Worthy Journey's Life Coach Sona Tank. Neither of us knew what to expect, and we assumed it would be a one and done encounter. I cannot begin to tell you how much inner joy, peace and positive energy permeated the room that day. What I can tell you is that the experience was so powerful that I became a regular attendee. As a woman, I realized that the pressures of life had become overwhelming, and that I was no longer living life, but instead, wandering around aimlessly through it. There was a blind spot in my life that I did not know was there. The group sessions provided much needed emotional support from other women, and were eye-opening and cathartic. However, my greatest personal advancements came in my more intimate, in depth, one-on-one sessions, because they allowed for greater self-discovery. Sona provided me with resources such as the Life Wheel, writing prompts and reading materials that made me think about who I really am and what I really want out of life. She has helped me to identify and address my own needs, and taught me to rediscover the "me" who'd gotten lost inside of everyone else's desires and dreams, and to take back my power. She has been a positive influence who has encouraged me to map out a "blue print" or a plan for the next day, or for my future in a healthy and measurable way by taking smalls step daily towards my life goals. It is very rare that you meet someone who is honest, genuine, and has a really positive and beautiful spirit. The light that shines in Sona has illuminated my life through her coaching and support. The benefits I have received from this partnership have been immeasurable to me as well as to my family. They have aided me in refocusing my energies and finding a direction that has been "tailor-made" for our bright futures. Sona has provided me with a safe-space, as well as a "pain-free and pressure-free" zone! Her coaching style has taught me many life lessons, and I've been encouraged to move forward and develop at my own pace towards a future that had previously been sitting idly, or frozen in my imagination. I'm excited to see what the future holds. May God's grace be with you all.

Corrine, GA
I have known Sona for over a year now. When she suggested me meet, I was a bit skeptical. I went with no expectations, Understand, that I have lost my faith in humanity. I have reached a dark, bottomless bit and wondered if there was any hope. I was blown away. She made me comfortable, and listened to everything, as I poured myself out. Mind you, she had arranged for a babysitter, in order to facilitate this meeting. We talked for a long time. I poured myself out. I felt a sharp penetrating light. (hope) Sona encouraged me to come to the meetings. I am uplifted every time I go. She has continuously texted and checked up on me. The light continues to shine and gets brighter every day. Sona is a caring, emphatic, loving and dedicated person and I wholeheartedly recommend her for anything she chooses; you will not be disappointed. Please contact me for anything you may need. Sincerely, Asha U.

Asha U., Mom and more, GA
The Healthy Transitions group hosted by Sona is a safe space where I could take stock of progress and look at tools to work through the ups and downs of change. Her calm voice, prompting key questions of precision, guiding open discussions on wellbeing in a times of turmoil, is just a wonderful place of consciousness! Walking out of her group sessions one feels that little bit lighter and freer. This helped me in the first months after I moved back to the US from 15 years of living in Europe. Having lived in several different countries, I was well versed to adapting to and learning different cultures and languages, however what I've learnt in her groups was the added value of a community of strong women living through significant life changing events. I would highly recommend Sona to anyone thinking of change (before, during and after) and needing guidance along the way or at any stage.

Jacy M., Implementation manager, strategic partnerships, coordination, research, communications, policy and advocacy, GA