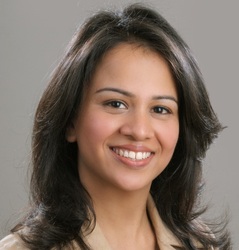 Sonal Kalra

Melrose, Massachusetts
Life Coach, Spirituality Coach, Relationship Coach
BA (Psychology), PGDBM - Human Resources, Masters in Labour Laws, Diploma in Training and Development, Certified Meditation Teacher
Facilitating growth and helping people maximize their potential in order to lead the lives they want. I believe in self-empowerment. I offer coaching as well as meditation sessions.
Details

Melrose, Massachusetts 02176
Gender: Female
About Me
Do you feel dependent on the reality around you in order to feel good? Does that dependence make you feel frustrated? Would you like the way you feel to be independent of your reality? In other words, would you like to experience true freedom?
Are you in a vicious cycle of one unpleasant experience after another and would like to break that cycle?
Do you feel that everyone else is better than you?
Do you feel helpless? Would you like more clarity in what is truly happening and how you can be in control of what's happening in your life?
Are you at a crossroads in life and would like to figure out which path to take?
Do you want to connect to the power within you?
Instead of living life reactively (i.e. by default), would you like to proactively take charge & create the life you desire?
Do you want abundance, fulfilling relationships, better health and the ease to do the kind of work you want to do in your life?
Do you want to live a life that you truly desire?
As a Life Coach, I believe in building trust by offering a non-judgmental, transparent and emotionally safe environment, understanding the human psyche, creating a partnership with my clients and empowering each individual to connect to the power within. I bring an inside out approach to life coaching which encompasses relooking at one's beliefs and questioning assumptions in order to create the life one wants. I blend my background in Psychology, which makes it easier for me to appreciate research, with spirituality as I believe that for change to be sustainable, it has to make sense to one's mind as well as touch one's heart.
I earned my undergraduate degree in Psychology (Hons) in 1996. I went on to complete my Post Graduation in Human Resource Development and also a Masters in Labor Law and Labor Welfare. I also have a Diploma in Training and Development. I have 20 years of experience in HRD, Learning & Development and Coaching having worked in organizations such as Gap and Heidrick & Struggles.
Reviews
18 reviews (5.0)
"I've had the pleasure of being coached by Sonal and I appreciate Sonal's work with me. I have seen great results in my life as a result of the coaching with Sonal. Sonal truly helped me realize which direction I really want my life to go. After each meditation exercise with Sonal, I felt so relaxed and after each coaching session, I found myself feeling better, stronger, more confident and inspired. I feel that I have reconnected to myself and to my power. I thank Sonal for all the advice and help she gave me over the past months."

Hala K, Legal Intern, MA, United States
Sonal is a thorough professional who is highly dedicated and meticulous with her assignments. She is very committed, self-motivated and is passionate about whatever she does in the space of training and development. While working with her at Heidrick, I observed that she had set not only high quality standards for herself and her training deliverables but also achieved them to the core. It was a pleasure to work with her and I look forward to work with her again in the future.

Joy Suchitra, Manager - Research
Sonal is a talented and enthusuaistic learning & development professional with a natural flair for people development. She is a sincere individual who pursues her professional passion in growth & development to serve the needs of diverse business stakeholders. Sonal connects well with people, has an amiable disposition and possesses great collaborative skills.

Subir Vyas, Associate Director - Human Capital at MicroSave
A go-getter, driven by passion, Sonal is a professional who has a great background in training and HR. She is a good thought leader and drives results. Sonal has good relationship skills and is an influencer and collaborator. She also has excellent people skills and works very well with all levels.

Atul Mathur Finance & Accounting Professional at Atul Mathur & Associates, Chartered Accountants
A few things that I sincerely like about Sonal is her professionalism, balanced personality and communication style, sound knowledge of her domain, flexible / effective training delivery style and last but not the least, her infectious energy and smile. I have attended a few training sessions led by her and I was extremely impressed with the way she managed a diverse group and delivered key messages

Saurabh Das, Manager Research (talent acquisition) in a leading conglomerate in the UAE
"The program was really helpful as it made us realize the importance of Communication Skills. Moreover, it helped us in identifying the problems which we faced in the past and how those can be solved with effective communication skills."

M.B., Researcher
"It was a fantastic experience, great learning and lots of brain storming. I would like to sincerely thank the management and the trainer for putting this great effort in the pursuit of making us evolve as better individuals and employees."

N.S., Group Leader
"I have been going for marriage counseling to a marriage counselor for the past few months but every time I left the counselor's office, I felt that something was still left to be addressed. It was as if the session wasn't complete but with you, it has been different. I have never felt as empowered as I do now after this session with you"

M.R., Canada
"Excellent session. The training was conducted through live examples from day to day life. Fun was used as an element to break the monotony. The trainer was clear about the whole session and helped us in understanding the entire process. Over all, it was brilliant."

B.K., Researcher
"The training on Management Fundamentals was a very interactive session. A lot of activities were done on the day-to-day situations which we face everyday and therefore, it was very helpful. It would really help us in managing our teams in a better way"

S.K.D, Manager
"We would like to thank you for your contribution and support to our learning. The interaction has been invaluable and we are enriched by your association"

Department of Business and Technology, Pearl
"Great Job! I am glad that Sonal handled the Leadership development program for us rather than anyone else. The program has truly exceeded my expectations."

Atul Bahadur Mathur, Managing Director, Knowledge Management Centre, Heidrick and Struggles.
"Thank you so much for the wonderful session. I can't even begin to tell you how well received your session was. The one team member who wasn't able to make it was feeling so bad based on all the discussions and raving reviews your session was getting here from the participants."

Shivani Singh Kapoor, Founder, Intellitots
"The sessions with Sonal were very helpful. They helped me put things into perspective. Now I feel a sense of calm over me. Sonal, you are an evolved person and the coaching with you was fabulous"

Neelam Chaudhry, Sourcing and Merchandising professional, Delhi
"Sonal is a very good coach. She always came across as a person who listened well and offered solutions. I will always feel comfortable seeking Sonal's help in dealing with issues of career progression and people development."

Tanmoy Chakrabarti, Transfer Pricing Economist, New Zealand
"The coaching sessions with Sonal really allowed me to improve my relationship with self. I am a much happier person and more lovable to myself. I was trapped in "good girl syndrome" which was working against me Sonal helped me to identify what is really important for me. Now I have a sense of direction in my life. I feel a lot more focused. Without ever directing or telling me what to do or think, Sonal has helped me take a step back and recognize my own strengths and take my own logical decisions. I look forward to all the future growth I will realize with her guidance. Sonal, you are an amazing coach. Thanks for introducing me to a beautiful positive life. A big big big thanks to you."

Mandeep Ahuja, Human Resources professional, Delhi
"The difference I feel, after I started coaching with Sonal, is that I can manage my emotions better and really understand my relationships. She listens with patience, asks questions which make one introspect, inspires new ideas, offers useful suggestions and is non judgmental. For the first time in my life, I started doing meditation as part of the coaching process, which Sonal follows. Thanks to the regular meditation, affirmations as well as the insights and tools shared by Sonal, I can control and calm my nerves easily as compared to earlier. My comprehension of firstly, myself and then of people, in general, has improved which has helped me make sense of what was happening in my relationships. The strategies suggested by Sonal have helped me deal effectively with a lot of stress in my life. I have also learnt how to consciously and consistently focus on thinking good feeling thoughts.For me, one of the biggest gains out of the coaching with Sonal has been concentrating on my relationship with "myself" and thereby living my true potential. She has been crucial to the growth, which I have introduced in my life. I would highly recommend Sonal as a Life Coach."

M.K., Delhi
"When I started coaching with Sonal, I felt that here is someone who understands me. Sonal was able to see where I was coming from and how my life was. The activities and exercises during the coaching helped me in seeing clearly what I truly wanted, what was holding me back and how I could reach my dreams. Sonal helped me in learning how to delve deep within into my own wisdom. I feel empowered now."

S.C., Delhi
The Smart Way To Find A Coach

1 Describe Your Goals

2 Get Matched

3 Free Consultations
Find My Ideal Coach Now