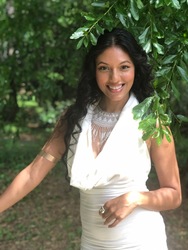 Sonali Sadequee CHHC

Atlanta, Georgia
Relationship Coach, Health and Fitness Coach, Life Coach
Imago Professional Communication Facilitator
Are you stuck in cycles of disconnect/conflict/withdrawal/etc.? I coach adults how to create healthy, emotionally safe, and connected relationships through effective and clear communicaton skills.
Details

Atlanta, Georgia 30032
Send Message
Hourly Rate: $155 to $195 US Dollars
Gender: Female
About Me
Do you crave greater safety and meaningfulness in your personal/professional relationships but often feel stuck/challenged in how to make it happen?
Do you feel that you have to shut away from others to protect yourself? Or do you find that others shut away from you?!
Are you unclear about how to practice healthy boundaries, protect your heart, and still show up for people in your life that you care about in a way that is mutually respectful, meaningful, and empowering?
Are you feeling stuck or sitting with disappointments, fears, hopelessness, and/or numbness as a result?
If so, I am here for you so you don't have to do this work alone.
I believe that with psychologically sound tools and daily practices, you can transform your relationships and help you recreate healthy, alive, and joy-filled relationships again.
I believe in the healing power of relationships, safe conversations, healthy boundaries, collective-care, and self-care.
I am a trained Imago Communication Facilitator certified directly by Imago Relationships International. I serve on the board of directors of Imago Relationships of North America, a national non-profit organization comprised of clinical mental health practitioners who envision a world where people are empowered with communication skills to cultivate safe and connected relationships with each other.
I am also the founder of Sustainable Wellness, a wholistic coaching practice in Atlanta since 2007.
In my coaching programs and workshops, I bring a wide range of modalities that include the Imago Intentional Dialogue, Safe Conversations, and psycho-somatic resilience practices to support clients create and re-experience passion and aliveness in both personal and professional lives.
I invite you to contact me today for a free 15 minute conversation to determine if we are a good fit.
Reviews
7 reviews (5.0)
I must give the greatest of gratitude to Sonali as her Communications course has not only changed my life and my relationships with others, but by using the techniques I have learned I have been able to impact the behavior of those near to me and they have benefited as well. I entered this course believing I was a good communicator and just wanted a few tips here and there for some minor improvements. What I have received has changed the way that I speak, changed the way that I listen, changed the way I view my connection with others in the world around me. I have experienced near complete 180 degree of changes in some of my most difficult relationships. Those difficult relationships are now some of my most connected relationships, and I can certainly attest this change to the styles and techniques I have learned from Sonali. The IMAGO dialogue structure has not only helped in my personal relationships but it has also been a huge benefit at work when having to participate in difficult conversation with a direct report or with my superiors. No matter where you feel you are, or how great of a communicator you believe yourself to be, I can tell you for certain that Sonali's communications course will add lots of value to your life and those around you. Lastly I must also give recognition to Sonali as her personality and teaching style is perfect to create the best space that will allow you to grow. I have felt understood, free from judgement and even challenged to be a better me. Sonali's ability to encourage me and uplift my efforts has made every interaction an amazing experience and I would urge you give her a try. Tell a friend to tell a friend and we will surely make this world a better place one person at a time!

AJ
Sonali's conscious communication coaching focused on the Imago dialogue has given me a nuanced understanding and practical skills with this life changing method. With her support, Ive been able to make Imago dialogue a regular part of my communication practice both personally and professionally. More broadly, with Sonalis coaching, Ive been able to deepen connection in my relationships, show support to others more deeply and frequently, and ask for what I need, in ways that are viscerally evident. Ive also benefited from Sonalis wisdom and communication coaching focused on healthy boundaries, recovering from trauma and supporting others to do so, spirituality, and supporting others across differences amidst a world warped by systemic misogyny, racism, and heterosexism. Sonali is a gentle, patient, intuitive, loving, bold, and direct coach, all at once! I highly recommend her as a communication coach!

Susan Hagood
Sonali has had an amazingly positive impact on my life over the 3 years that I have been her client. She has coached me in relational skills that are based on mutual respect and a deep desire to clearly understand and empathize with people. Sonali's communication coaching has helped me recognize some of my own biases and tendency to rush to offer advice often when none has been sought. My ability to not judge others and to empathize with them has been improved under her careful and skillful guidance. These relational skills benefit my life because I am better able to approach others with problems in ways that help them help me. Perhaps more important, I am better able to understand people who are having problems with me and to work with them so that I can help them. I am deeply grateful for all that she has taught me and for the support she has given me. I intend to continue as her client as long as possible. She also teaches yoga and the heart centered meditation that is at the core of true yogic practice, and it was in that role that I first met her. All of her students were struck by her infectious good nature and her ability to encourage us to do things we did not think we could do. She models the warmth and kindness and acceptance that we all hope to gain from meditation practice. She is, I believe, someone genuinely interested in making the world a better place through her teaching and by her actions. I strongly recommend that anyone interested in inner growth and improved relationships with others find a way to study with her.

David Lawson
I have attended multiple coaching sessions from Sonali over the past year and I highly recommend it. Sonalis knowledge and passion paired with a comfortable, inclusive environment has helped me to shed fears and really allowed me to dive into the work. Prior to attending these coaching sessions, I found it difficult to express myself and build genuine relationships with others. I interact with many different people in both my personal and professional life, Imago has given me a structured method to communicate with everyone in my life. The biggest gain from the sessions was the greater understanding of self that I developed. I better understood my weaknesses and strengths in communication and how they affected my relationships. Listening was a weakness that I did not realize that I had. After a single session, I became conscious and intentional in my communication and my listening skills improved ten-fold. The work that Sonali does is something that I really believe everyone needs.

Anonymous
I met Sonali in early 2019 after receiving an invite to her yoga practice through a mutual friend. After having just ended a particularly abusive and traumatic relationship in my life, I found myself in search holistic practices to reconnect to my body and foster healthier communication in all of my relationships, including with myself. I had little context for Sonalis Tuesday evening gatherings, but a close friend spoke highly of the community that had developed and the ways in which she was experiencing a transformation in how she was able to make space and listen to others. I went, and have continued to develop my health and communication practices with Sonali ever since. She has challenged me physically in her yoga practice, as well as emotionally and intellectually within the Imago trainings. Sonali has an instructive and interactive approach to teaching, allowing students to retain the experiences of her lessons rather than just trying to memorize a particular formula. Human interactions are already complex, but they become even more layered while navigating through emotional responses. Sonali's integrative teaching accounts for this complexity by having us utilize and strictly adhere to underlying Imago principles while applying them to the immediate experiences of people with whom we are building community. This consistent, mutual engagement has allowed for people who have little basis for relationship to feel held, heard, and seen by each other. During sessions, we put a lot of effort into mirroring a persons experience by matching language and tone, and complementary non-verbal expressions. We do this to ensure that we are hearing as precisely as possible the message that is being conveyed, while engendering a sense of comfort and empathy. We mirror without contributing our own thoughts or judgments, and are able to create space to allow for further elaboration and clarification of what a person is saying so that we truly get it. Although this is only one part of Imago communication, I have been able to utilize this technique in several relationships outside of our community, in both personal and professional interactions ranging from topics like how someones day went to how someone is experiencing racialized otherness within a U.S. context. I have been able to cultivate safe, consensual moments of intentional sharing that has deepened and strengthened multiple relationships in my life. Imago communication coaching by Sonali has given me tools to regulate my physiological and emotional response while interacting with people different from me in ideology, identity, and background. Sonalis particular skill set includes implementing yoga and meditation to create calmness and self-connectedness before learning these strategies. She is a warm, thoughtful, confident, and commensurately assertive and firm instructor that gives feedback without condescension or blame. She successfully fosters an environment that encourages vulnerability and reflection week after week, and shares much of herself in the process. It has been a truly life-altering experience to be under her guidance and expertise; I would highly recommend working with Sonali if you are looking to find ways to become more present and compassionate in relationship to yourself and others.

Kat B.
I have so much gratitude for Sonali's conscious communication and relationship skills building class. I have been attending Sonalis classes for over a year and it has made a huge impact in my life. The communication portion of her classfocused on Imago techniqueshas honestly transformed the way I approach all my relationships, from family to work to loved ones to random people I encounter. I feel I am so much better at listening, at being in control of my responses, noticing how my nervous system is affected by my surroundings, and being a compassionate and supportive friend who communicates clearly and can truly hold space for someone. Sonali is a rare person who teaches and facilitates with confidence, strength, openness, and lovethis is her passion, her lifestyle, her way of existingand it is such a gift for her to share it with clients and students. She has a firm sense of compassion for humanity and a drive for justice that guides all of her interactions and her work as a whole. Sonali inspires others to live that way too. I would recommend Sonali's coaching for anyone who is wishing to learn skills to kindly navigate tough conversations, become a more thoughtful friend or partner, or begin the process of stripping away the harmful modes of communication that are taught to us early in life in a society structured around capitalism.

Emily W
With Sonalis coaching, I have learned how to manage my emotions and energy in a better way during conversations with people. I learned how to understand and feel what others say and not just hear it. Sonalis coaching has helped me better communicate and connect with my partner and better understand my friends and family when I am speaking with them. At work I feel more able to communicate my ideas and thoughts with my colleagues and team. She has also expanded my understanding of myself and my personality and how to interpret the internal dialogue that is happening within me. New relationship skills that I am going to practice for the rest of my life as a result of working with Sonali is how to Listen/Understand/Feel the other person and make sure I got what the other person is expressing. Life is a continues learning process, specially learning and enhancing our abilities and skills for ourselves, for others and for a bigger cause that can serve our purpose in life. I was super surprised when Coach Sonali opened my eyes about something I never understood/knew before about my personality. This thing has been affecting my entire life and every aspect of my life. With Sonalis guidance, I finally understood that I have an empath personality. She educated me on what that means and it made total sense to me about how I used to get affected by so many things happening around me and I didnt know why! Because of Sonali, I have this new awareness about myself and it has changed my life for better. I totally recommend Sonali for anyone who want to make enhancements to their lives. Just within a very short period working with Sonali, I understood so many things that I didnt know before about me and my personality and my abilities. Sonali opened my eyes to things I never noticed before and really appreciate that I found her and totally recommend Sonalis coaching to everyone who wants to make his/her/their life better! Sonali, will listen to you, understand you, feel you and guide you. Thanks Sonali!

A.Swelam
The Smart Way To Find A Coach

1 Describe Your Goals

2 Get Matched

3 Free Consultations
Find My Ideal Coach Now