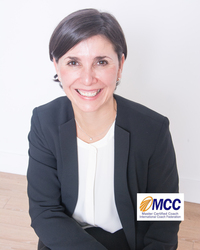 Sophie Bizeul

North Vancouver, British Columbia
Career Coach
PCM - Where passion meets profession...
Are you a mid-life professional looking for more meaning in your career? Together, let's design a career plan that will connect you to your deeper sense of purpose and mission in life.
Details

North Vancouver, British Columbia V7K 2V1
Gender: Female
About Me
• Are you dreading Monday mornings, working in a career that offers many benefits (money, status, security, etc.) but is draining your energy – and wondering what else may be available?
• Maybe you already have an idea of another career but are not sure what it would take to get there?
• Or do you feel held back by self-doubt, fear or any other limiting pattern or behavior whenever you try to move towards a career that truly inspires you?
If your answer to any of these questions is "yes", then you are at the right place!
Together, we will:
• gain clarity as to what career would actually inspire you – or what it would take to be truly fulfilled in your current career.
• develop a step-by-step plan that takes into account your heart's passion as well as your other commitments (finances, family, etc.).
• develop tools and strategies that will help you connect to your deepest purpose and move confidently forward.
I am a fully accredited coach with more than 1,250 hours of combined coaching/facilitation experience. As a certified Professional in Career Management having studied as part of my Master's thesis the successful strategies followed by well-established individuals to change careers, I specialize in career transitions in mid-life. I conduct my sessions in English, French and Spanish.
I have worked with clients for over 8 years and have helped countless professionals become passionate again about their work – whether it be by helping them launch a successful business, start working in more meaningful industries, go for (and get) their dream jobs or reconnect to their passion and purpose – at work and in life.
Call me NOW for a free consultation!
Reviews
11 reviews (5.0)
"Literally the day Sophie coached me and helped with my resume I got 3 calls for interviews and the calls keep coming in. I now have choices instead of 'I'll take whatever they offer me', but more important is that I have my self esteem back. Thank you Sophie for your kind way to help me move up."

Alberto Zepeda, Sales Specialist, Vancouver, Canada
"Sophie is a results oriented coach with extraordinary coaching skills and an incredible toolkit. Within two sessions, she helped me tap into my magnificence, see and state my purpose in life with clear lenses and more importantly clarify what held me back until now. From the very first moment, I felt like the whole process was a series of very carefully selected activities combined with her vast experience and confidence in her practice. I feel motivated for the first time after so many months of failed attempts, having a clear vision about my future and an incredible level of confidence in who I am and what I am here for. I've benefited more than I could imagine by having Sophie as my coach and I am very confident to recommend her work as a coach to anyone who is stuck and struggling in finding ways and purpose in life."

Ceyda G., Human Resources Manager (Vancouver, Canada)
"Not only did I organize that event [within my company], but it was everything I had hoped for! It seemed that everyone was positively impacted by the event, which was very gratifying. The main thing I learned is to just "Try it!" rather than procrastinate. Things can happen easily and naturally once you know how to communicate them – all I had to do is communicate with enthusiasm and my manager saw the opportunity too. I had tried to organize that event for a year, and now it's just happening effortlessly!"

Chris P., Software Engineer (Vancouver, Canada)
"My life has benefited greatly from my coaching sessions with Sophie. In fact, my life has shifted significantly! She has guided me to change my perspective on many levels, and it has given my life a larger screen to be played upon. I enjoy the honest feedback and questions that guide me to my own answers — as well as the intuitive insights that Sophie offers with honest compassion. I would invite anyone who wishes to move his or her life into a fulfilling and wonderfully joyful place to take the opportunity and experience the amazing coaching sessions with Sophie."

Marielle S., Soul Coach (Vancouver, Canada)
"I can honestly say that through my coaching relationship with Sophie my life has expanded – personally, professionally and spiritually. I enjoy the reflection of such growth in my relationships as well, and I wish everybody could have the benefit of such an empowering life coach as Sophie has been, and is being, for me."

Angela Baldinger, Artist and Graphic Designer (Edmonton, Canada)
"Sophie is the ultimate life coach! Thanks to her coaching, I was able to move forward to start my own business. She guided me to understand myself and build my confidence. Without her support, it would have been much harder to achieve my goals. Thank you, Sophie!"

Tomomi Naito, Small Business Owner (Vancouver, Canada)
"If I were able to tell in a few lines the transformations that happened to me in these last two years, it is thanks to Sophie's coaching. Her voice accompanies me with comfort, and also boosts me. I may not give more reasons but the fact that I'm smiling while I'm writing these lines is the best evidence of Sophie's qualities as a coach."

Dhia B. D., Teacher and Ph.D. Candidate (Tunis, Tunisia)
"The coaching sessions have been very helpful for me in a complementary but at the same time essential way with the personal work I have been doing on myself. They have allowed me to get quicker results, to gain better insight into events and feelings, as well as learn how to set and achieve goals in a more efficient manner. Also, I have realized the extent to which everything depends on me; I feel the coaching sessions have definitely reasserted my independence and self–confidence."

Amina B. E., Ph.D., Instructor (Washington, USA)
"Sophie, I am so happy to write to thank you for the gift you gave me. You seem to have a magical gift for finding the way to help people move to where they really want to go. You helped me tremendously. In one session you provided the necessary reframe/metaphor (whatever it was!) that enabled me to overcome my fear and procrastination of opening my private practice. My unconscious shifted and it became seemingly effortless. Thank you so very very much."

Susan M., Therapist (San Diego, USA)
"After finding myself in a place where I was no longer sure what to do anymore, I felt the need to resume coaching with Sophie. By the end of our very first session, when I had felt at my lowest and at a loss, I was filled with a level of energy and confidence I had seemed deprived of for weeks – where there had been a void, I suddenly felt inner warmth. I had not necessarily expected any concrete or immediate results from that first session, but the work we did has allowed me to resume my journey with a renewed sense of direction. I must say I expected that feeling to recede, but I have been filled with a sense of renewed confidence ever since."

Laurent G., Business Owner (Bordeaux, France)
"In only a few sessions, Sophie was able to help me tap into a confident and assertive state. She guided me through several visualization techniques that allowed me to see myself as I wanted to be, and then taught me how to use those resources to actualize that vision. As a result, I landed a role at a new company with a 44% increase in my salary. Before my sessions with Sophie, I didn't feel confident that I was qualified or prepared for the job. Using the resources that Sophie helped me develop has allowed me to grow in my job role as a manager. Since then, I have been able to remain true to my own values, while growing my job skills to effectively lead a team through difficult situations."

Carolina Smith, Development Manager (Vancouver, Canada)
The Smart Way To Find A Coach

1 Describe Your Goals

2 Get Matched

3 Free Consultations
Find My Ideal Coach Now