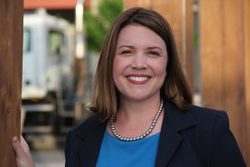 Stacey Bledsoe

Denver, Colorado
Leadership Coach, Career Coach, Life Coach
BA, MA, CPCC, SPHR, SHRM-SCP
Stuck in your career? Feeling overwhelmed? Confused on what to do next? I work with professionals & executives to help move things forward and get what they really want out of their career & life.
About Me
Trained in the CTI co-active coaching methodology, I offer coaching to help you get more satisfaction out of your life and career. I focus on helping you set goals that drive you toward making resonant choices and embracing a life of fulfillment and happiness.
Most of us are hard-wired to constantly be "doing." We have to-do lists and full calendars. Many of us are often overextended. In fact, the most common response you will get when you ask someone how they are doing is an exasperated reply of, "I'm really busy." While the "doing" is important, we are overlooking the "being" part of our existence. Simply put…when was the last time you really thought deeply about who you were "becoming?" If you haven't done this yet, stop now and ask yourself this question and then follow it up by asking, "Do I like who I am becoming?" This type of self-reflection and introspection is important in focusing on the whole person – mind, body and spirit. In coaching, to achieve a fulfilled and resonant life, it is extremely important that we place an emphasis on balancing the "being" with the "doing."
Here are some of the common challenges where I regularly help clients:
- Career Transitions
- Emerging Leaders & High Potentials
- Newly Promoted
- Stalled Careers
- Work/Life Integration
- Early Career and Recent Graduates
I also know the in's and out's of how things really work inside companies due to my extensive time spent in Human Resources. So whether it is navigating a change within your organization or trying to change organizations, I understand and can help you find your path to move forward.
Reviews
Stacey is a wonderful coach who graciously spoke truth into my life. She was able to articulate my values back to me in a digestible manner. Additionally, she gave me important tools to address my immediate goals and vision for my long-term goals. I'm still working on my long-term goals but I am more confident that those are on track because of her help and belief in me.

Kimberly Kronwall