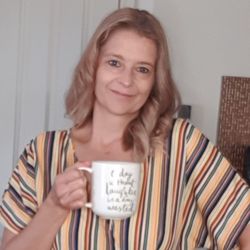 Stel Coombe-Heath

Victoria
Health and Fitness Coach, Spirituality Coach, Career Coach
Certified Health Coach, Certified Life Coach, Emotional Freedom Technique, Cognative Behavioural Thereapy
Are you a busy, career-minded woman who often finds yourself emotionally eating and yo-yo dieting? My "Food Freedom Program" will help guide you to attain the support and nurturing you deserve.
About Me
I help busy, career-minded women stop emotional eating using my signature Food Freedom Formula.
Do you struggle to maintain a healthy relationship with food? Are you constantly yo-yo dieting and feel like you just can't sustain an eating program long-term. Or are you fed up with diets and want to live a healthy, more balanced life when it comes to food?
Do you feel like you are missing out on life because you are ashamed of your body?
It doesn't have to be that way, you can have a great relationship with food and your body while juggling today's fast-paced society.
The reason why you don't have this now is that you have not set up the right strategies to manage your emotions in life. You try to stick to nutrition and exercise plans without addressing the root cause of your eating problems and you don't take time to take care of yourself.
This is where my coaching comes in. My "Food Freedom Program" is all about healing your relationship with food. We start by looking at what really triggers your unhealthy food behaviors and then systematically build lasting habits without having to sacrifice eating ice cream on the beach on a hot day.
My clients constantly tell me that they feel a freedom they have never experienced before. A calming influence that comes from having a healthy relationship with food, and understanding that it's all about the habits they build through a healthy mindset.
After working through my program, they have developed skills to help recognise their unhealthy eating triggers and deal with the root cause instead of the symptoms.
With over 4 years of helping women with emotional eating and over 500 coaching hours dedicated to empowering career women in their food choices, I know the freedom that comes with feeling your best physically, mentally, and spiritually and feeling confident in your own skin.
Reviews
2 reviews (5.0)
Stel has been such a kind and patient coach helping me with my binge eating issue. I have learned many tools that I have found to work in changing my eating behaviors. She has thought me slowly week after week building my understanding and building my tool box. It has been like peeling an onion. I have had several amazing ahha moments from my past that I am sure have played a role in my binge eating. Understanding there is a problem is the first in getting well. Stel has helped my get in the road to wellness a full life and feeling good in my body!

Stel Coombe-Heath
Estelle is my yoga teacher and I love her classes and the way she links yoga to our everyday lives. I had been wanting to change jobs for a very long time and was getting nowhere with preparing my CV and working out what I would like to do next I was not content with the work I had been doing for many years but was confused about would be satisfying work for me. I asked Estelle about her program and whether she could help me find a way to move out of the space I was stuck in. Over the course of a few weeks, Estelle helped me re-connect with my core values and the things that motivate me. She helped me consider and think about what my reason for being is and what my skills are and shape my goals accordingly. Through these exploratory exercises I discovered what type of work I really wanted to do and I narrowed it down to the areas I was really interested in. Consequently, I was able to finalise my CV and start applying for jobs that interested me with a more discerning eye. This led me to finding the ideal job within a couple of months! Estelle also helped me with a variety of exercises to help me stay motivated and on track. When I look back on my notes there is so much that Estelle covered with me. I highly recommend her she was very good at gently and firmly guiding me through the whole process.

Carmen