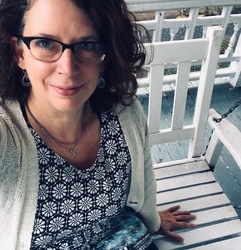 Stephanie Ellis

Wilmington, North Carolina
Life Coach, Relationship Coach, Career Coach
BachelorFineArts-UNC-Charlotte, LicensedMassageTherapist, RegisteredYogaTeacher, SelfDiscoveryCoach, HeartMathCoach, DragontreeLifeCoach
I am inspired by a passion to uplift, and guide women to live a life they love. The guidance that I offer helps client transition from where they are to where they want to be in all areas of life.
About Me
Goddess Way Life Coaching is all about you, the client. In your session, we'll talk about your dreams, vision, goals, and anything and everything that is holding you back.
We'll begin with an in-depth intake form so we don't need to spend time walking through the basics. After that, you decide. Do you want to make a plan to get a new job? Work on your relationships? Work through behavior patterns that keep you from achieving your goals?
Whatever is it, I am holding space for you, to guide you towards greater peace, more love, more light, and perfect alignment.
I have received over 500 hours of training in:
Dragontree Life Coaching, a method that focuses on being a clear vessel, a loving guide, and holding space for you, the client, to find your own unique way.
HeartMath Life Coaching, a method that focuses on keeping your resilience during life's challenges and connecting to the magnificent wisdom of your own heart.
Self-Discovery Coaching, a method of letting go of your subconscious blocks and fears that keep you from living your best most fulfilling life.
I will be your guide on a journey to:
1. Connect with love. Connect with your heart and give birth to creativity, inspiration and openness.
2. Perfect alignment. Build trust in your knowledge and achieve alignment with the universe and your desires.
3. Greater peace. Feel at peace and accept yourself, your strengths and your weaknesses, wholly.
I am inspired by a passion to uplift and guide others to live a life they love. I help women transition from where they are to where they want to be in all areas of life including health, relationships, life purpose, and life goals.
The work we will embark upon guides you through an enriching, holistic personal growth process. We will assess your challenges and obstacles to growth. We will move toward creating greater balance in your life, and bringing your vision into reality.
Reviews
8 reviews (5.0)
I recently had some life coaching sessions with Stephanie Ellis and really wish I had done something like this sooner. In just the first two sessions, she was able to help me focus on areas of concern in my life/business and helped direct me in ways that led to solutions. Stephanie is a great listener and would make sure she understood my needs before guiding/advising me towards solutions. She has inspired me to move forward in areas that I always feel stuck in and that has benefitted me so much. Together, we came up with amazing ideas and she has even checked up on me a few times to make sure I am staying on track. I highly recommend Stephanie as a life coach because she truly cares, she guides you patiently helps you find solutions for problems you may be facing. Thank you, Stephanie!

Beth Patrick
Stephanie is amazing. I felt very comfortable and relaxed in her office. She is very easy to talk to and comes up with good leading questions. Stephanie made suggestions which helped me reevaluate things i have been struggling with. Thanks again Stephanie for your professionalism and the light you shine for others.

Amy rose
After working with Stephanie for many, many years, I have complete trust in her abilities as a life coach to help everyone, and I have recommended her to my friends. Her questions have been thought-provoking helping me to dig deeper to understand where I need to look for my answers & how to heal. She doesnt tell me what I need to do, she helps me to figure out on my own what I need to do & teaches me the skills to make the necessary changes to reach my life goals.

Cindy D.
From my continuing education courses for wellness practitioners: The topics of the class I attended recently were related to Self Care and Business. Stephanie's presentation of the class was a perfect example of the topics scheduled---the class participated in methods of self-care, as well as ways to use tools to assist in business. It was a great balance---and a thoroughly pleasurable experience for all involved. The class was inspirational and insightful and I've already incorporated several of the methods into my day. I know that others will benefit from her classes as I have and am looking forward to attending Stephanie's classes in the future. You will too!

Peggy Barrett, Licensed Massage Therapist
From my continuing education courses for wellness practitioners: The class was informative without being boring..it is important as massage therapists to care for themselves as they give to others and most forget..its also great to be inspired from a therapist who is doing her business and to learn and get ideas from her! I highly recommend the class to anyone! I will take again just to keep my focus.

Kelly Leonard Hall, Licensed Massage Therapist
From my continuing education courses for wellness practitioners: Stephanie's class was so informative about how to increase business along with making sure to take care of yourself. From the guided meditations and yoga workout to the inspirational ideas of creating a wholesome business, Stephanie has created a wonderful class! It didn't ever feel like we were in "class" but more like a group of like minded people becoming friends! I would definitely recommend this class to everyone and would take it again with excitement!

Beth Patrick, Licensed Massage Therapist and Wellness Entrepreneur
From my continuing education courses for wellness practitioners: The class was ahhhh...mazing!!! The sub-topics were thought provoking and class discussions were insightful. Stephanie does a great job at getting you to do some introspection from a place of clarity, which in turn, cultivates an opportunity to grow your business in ways you may not have thought of. I definitely recommend!!!

Jennifer Jackson, Licensed Massage Therapist
From my continuing education courses for yoga instructors: Stephanie is a wonderful teacher and created such a welcoming space to learn and practice. She teaches with such warmth and caring and (I) will definitely offer this practice. She managed our time together perfectly and even offered more of her time after the workshop. I expected to learn some new assists, but left feeling wonderful and relaxed since we practiced on each other. It truly is a retreat where you leave with new tools for teachers to use. Stephanie is a gem and I'd highly recommend her course.

Michelle Waltz, Yoga Instructor