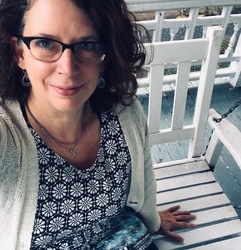 Stephanie Ellis

Wilmington, North Carolina
Life Coach
BachelorFineArts-UNC-Charlotte, LicensedMassageTherapist, RegisteredYogaTeacher, SelfDiscoveryCoach, HeartMathCoach, DragontreeLifeCoach
I help women who are looking to transition from where they are to where they want to be in all areas of life, including health, relationships, life purpose, and life goals.
About Me
My life's purpose is to uplift and guide others to live a life they love. My passion is working with women who are in a point of transition in their lives.
We can easily get stuck or discouraged by negative self-talk and our own limiting beliefs. We can often feel drained and pressed for time.
The coaching that I offer guides people through an enriching personal growth process. I help clients see self-imposed limits and obstacles. I help them clear these obstacles to growth, recognize their gifts, and bring their potential into action in their daily lives. I work in 3 main paths of discovery and growth…
1. Self-Inquiry Journey: A guided experience in clearing the way to your best you. We will: release anything and everything that isn't serving your highest self; understand feelings of constriction, and turn them into expansion; and find deeper sense of connection, peace, and possibility.
2. Soul Path Discovery: Uncover what your true heart's desire is in life and form your vision for the future.
3. Joy-Filled Living: Often we have a definitive goal or vision for ourselves in their health, relationships, career, a creative pursuit, or lifestyle, but have gotten somehow discouraged or overwhelmed along the way. Let's identify areas in your life where you need a boost of inspiration to refuel certain areas of life. We will work with certain principals so that you can live the best most joy filled life of your dreams.
Clients have said that I helped lead them to major introspection, to find more clarity, and discover new ways to grow that they had not previously thought of. The most rewarding thing about this work is watching clients light up, make major changes, and achieve their goals.
My winding career path started with an art degree from UNC-C, then years as a yoga instructor, massage therapist, continuing education provider, and now life coach. My background helped me become the type of coach that I am. I look forward to your questions and to working with you!
Reviews
5 reviews (5.0)
From my continuing education courses for wellness practitioners: The topics of the class I attended recently were related to Self Care and Business. Stephanie's presentation of the class was a perfect example of the topics scheduled---the class participated in methods of self-care, as well as ways to use tools to assist in business. It was a great balance---and a thoroughly pleasurable experience for all involved. The class was inspirational and insightful and I've already incorporated several of the methods into my day. I know that others will benefit from her classes as I have and am looking forward to attending Stephanie's classes in the future. You will too!

Peggy Barrett, Licensed Massage Therapist
From my continuing education courses for wellness practitioners: The class was informative without being boring..it is important as massage therapists to care for themselves as they give to others and most forget..its also great to be inspired from a therapist who is doing her business and to learn and get ideas from her! I highly recommend the class to anyone! I will take again just to keep my focus.

Kelly Leonard Hall, Licensed Massage Therapist
From my continuing education courses for wellness practitioners: Stephanie's class was so informative about how to increase business along with making sure to take care of yourself. From the guided meditations and yoga workout to the inspirational ideas of creating a wholesome business, Stephanie has created a wonderful class! It didn't ever feel like we were in "class" but more like a group of like minded people becoming friends! I would definitely recommend this class to everyone and would take it again with excitement!

Beth Patrick, Licensed Massage Therapist and Wellness Entrepreneur
From my continuing education courses for wellness practitioners: The class was ahhhh...mazing!!! The sub-topics were thought provoking and class discussions were insightful. Stephanie does a great job at getting you to do some introspection from a place of clarity, which in turn, cultivates an opportunity to grow your business in ways you may not have thought of. I definitely recommend!!!

Jennifer Jackson, Licensed Massage Therapist
From my continuing education courses for yoga instructors: Stephanie is a wonderful teacher and created such a welcoming space to learn and practice. She teaches with such warmth and caring and (I) will definitely offer this practice. She managed our time together perfectly and even offered more of her time after the workshop. I expected to learn some new assists, but left feeling wonderful and relaxed since we practiced on each other. It truly is a retreat where you leave with new tools for teachers to use. Stephanie is a gem and I'd highly recommend her course.

Michelle Waltz, Yoga Instructor