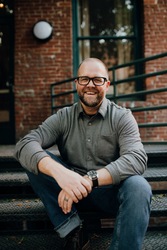 Steve Austin

Alabaster, Alabama
Life Coach, Christian Coach, Spirituality Coach
Alabama Board of Interpreters and Transliterators
Do you want to learn how to love yourself, set boundaries, practice vulnerability, and fully experience a life of emotional freedom? I coach men and women who are ready to heal their hurts.
About Me
You feel stuck.
You want to do the deep and meaningful soul work required to embrace wholeness, but you know some of those emotions could get messy, really messy.
I know how you feel. Here's why...
Several years ago, I was a pastor when I nearly died by suicide after secretly suffering from depression, anxiety, and PTSD from childhood sexual abuse.
These days, after doing the hard work (via therapy and coaching), I have found emotional freedom and become a leading voice at the intersection of faith and mental health. My work has been featured in USA Today, Huffington Post, Relevant, and other outlets.
Since going public, I have learned that countless others are desperate to live an authentic life, too. These days, I help hurting people find an integrated approach to wholeness, including mental, emotional, and spiritual wellness.
My ideal client longs to heal their image of God and self. If you're tired of stuffing from your emotions and numbing your pain. Let's talk. If you would like permission to put yourself first for a while, I can help.
I live in Birmingham, Alabama, with my wife Lindsey, our two kids, and Shadow the Wonder Dog. In my free time, I binge-watch Netflix like it's my j-o-b, and love all things peanut butter and chocolate.
*I'm also fluent in American Sign Language and available to coach Deaf and hard of hearing clients via Zoom.
Reviews
2 reviews (5.0)
Steve is an amazing coach. The experience I have had and continue to have just gets better. He meets me where I'm at and doesn't push ideas and ideals on me. He is encouraging. He is calming. He speaks from personal experience which makes him more real. I couldn't imagine looking any further for a Life Coach.

Lex
Steve is powerful, insightful and personable. His perspectives ring true for me and help me along my life journey.

Toni Nash