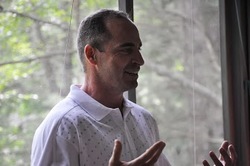 Steven Borg

North Grafton, Massachusetts
Career Coach, Executive Coach, Leadership Coach
We specialize in providing career coaching services to those diagnosed with bipolar disorder, ADHD and/or Depression. We also provide career coaching and executive coaching for people non-diagnosed.
About Me
For 30+ years I was employed in a field that produced great stress in my life, but also provided financial rewards. I was considered to be on the top of my profession, and by any outsider's measure, I was successful. My career choice - while lucrative - did not fit my personal set of needs and wants. I was a fish who learned to successfully swim upstream - without any water.
So I've been where you might be right now - scared that you will never have a happy, fulfilling and long-term career that can support you and/or your family. And you fear that you will be the cause of your career failure, once again. I felt I was wasting my life away.
Understanding oneself is the first step towards unlocking our happiness. Our goal at BPCA is to assist each of our clients in understanding themselves as employees, and understanding the work environments and careers that best suit their personal wants and needs. All with the goal of providing career longevity and satisfaction.
I am living proof that someone can have all they ever dreamed of in a career. I yearned for freedom, creativity, flexibility and a comfortable income to provide for my family's needs. I found what I needed to fulfill my dreams, and so can you!
Reviews
4 reviews (1 verified) (5.0)
Thank you for your guidance and in assisting me to gain more clarity around my career. I feel better prepared now to transition into something new for me.

Mike T.
Steve is a fantastic coach. He has helped me to identify my weaknesses and strengths while giving me a plan to get my life on track. After many years of frustration and pain in my career, I believe I am headed in the proper direction. He is very smart, focused, experienced and caring. It a pleasure to work with him.

Tom
I loved working with my coach. She gave me so many great insights and tips into the career and job search. My LinkedIn profile, which she re-wrote, came out amazing. I learned how to market myself in ways I had never thought of before. Two thumbs up!

Nancy G.
Rather than being instructed on what my probable career was based on my strengths, I was guided through thought to consider various scenarios in the entire gamut of preferred and disliked aspects. This helped me arrive at what career I could truly see myself being content and fulfilled with.

A.T.