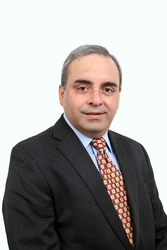 Sudhanshu Mishra

New Delhi, Delhi
Executive Coach, Life Coach, Leadership Coach
MBA, B.E. in Computer Science
I coach business executives and professionals who feel stuck in their lives and wish to rise to the next level. I help them conquer their fears and progress towards their true passion and happiness.
Details

New Delhi, Delhi

9810911410

Send Message
Hourly Rate: $75 to $200 US Dollars
Gender: Male
Training: Grow More Coach
About Me
Sudhanshu Mishra has over 3 decades of corporate experience holding leadership positions in BD, Sales, Marketing, Product management, Partners and Alliances, in areas of IT products, services and e-learning, across India and Middle-east.
Sudhanshu is passionate about working with people and helping them grow. He has an ACC certification from ICF (International Coaching Federation) and has trained and coached several people in areas spanning leadership, mindfulness, strategic thinking, people management, influencing stakeholders, effective decision making, impactful communication, stress and conflict management as well as in working towards other life goals. He is pursuing coaching as a calling and thoroughly enjoys the process of helping his clients achieve their goals in the smartest, fastest and most effective manner. Most of the money he charges as fees goes to NGO's/non-profits that work in the areas of empowerment of people, especially women, from under-privileged sections of Indian society and providing support to people who need help with their mental health.
Sudhanshu's strengths include working with people, relationship building, public speaking, besides Sales management, people management and account management.
In his day job, Sudhanshu is responsible for business development and enterprise sales at a new age technology company. He has done several successful stints with various companies including Wipro, Xerox, HP, Oracle and others in the technology sector, and led large and diverse teams. His passion to mentor people and help them grow has helped him manage high performance teams successfully.
Sudhanshu has an MBA from IIM Lucknow and a B.E. in Computer Science. He is an Air Force kid, born in Dehradun, and raised at various places across India, and now lives in New Delhi.

Reviews
6 reviews (2 verified) (5.0)
Awesome session, great coach

Geet
He is nice human being. His kindness and empathy for others is unparallel. He listens to other person problems attentively without being judgemental. His suggestions are very simple , realistic yet powerful. He helps you uncover your own strengths and weaknesses .Overall he is an excellent coach who can help you achieve your potential.

Vikas Sethi
I started taking coaching from Sudhanshu roughly two months back. I had started a new job and wanted to excel at it. He sounded like a great person to talk to after my first trial consultation. He was very understanding and not at all money-minded. I decided to start formal sessions with him. He genuinely wants to help people excel in their life. I have had around 8 sessions with him to date. He has helped me find answers to some nagging problems and issues I was facing. His methodology is to ask you inquiring questions and try to find answers from within. He is very well-read and knows corporate life. He has a corporate background himself and knows the practical challenges people face. I find talking to him very easy and can share my challenges. He is a good listener and takes notes when I speak. When he summarizes, he has not missed even a single point I spoke. I would recommend Sudhanshu for anyone new in a leadership or executive role, or even seasoned professionals trying to make a mark in their jobs.

Amit
I had an amazing time with my coach Sudhanshu Mishra. He was very patient while understanding my problem and provided me with steps to resolve it. He constantly checked with me if I am facing any issue while working to resolve it. I am thankful to him to provide his time on my problem and brought peace to my life.

Nikhil Anand
Sudhanshu has been instrumental in helping me out during my tough days when I was struggling in my professional as well as in my personal life. The beauty of his coaching is that he has certain set of frameworks in his toolkit and with those frameworks, he encouraged me to find out the core problems. Also, he helped me in charting out a routine plan so I could take small steps to solve the problems. With his problem-solving techniques, I think, he can people solve any problems. I whole-heartedly thank him for his contribution to improving my overall quality of life and I wish he continues to touch many lives!

Kaustubh Varade
Sudhanshu is a talented and gifted life coach. His gentle and powerful approach helped me solve a dilemma in a quick and efficient way. I highly recommend him.

Sharon Kusterer