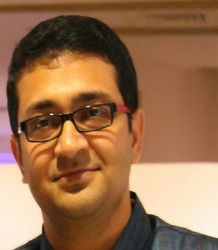 Sunil Subbramaniyam

Bangalore, Karnataka
Performance Coach, Executive Coach, Leadership Coach
Certified Leadership Transformation Coach, Certified Organizational Development Coach, Certified Executive Coach, Certified Brain Based Coach
I coach individuals and organizations who are in the quest to transform themselves, their performance and their leadership style to maximize their potential and build SMARTER Organizations.
About Me
Let's Engage in a Paradigm Shift!!!
I am a believer in what Shakespeare has to say "All world's a stage and all men and women are players".
As players we need to perform every minute of our lives. We need to dawn on many roles. We have the push and grit to perform well in those roles. To perform well we need to embrace change and transformation.My sole purpose in life is to be a catalyst in enabling transformation. I am a certified Leadership Transformation Coach, Certified Executive Coach and a Certified Organizational Development Coach. I use techniques from Neuroscience to enable my clients. I have close to 100 hours of coaching experience. My areas of expertise are:
Personal Leadership, Leadership Transformation, Performance and Success Coaching. I closely work with my clients to enable and empower them to get the results they want out of investing and engaging in coaching hours with me.
With over 15 year of work experiences in the human resource field, I have transformed enabled leadership transformation and performance transformation for individuals and organizations. I have partnered with organizations to make it a great place to work.
My Ideal coaching clients:
1. If you are the one who is starting or looking out to change your career
2. If you are someone who is wanting to build a personal brand
3. If you are someone who wants to create an executive presence
4. If you are some one who wants to build a high performing culture for your team or organization
5. If you are someone who whats to implement change your organization or someone who wants to adapt to change
6. Mid Level managers or mid senior level managers who are wanting to get to a leadership position or who want to effectively manage millennial's.
Let's Engage in a Paradigm Shift!!!
Reviews
3 reviews (5.0)
It was/is a pleasure to be a part of the coaching sessions with you. The sessions have helped me a lot, in a number of ways. The best thing about these sessions is that they are tailored/customized to my needs and thus there is always a connect in what the session is about. Although being conducted in the professional setup, the sessions were not limited to professional life alone (ie, were not only project/job related). The series of sessions have made me introspect and have a re-look at certain facets that I might have otherwise overlooked in day-to-day life. I see the perspective changing. Thank you once again for these enriching, stimulating, thought-provoking, developing sessions

Project Manager, Multinational Corporation, India
When I started the coaching sessions with you, my state of mind was not as focused as it is now. The sessions started with a detail oriented evaluation process, which has rightly pointed out my areas of improvement and strengths. Hence the coaching sessions are also to address these parameters. The assignments during the course of coaching has helped me to build perspectives of my career as well as personal life. This coaching has helped in grooming myself to control some of my unnoticed behaviors. For eg: listening skills, presence of mind, lateral thinking etc. My next goal is to create a vision for my career and I am sure it would be definitely achieved. Thanks to the transformational conversations with Sunil.

Business Head, Software Services Organization, India.
Let me start with how I was before I started with this whole coaching session: I was a person who was lacking confidence, who always believed about other's perception about myself, who trusted in others more than myself, and who did not know the right direction in which I should continue my journey – basically a highly confused and a doubtful person. First, your coaching process helped me in realizing the things that bothered me at work and helped me identifying solution for each. Now I have a list of issues that I faced and the respective solution. If there is something that bothers me, I list it down and write a solution also, which I practice (previously I used to ignore it, but always bothered me). Your coaching process also helped me in understanding the principle of being 'reactive and proactive' – this has helped in avoiding and preventing repeated mistakes. You made me realise what are my strengths and weaknesses are apart from asking me to list down my strengths and weaknesses, your approach to get a survey done from others about what they think are my strengths helped in bringing a lot of positive changes within myself (i) not everyone think wrong about me (ii) people around me, always do not think about my negatives – they value my strengths and positives very much (iii) helped in ignoring my weakness and focus on my strengths Previously, I never used to volunteer to talk during a meeting or had a misconception about expressing myself. Your coaching on self-expression helped me very much. It made me answer for the questions without a hesitation. Also, during certain instances, I found out that when I expressed authentically and successfully, people understand that very much and there is a genuine feeling within.Today, there are a lot of changes which I have been observing and enjoying in my day-to-day activities, which has eventually helped me in gaining confidence and has made me think very much positive about myself. Above everything, I realized that there are no mood fluctuations within myself – instead there is stable person. Thanks for enabling this transformation in me.

Senior Manager, Healthcare Research, Multinational Corporation, India