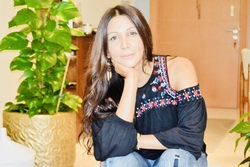 Life Coach, Leadership Coach, Executive Coach
Bachelor of Arts (BA), Certified Co-Active Coach (CTI), Organization Relationship Systems Coaching (ORSC), PCC & Academy of Executive Coaching (AoEC)
I coach Individuals whose self-limiting beliefs hold them captive, from reaching their greatest potential, personally and professionally.You can 'LIVE' courageously' across the landscape of your life.
About Me
As a Life Enthusiast, I recognize that 'creation and connection' are my core values, which are unequivocally present in my Coaching approach. It's humbly rewarding to co-create with my client's new pathways of 'thinking and being', once they discover the self-limiting beliefs that have been holding them captive from accomplishing their personal and professional goals and objectives. In this co-creative space, we create and strengthen their willingness and commitment to shift perspectives, whereby they consider their challenges as opportunities, to grow confidence and courage. My enthusiasm for evoking and provoking change in others, coupled with the joyfulness of witnessing their growth, is what fulfills me as a Coach.
I am a former South African, happily living in Dubai as an expat for the past 12 years. My self-development is attributed to my 27 years of experiential learning associated with Corporate employment in countless Multinational Organizations, whilst living in numerous countries before settling down in the Middle East. The expansive multinational cultural and behavioral exposure, coupled with my life lessons, underpins the continuous Life Seeker spirit that lives within me.
I am passionate about helping individuals and teams improve their performance to grow personally and professionally. My field of expertise comprises of:
– Individual Coaching
– Performance Coaching
– Career Coaching
– Youth Coaching
– Leadership/Executive Coaching
I am enthused to work with clients who are challenged by the inner conflict of their thoughts, in their daily lives as a result of the unfulfilled choices they are making. I'd be delighted to work with clients who have the willingness, to want to change and experience transformation. I enjoy Coaching clients Globally when holding the space of co-creation and mutually broadening perspectives.
I'd be delighted to offer you a complimentary phone session - call me.
Reviews
6 reviews (5.0)
Sureya is a professional , dedicated and gifted healer and life coach. She has really changed my life : She helped me find more fulfillment, improve my relationships, career, and day-to-day life. She also helped me clarify my goals, identify the obstacles holding me back, and then come up with strategies for overcoming each obstacle. With her unique skills and gifts she provided me with ongoing support, a support that I needed to achieve long lasting change! working with Sureya has allowed me to gain a fresh, informed perspective on problems that I have long faced. In addition to offering new insight into such challenges, she helped me to zero in on negative patterns that could be standing in the way of my success. Evolution is one of my core values. Meeting with Sureya once a week allows me to evolve tremendously and I still look forward for our Tuesdays meetings! God bless you Sureya !

racha fadel
My experience has been very positive so far. Sureya is good at feeling people's vibes and makes it very easy for one to open up. She is a good listener; notes down and remembers important matters. Follows up with her clients which creates a special kind of bond and trust. I found her all rounded; whether I spoke about work, children or marital issues. She always has appropriate comments that show her knowledge in diverse areas. I simply love her approach and if I could afford it, I would keep seeing Sureya for life :) So much positivity and peace!

Roula Badr
First, I would like to emphasize on how sincere and professional Sureya Naidoo is. It was very important to have a life coach who is objective and solid. Through our sessions, Sureya used to dig deep and made me find the truth. I discovered my strength and what was holding me back. I gained my self confidence back. I also learned how to act as a leader and be more assertive and take more action at work. On a personal level, Sureya, helped me regain my position as the man, the rock, of my family. She also supported me during some turbulence I had with my marriage. Sureya is sharp. She rememberers all the details that we discuss during our sessions and highlight all the turning points. I highly recommend Sureya as a life coach. During our times, It is hard to find someone like her.

NB
I having an amazing experience being coached by Sureya. She is an incredible, enlightening person who never ceases to put clarity, strategy and reflection to aspects of my life I need to review. I would recommend her to anyone willing to work on themselves.

Kama Ranaulo
I started my coaching sessions with Sureya in January 2019 where I was a frustrated sales professional with no sense of direction, not sure if i want to leave my current company or stay. Sureya helped me tremendously to understand my weaknesses and strengths and how to channel those into empowerment and use them to my benefit. One of the major breakthroughs that Sureya helped me uncover and understand helped me to tackle the difficulties I was facing during that time of the year which led me from being a guy who is trying to find another job to an overachiever in my current role by end of May 2019. Her coaching way is very comprehensive, honest and professional and her previous experiences make her a very trusted source of knowledge and advisory who can easily relate to any career in any field. I highly recommend Sureya and from now on I will be working with her to groom me for my long term journey in my career.

Elie Salameh
Sureya is a gentle powerful soul. She is someone you can develop a deep friendship with. With love, she can trigger all your buttons until you reach the root of the problem and the pain behind it, she brings awareness to your dark hidden sides with absolutely no judgement. Her techniques during the coaching sessions are quite unique, she holds a strong boundary and a safe space to express one s feelings. I always leave her sessions feeling empowered and confident about my next steps in life. She is a dear sister and friend, someone you can count on when taking the most serious decisions in your life.

Karin G.D