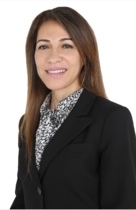 Suzy Almushcab Calgary, Alberta
Health and Fitness Coach
Perfect Health instructor certified Chopra Center, NLP Coach , former Pediatric Endocrinologist McGill university.
I coach women who aspire to attain the perfect health and happiness from within and I do this using The East healing system ( Ayurveda ), delicious food and free dancing.
About Me
Suzy Almushcab , MD. helping women age 40 plus who are aspiring to retain their youth to glow and flow so that they can regain the joy and happiness from within and I do this through a combination of ancient Indian healing, delicious food and free dance.
From Saudi Arabia lives in Calgary, Canada, is a graduate of King Faisal University school of medicine. She completed her Residency at the children's hospital of Calgary then underwent a second specialty at McGill university to become a Pediatric Endocrinologist. She then continued her work with children at JAHA center formally known as Dhahran health center. She cared for children with Diabetes and those with endocrine disorders. She established multiple guidelines specific for outpatient on call care and for inpatient care of type 1 DM. She also established the initiation of insulin pump therapy in dhahran health center. She received multiple awards for multiple campaigns including obesity and diabetes. She published an article about hypocalcemic seizures in infants due to vitamin D deficiency and was an expert member for the review of growth hormone therapy and treatment in children. Suzan's biggest motivation and aspiration were her two children with Type 1 DM that she cared for throughout the learning process and into their teenage life. She has retired from her medical career and found her self indulging; acquiring knowledge for wellness, she became an Ayurvedic life style instructor. Using her background experience of western medicine combined with the East Indian healing system (Ayurveda) she was able to free her self from dis - ease. Her mission is to help women aspiring to feel even more youthful, to glow & flow and regain the health, joy and happiness from within along with delicious food and free dance. She believes that supporting women's health and happiness is at the core of health and happiness of our children, which in turn provides more opportunity for a brighter future for the next generation a
Reviews
Suzy doesn't have any reviews yet.