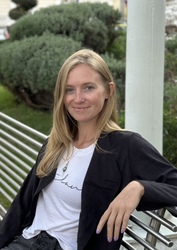 Life Coach, Career Coach, Spirituality Coach
I help individuals 20s to 50s break free from overwhelm and get clarity so they can reach their goals. Allowing them to love themselves, their lives, and their careers so much more.
About Me
Hi there, I'm a Professional Certified Coach (PCC) credentialed through the International Coaching Federation who helps clients with life coaching, personal growth, mindset, career, work/life balance, health, business, and spirituality.
Common things I help my clients with are personal growth, finding clarity & direction, getting unstuck, reducing overwhelm, improving their mindset, growing or starting a business, career clarity & career change, better work/life balance, improving relationships, better health, and deepening their spirituality.
Common feelings my clients report feeling while working together are feeling happier, more motivated, being more organized, being more confident, having better self-trust, clarity on what they want, clarity on who they are, feeling more inner peace, feeling aligned, fulfilled, purposeful, loving themselves more, being more positive, and feeling more excited about their life and work.
In short, my mission is to help my clients love themselves, their lives, and their work! We all deserve this and this is possible for all of us.
In our work together, I partner with you by asking you questions, helping you get clear on your goals, helping you create weekly action plans that way you are making tangible progress towards your goals, and we course-correct along the way.
This type of coaching style of asking questions has been shown to be extremely effective very quickly, most times after even just one session.
I've worked with people in the US, South America, Europe, Australia, and Africa. I've worked with writers, rare disease specialists, homesteaders, nurses, business owners, BLM workers, makeup artists, human resource workers, health professionals, real estate agents, computer programmers, writers, and more.
I look forward to helping you with your goals. I always offer the first coaching session free to see how I can help you and if we are a harmonious fit.
Reviews
2 reviews (5.0)
I had a life coaching session with Sydney. She really helped me as I was feeling really stressed out about a making a big investment in myself (a business program). What I really liked it that she didn't tell me what to do, but would pause for a moment and ask me these really profound questions. In just 1 session we focused on action items, best and worse case, identifying resources and supports, what would make it a yes or a no, financial options that could support my decision, and obstacle preparation. She even helped me realize some pretty big fears that I have about myself and how to tackle those. After our session I definitely feel more clear and way less stressed. Sydney is an incredible human and can feel that she really cares. I have a feeling that she is on her way up so I would recommend jumping on the opportunity to work with her now. Thank you Sydney!!

Jason Barbee
Life coaching with Sydney was so incredibly beneficial. Her warm and welcoming demeanor immediately put me at ease, and I felt comfortable sharing even my deepest concerns with her. Sydney has an amazing ability to listen carefully and really seemed to understand what I was going through. Her wealth of knowledge and experience in the field of not only life coaching but business as well helped her create personalized plans and strategies for me. I was amazed at how quickly I began to see positive changes in my life as a result of working with Sydney. One of the things I appreciated most about Sydney's coaching was her holistic approach. She didn't just focus on one aspect of my life, but rather looked at my life as a whole and helped me to help myself identify areas where I could make positive changes. Whether it was my career, relationship, health, or business, she had a way of helping me see things in a new light and take action to create the life I truly wanted. I love that she's certified and not just flying blind. You can really tell that she loves this profession and that's why she's so successful at it. She is a great sounding board and was always available when I needed her in a pinch. My life improved over the few short months we worked together. I became a homeowner, I have so much more self-confidence, and I am even on track to hit my financial goal of reaching $100,000 this year. The way that Sydney pushed me to find the answers within myself was such an amazing way to help me facilitate the kind of growth necessary to reach these goals. Overall, I cannot recommend Resource Queen Life Coaching highly enough. She is a truly gifted coach who has a genuine passion for helping people achieve their full potential. If you're looking to make positive changes in your life and need guidance and support along the way, then Sydney is the perfect choice. Thank you so much!!

Geneva Hill