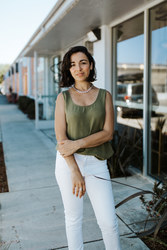 Sylvana Rochet

Santa Cruz, California
Executive Coach, Leadership Coach, Entrepreneurship Coach
BA, MA, Certified Professional Coach (CPC), Energy Leadership Index Master Practitioner
I help founders / leaders (in Silicon Valley + beyond) struggling w/ managing a team, navigating interpersonal work dynamics and managing their own mindset. Testimonials: linkedin.com/in/sylvanarochet
About Me
I teach bold leaders how to manage their internal psychology and create high-performing teams. This results in my clients feeling grounded, purposeful and happy.
Ever find yourself worrying over things like:
* Addressing conflict & having "tough conversations"?
* Making decisions & managing risk?
* Mastering your mental energy and internal dialog?
* Getting your team to perform optimally w/out waffling between "boss" & friend?
* How to create a culture where people thrive?
Clients call me their "trusted confidante" & "the person who keeps me from making bad decisions & blowing up relationships".
They say they get a sense of freedom from our work.
With the techniques I teach, you'll manage relationships confidently, get tools to deal with interpersonal issues effectively, and feel emotionally free. You'll no longer get stuck when challenges arise because you'll have what you need to figure it out. Others will find you irresistible & trustworthy, because you'll be showing up authentically without needing to resort to "mind tricks".
The world will start responding to you differently. Your experience of work, life & love will change for good.
What would it be like, if investing a few hours a month resulted in feeling truly confident & fulfilled? This is what I invite you to discover.
Before coaching, I spent close to a decade working across 3 continents, leading my own international teams & programs with orgs like American Cancer Society and teaching for NYU's Med School & the European Commission. I've gracefully navigated changes, and can teach you to do the same. I've studied & applied what helps people create new behaviors & influence others.
I've coached over 200 leaders at 35+ companies, from health to tech. I hold a BA in Int'l Relations + a MA from NYU Paris & Sciences-Po.
If this speaks to you, let's schedule a Discovery Session. I help clients in Silicon Valley & beyond (video / phone). Testimonials: linkedin.com/in/sylvanarochetbelleri/
Reviews
15 reviews (5.0)
Sylvana is great at helping high-level entrepreneurs reach their goals in an efficient and practical manner. She specifically coached me as a serial entrepreneur juggling a number of startups at the same time, on issues I was having in regards to reaching my goals. From time management to high performance, basically things I did not know were hindering my progression and slowing things down. She opened my eyes in many aspects; about my businesses, lifestyle and work performance. The cool thing is that she looks at everything and assesses your situation accordingly, in order to come up with a solid, actionable, long-term plan for how to best reach your goals. I highly recommend getting some sessions with Sylvana, if you feel like you need some clarity and direction to your work, and life in general.

Ibrahim Bamehriz, Co-Founder & CEO, Saudi Arabia
I wanted to thank you for our talk today. You have a gift, Sylvana. In just a few minutes you unearthed the most important way to propel me forward, and shared your insight in a way that resonated with me greatly.

Yuri G., Founder & President, Toronto - Canada
Sylvana, our work together has been transformational. It's helped me shift my mindset and internal dialog, which in turn has led me to take effective, useful actions as a leader. Now I'm able to delegate intelligently, so I can be available to mentor and advise where I'm most needed, ensuring optimal performance in my team. Thank you!

R.J., Director of engineering at startup, SF
Thank you for working with me. I got strong takeaways, especially about how my own internal language to myself can affect people's perception of me! You once asked me to think on "what is the danger that I'm protecting myself from?". Over time I've realized that the danger itself is the "protection" that I'm looking to create. In trying to protect myself, I have put up a barrier and that has been counter productive. I have seen this be detrimental in both my work and personal life, and with this realization-— that a barrier pushes away more than it protects, I am eager to learn more about a world connected to others. Thank you for pushing me on the hard stuff, and your patience with me when on the rough days.

E.S., Director at a NYC startup
I've worked with coaches for the past 8 years, and mentors far beyond that. While this is not my first experience with a coach, working with Sylvana has absolutely been my favorite, and with what I believe has had the deepest clarity and impact on myself. Over the last year and a half, Sylvana has worked with me to define a truthful trajectory that aligns personal, business and emotional relationships that affect several aspects of my career. I have faced several challenges, such as working through the direction which my career was heading, outlining aspirational, yet achievable goals, and finally choosing a successful path when I have found myself at the crossroads of a major change. I can honestly say that it was Sylvana who pointed towards finding the path prominent to me, and empowered me walk forward with purposeful clarity. I find Sylvana's methodology constructive and her insightfulness often surprising. She has a knack for getting to the root of the issue, one that I have often overseen or camouflaged, and provides clear suggestions on how to prevail by focusing on items that are within our control.

Amanda, Architect and Developer, Los Angeles
Sylvana 's Leadership Workshop was very inspiring and far from the rote learning experience of other management and leadership courses/seminars I have recently taken. While exploring some broad ideas such as creativity and self-awareness, the workshop was very well structured, and Sylvana guided participants to explore practical tools for personal leadership development. Sylvana created a supportive participatory environment for the workshop and deftly interacted with participants about the road (and potential roadblocks) to enhancing personal and professional growth. By sharing with participants her experiential insights, Sylvana made this an especially rewarding workshop.

Eugene P., Director, NYC
I have worked with Sylvana over the last couple of years. She is amazing to work with and great at getting clarity of thought and building belief. I highly recommend her.

David G., Founder, England
Sylvana has a great ability to think strategically and always keep the client's sustainability in mind. She is good at effectively reading the human dynamics at play in small and large groups, and she can provide strategic plans and road maps that take this into account. And she's a delight to work with.

Robert M., Chairman of the Board at Irish Network NYC
Sylvana has brought great value to the Carnegie Council for Ethics in International Affairs, where she has often served as a facilitator in both large and small group discussions. Her enthusiasm and diplomacy shine through when enabling conversations to flow freely by engaging with participants and asking targeted and thoughtful questions. Sylvana has the skills that are key to facilitating and leading substantive conversations and discussions, whether she is working with emerging leaders or with more established executives. She easily connects with diverse sets of colleagues, in the US and internationally, and does so with warmth, positive energy, and a truly collaborative and inquisitive nature that further builds trust and cooperation.

McKenzie P., Carnegie New Leaders Member, NYC
Before working with Sylvana, I couldn't understand how to motivate my team members, so that each would give their best to the department; I was at a loss as to how to influence them in a positive way and get them aligned to work towards common goals, and ultimately, benefit our business. Working with Sylvana, I've learned to communicate effectively, devoting time to listen and help them participate in finding solutions. Now they're active contributors to the design of work plans, and not solely receivers of my information - as this one-way communication was not effective. Working with Sylvana, I've changed my way of thinking and acting. Now I'm able to balance a sense of urgency and commitment in a constructive spirit, instead of the attitude of desperation that kept me from seeing the talents of the intelligent, capable people in my team. What I most appreciated about Sylvana was her ability to empathize with the situation I was in, and then without judgement lead me to self-evaluate, so that I could change and -most importantly- see results from our very first session.

José Q., Latin American Business Lead, Colombia
Before working with Sylvana, I felt lost, confused, and overwhelmed when thinking about my career. I was unhappy and did not have enough direction to pursue something that I would be more excited about. I was also hesitant of hiring a coach at first, because I was doubtful that I'd make much progress with one. Sylvana has been an invaluable support through a challenging time in my life undergoing a career change with much uncertainty. With her, I can have extremely open communication about all facets of life. She does an amazing job of empowering me to be self-aware, and to really dig into what causes specific thoughts and how to take deliberate action to be happier. I am able to focus on those aspects of life that really impact my happiness, and I am much more confident in myself and career goals. Working with Sylvana has changed my life! Things are better than ever for me. Beyond that, I have incredible work/life balance. I look back at my work with Sylvana as kicking off a journey of self-awareness that has been instrumental in improving my life. I would highly recommend Sylvana to anyone looking for support in their careers or relationships.

Brian A, Consultant, NYC
Sylvana is truly a gifted coach. She is a combination of modern day calm, cool, collected coach who really pushes you to get to know yourself at a deeper level. Before working with her I was struggling with relationships. Working with her, I realized that what I really needed help with was getting to know me at a deeper level, gaining awareness of who I am intimately. That is what was really missing in my life. I'd been focused on my career, achievements and striving to live a successful life so much, for so long, that I'd forgotten about how fundamentally important it is to first learn and raise awareness within myself. I realized that organically once I was able to do that, developing a meaningful relationship with men and dating became a natural progression in my life. Sylvana will challenge you and bring you to a place to think "uncomfortable" thoughts. An old Korean adage says that medicine that is good for you will be bitter in taste but sweet in results. Sylvana's gentle and effective coaching is the medicine that will deliver results for a modern day woman who truly wants it all!

R. Kim, Esq., Attorney & Founder, Atlanta GA
My sessions with Sylvana were impactful on my professional and personal life. She has an ability to listen and observe without judgment; this makes coaching and constructive understanding much easier. Sylvana also has the highest degree of professionalism. Her diverse experience provides her with the ability to empathize with her client and truly "get into" the challenges that are presented to the client. I felt as if she were a part of my team and understood each issue that we discussed. I used the techniques she taught me and my presentation was almost way too perfect. I use all of those things for my personal gain but really to be an omniscient view for the organization. I think I'm a better manager and better leader by figuring out my leadership style.

Blake M, Chief Development Officer, NC
Sylvana was great! She gave me feedback to help me grow my new org. Her advice will guide us to grow with a 2 year plan, and help us get out of our comfort zone. I would highly recommend Sylvana to a new or established organization looking to find strategies to grow and learn.

Amanda M., Founder, NYC
Sylvana is an amazing coach. She is sensitive, smart and results-driven. She will hold you to a plan and help you achieve what you've set out to do. I couldn't recommend her more.

Andra E., UX Designer, San Francisco