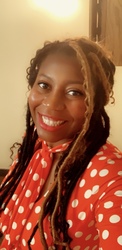 Syreeta Wright

Fredericksburg, Virginia
Life Coach, Relationship Coach, Business Coach
I help clients who want to start healthy behaviors, break bad habits, improve relationships, heal after breakups, build self-esteem/ confidence, pursue career goals, launch businesses, and live fully!
About Me
Hello,
My name is Syreeta Wright and I consider myself a Helping Professional. Since childhood, I was fascinated with people - their personalities, their interests, their struggles. And over time, that fascination turned into an investment in people. I became interested in helping people consider the different and many aspects of themselves and intentionally use it to shape and direct their lives.
I completed a post Masters degree in Counseling as well as various interpersonal and wellness trainings to learn the best ways to help people tap into their true potential and thrive. I also gathered a team of "Helping Professionals" who, like me, are committed to helping people become their best selves and go to the next level in their lives.
What you can expect is a genuine connection because a strong relationship where you feel heard, understood, and valued is the main ingredient for change and growth. With that foundation in place, we will clarify goals, identify and address external and internal obstacles, leverage your knowledge, skills, and abilities, and develop an action plan designed to help you attain greater fulfillment in your life, relationships, or career.
Some of the issues I have assisted my clients with are as follows: healing after breakups, resuming dating, improving friendships and romantic relationships, parenting, healthy eating and fitness, improving financial wellness, breaking bad habits/starting new habits, launching blogs/businesses, career transitions, transitioning to new locations, and more. However, no matter the issue, you will gain a fresh and informed perspective, and have an accountability partner who will help you disrupt negative thinking and patterns that have stood in the way of your success.
You're here and I'm here ... FOR YOU!
Reviews
Syreeta doesn't have any reviews yet.