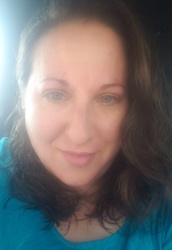 Talia Gimeno

Las Vegas, Nevada
Life Coach, Executive Coach, Spirituality Coach
MSW, LCSW-C
I work with individuals wishing to learn how to do things differently, and who may be feeling unheard, angry, burnt out, unmotivated or stuck and help them to feel heard & help hold them accountable
About Me
Some of my specializations include:
*First responders (police, firefighters, EMT, doctors, nurses, therapists)
*Burn out
*Men's issues
*LGBT
*Late in life LGBT identifying
*Clients who feel irritable and unheard
*Clients who are feeling overwhelmed
*Clients who want to change their communication style (aggressive, passive)
*Clients who are unsure how to implement the change they desire.
I am an experienced licensed clinical social worker who has been providing coaching services for over 10 years. I provide clinical supervision for new therapists and for interns. Over the years I have mastered the art of coaching. I have been helping clients successfully change their lives by offering genuine, assertive, compassionate, support and guidance based on their goals. I offer my years of experience to strengthen clients' skills and focus on the things that they can change. I provide a framework to help clients to shift perspectives. I work with clients who begin their work with me feeling hopeless, overwhelmed, burnt out, angry, unheard or unsure of where to go next. Together I offer practical guidance and I listen to their needs and goals.

I help clients to take back the control by helping to recognize the actionable steps they can take in order to change themselves, and I help them see that they are unable to control other people. I ask clients to identify a problem area/goal; then to commit to being motivated to change; then we look at what I call "learning experiences" (others call mistakes) or figure out when they want to implement a change in their behavior in the future; then we identify a skill (a different behavior that can be controlled; a shift in thinking, etc); then we help you implement these practical changes in your life. I will gently hold clients accountable and always am upfront when I see self-sabotaging habits.
Reviews
Talia doesn't have any reviews yet.