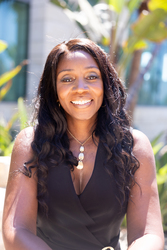 Tanisha Williams

Mira Loma, California
Entrepreneurship Coach, Retirement Coach, Business Coach
BA, Business Administration - Accounting
I help women who struggle to make end meet turn their passion into a profitable online business with my 6-Step Dream Builder System.
About Me
I was once You!
Feeling stuck, unfulfilled and frustrated, I was ready to ditch my 6-figure accounting job, become my own boss and start building the life of my dreams.
I began my career in Accounting with the County of Los Angeles after graduating from Cal State University, Fullerton in 1998. I've always had a knack for numbers, an obsession for spreadsheets (don't judge) and a love for writing so I was absolutely thrilled when I landed a job as an Auditor that combined all three skills. I loved my career. I wore cute power suits; my job was challenging and fulfilling, and I was good at it!
Over the next 20 years of life's twists, turns and changes, my need for fulfillment had outgrown my career as an Accountant to the point where my life and my heart were no longer in alignment.
I needed a change…..
I'd tussled with the thought of quitting my job for years, but it wasn't until I did 3 things that the idea started to actually look plausible. #1, I used my destination as my starting point which helped me map out the right plan to get me where I wanted to go. #2, I started doing mental exercises to strengthen my confidence and belief system. And #3, I started building a business that would position me for making money once I left my job.
Eventually, my planning, prayers, beliefs and actions worked harmoniously to manifest breakthroughs, allowing me to blissfully make my leap to freedom in 2020.
And now it's your turn……..
I'm paying it forward by helping women who feel stuck in a 9 to 5 strategize their leap to entrepreneurship. With my 6-Week Dream Builder System, I can teach you the tools, strategies and systems needed for building your own roadmap to a life with more intention, freedom and purpose.
Why am I doing this?
Because I believe that you too have an unapologetic right to live purposefully, dream boldly and strive relentlessly in pursuit of the life you know you were destined to live.
Reviews
Tanisha doesn't have any reviews yet.