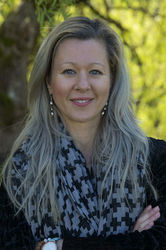 Tanya Romanuk

West Vancouver, British Columbia
Career Coach, Performance Coach, Leadership Coach
BA, Cognitive Behavioural Therapy, Neuro-linguistics, Mindfulness, and PSYCH-K Facilitator
My clients are coached to use their intuition to find career purpose and then to optimize their brain and biology for peak performance becoming Intuitive Performers.
Details

West Vancouver, British Columbia V7T2Y4
6043386388
Send Message
Visit Website
Hourly Rate: $175 to $250 Canadian Dollars
Gender: Female
About Me
After two decades of a career in banking, software start-ups, a grand mal epilepsy diagnosis, an unhappy marriage and divorce, living in five countries, and supporting my family, I felt stuck. I was living a life I believed I had no choice to live. I was burnt out and sad all the time, my health suffered and I had no time for my loved ones, something had to change.
I started questioning why I kept doing the very things that made me so unhappy and my answers always began with I have to, or I can't; I have to earn more money, I can't change careers now, I can't start my own business. The questions led me to my intuition which led me to my best self, a Career Purpose & Performance Coach.
Being previously in the corporate world gives me the unique ability to relate to the challenges people in business experience. I am passionate about purpose, intuition, and helping create intuitive performers, those that can access and follow their intuition to massively drive their lives forward.
Reviews
3 reviews (5.0)
I am always impressed to realise that life always puts the right people on your path. This year has been a tough one for me. I understood that there was no point in going through this big transition phase on my own and that it was time to accept help. This is when I met Tanya. Her coaching has been one of the most valuable moments I had so far this year. By following her intuition, she managed to guide me. She made me understand a lot about myself. I can genuinely say that I feel a lot better, a lot clearer  about myself and she played a big part in this process. She has lots of tools in her toolbox and she knows precisely when to use them. I felt heard and safe working with her. I now need to carry on taking the next steps of the journey on my own but I know what to do. I am pretty sure our story together will carry on. I will not hesitate to ask for her help again if I feel I need clarity.  Thank you so much Tanya. Corine (from France)

Corine
Tanya was very perceptive and willing to lean in close to listen and hear what was on my heart. She has the skills to help you tease apart the confusion and discover the real issues that keep you from reaching your goals. If you are looking for someone to coach you in being accountable to yourself and your desires, Tanya offers a gentle yet real foundation and heart space to work with.

Lorelei Grecian
I have had the chance to be coached by Tanya during a delicate moment of my life involving a major transition (professiona life, personal life, self-growth and development) and she is the best! Her coaching style is reassuring and friendly, she is genuinely interested in understanding you and her ability to empathise is frankly quite rare. She gently challenges you and helps you step out of your comfort zone. I strongly recommend her for any issue related to transitions and if you are to embrace major changes!

Fabiana