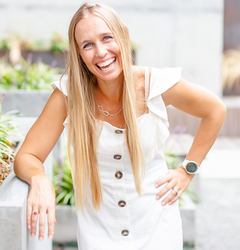 Tara Van Dam

Atlanta, Georgia
Life Coach, Health and Fitness Coach, Performance Coach
Expert Registered Yoga Teacher, Certified Mindfulness Meditation Instructor
I work with people who are in search of deep and lasting self improvement. From body issues, to self confidence, stress management, a lack of self worth, and living below ones potential.
About Me
Hi, I'm Tara. I am a South African now living in the USA. Once a competitive surfer and now a plant based long distance runner and enthusiastic yogi.
My ideal client is someone who is in search of deep and lasting self improvement. Their biggest challenges lie in overcoming mental habits and thought patterns that interfere with their overall happiness and life satisfaction. My clients often struggle with weight management and body issues, a lack of self confidence and self love, and not believing in their own value, often operating below their potential. There's a fear that they are missing out on their life because they can't get a handle on it and therefore are not as happy or peaceful as they could be.
My process is an integrative one, where I combine the power of coaching with the wisdom and practices of meditation and yoga.
For example, if my client is looking to lose weight, we will work together on designing a plan, setting goals, and identifying thoughts and beliefs that are getting in the way. This client will also receive meditations that will help with curbing cravings, reducing the experience of stress, and improving feelings of self love and worth. More so, I would offer this client yoga, both as a workout and as a way to increase self awareness and build inner strength.
Similarly, a client who is working on overcoming anxiety will benefit from the coaching call, where they can talk through their fears, their false beliefs, and their thought patterns. But this same person will also be given a variety of meditations to use, such as a somatic stress meditation, as well as yoga poses that facilitate grounding and a feeling of security.
All of this complements the coaching process, providing more tools to help you find lasting success.
I am a certified Expert Registered Yoga Teacher and Mindfulness Meditation Instructor. I received my Life Coaching certification through the Institute of Life Coach Training.
Reviews
5 reviews (1 verified) (5.0)
Tara and I have worked together since the Fall. She has helped me set boundaries, narrow down & meet goals and intentions, and most importantly: believe in myself! I highly recommend her for women in the health & wellness sphere. Shes very easy to talk to & attentive, while also providing honest feedback.

Victoria
I have always been intrigued by the idea of a wellness coach but never thought I needed one as I am quite happy with my life, family, career, etc. But when the unique opportunity to work with Tara presented itself at a school auction I knew I had to be the highest bidder. And I am soooo glad I did this for myself. I've had five sessions and I'm hooked. There is always room for improvement and Tara finds the way delve into my feelings and reservations to find ways to bring out the best in me. At times she can articulate my own thoughts better than me and help me discover why I feel or act a certain way. At the end of each session I am left with new resources and tools to tackle situations that make me uncomfortable. I look forward to future sessions exploring areas in my life that could be enhanced leading to more joy and wellness in my life. Thank you Tara!

Jill
This was my first time during this type of coaching and it was a very positive experience. I would encourage anyone who is unsure to invest in coaching - to take the leap and do it! I must admit I was hesitant at first and not sure what to expect. Tara was very nurturing and supportive and helped guide me to articulate goals and take positive steps towards those goals. She met me where I was at the time and knew I needed gentle encouragement and some time to take steps out of my comfort zone. Tara held me accountable, while also giving me space to process what we talked about and find my footing in this self-improvement journey. Thank you, Tara!

Shannon
I loved my time working with Tara. With her help, I've been able to make short term, attainable goals that have put me on a healthier path both physically and mentally. She helped me with mindfulness, meditation and easy, healthy recipes that I've been able to get my family to eat as well. With her help, I've been able to set short weekly goals and I have found them to be much more achievable than big, long term plans that frustrated me in the past. I'm so grateful for her help on my health journey.

Caroline
Tara is an incredible coach, she is patient and attentive. Tara has a special unique ability in conjuring up words and delivering examples that you can easily relate to. She has allowed me to tap into my wellbeing and as a result has activated a new sense of awareness in my life. I am forever grateful with my now activated clarity on who I am and what my life purpose is here on Earth. I highly recommend the phenomenal Tara Van Dam for all your coaching needs whether it's figuring out who you are, what your life purpose is or if you're thinking about going plant based. Much Love, Lee

Lee Buckton