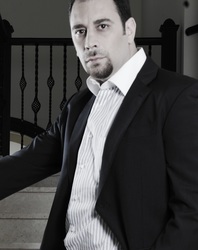 Tarek Al Haddad

Dubai, Dubai
Career Coach, Life Coach, Performance Coach
Project management Professional, Certified Professional Life Coach, Certified Professional NLP Coach, Hypnotist
All people who come for coaching are usually intelligent courageous motivated, they need only the right-thinking tools and Techniques to solve work challenges and become from the top 1% success people
About Me
Often, we feel life is unfair, hard time, and tough circumstances can trigger self-doubt and our long-lasting and deepest fear of being marked as a failure. Life is full of surprises and obstacles along the way, and when you get into a deeper level of the typical day to day activities, you forget the basic role of nature, and then, just then, gravity starts pulling you down.
If you are one of the many people who think they are the only ones who struggle each day in life!
Guess what?!
We all do!! Life isn't always easy, but what we need to do is to become stronger and more grateful for those daily opportunities; yes…. that is right… struggles and obstacles are our daily opportunities.
Remember that whatever happens to you doesn't live within you, and you may not control what happens, but you can control how to respond to it.
It is all started when I was a little kid, where I have always been fascinated about the human nature and spiritual phenomenon in people's stories, it was always a source of inspiration and motivation to me. I kept this passion flaming till I got certified as a life coach, NLP coach, Hypnotist, and behavioral intervention practitioner.
With over 15 years working with corporate and big construction companies, I was able to improve the working efficiency of workers, executives, a variety of entrepreneurs, overcoming their work stress, the heavy burden of past, and getting rid of limiting believes. Unlocking human potential, inspiring them to create the life and career of their dream. Using various coaching models and techniques, I can program the session to suit everyone personally.
I will help you identify and let go of any habits you don't like, fears, and limiting beliefs standing between you and your goals. I know that everyone has the potential and most importantly, the right to be successful, I will guide through the door where you will be able to see the infinite potential of your own life and unlock them.
Reviews
2 reviews (5.0)
I contacted Tarek a few months ago; He was right positioned on about where I am in my life and helped to find clarity on how I want my life to be. The work we did together had a tremendous impact on every area of my life. I could finally understand my needs without feeling guilty, grant my confidence, and start setting boundaries. I stopped pleasing others and started to feel good about myself. As it resulted in my transformation through the process, I was able to be more present and exert more influence in my office, building a profile as a leader and trusted voice with senior figures across my office.

Rama. Mch, Sales Manager, Dubai
I've been always very happy with my career achievements, but for the last couple of years I was not sure how to move to the next step until recently when I was referred by a colleague to the concept of Life Coaching with Tarek, and I decided to try it. I'm so happy I did. Tarek is well informed about executive work in so many areas that would blow your mind, I was amazed how he understood my challenges so well and helped me create a roadmap with direction, resources, and the tools I needed to succeed in my career. His guidance put me on the right track, and he knew when to ask questions and how to make the most of our time. I am grateful for his insights and help. Anas F, Executive Manager, UAE

Anas F