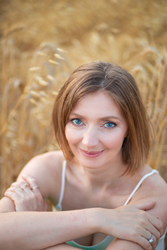 Tatsiana Suponeva

Limassol, Limassol District
Life Coach, Spirituality Coach, Career Coach
Erickson Professional Coach
I help people to find a direction in their life and career which is based on their true values, authenticity, unique potential, capabilities and urge for growth and development.
About Me
My coaching program consists of two major parts, Exploration and Implementation.
The first part is about finding the direction in life that is based on your authentic personality and employs your talents, skills and unique potential. This part is mostly about self-discovery and "knowing thyself". My coaching support will include, but will not be limited to, the following:
- eliciting your personal values
- unfolding your hidden talents
- figuring out your core strengths
- uncovering your true needs and desires
- the Golden Shadow – acknowledging your rejected resources
- understanding your sense of purpose.
The second part is about implementing your big goals and decisions into life. Now that you have your authentic life project it's time to bring it to life! This part is mostly about actions and that implies that you will have to step out of your comfort zone, you will be challenged and you will have to be trying new things. My coaching support will include, but will not be limited to, the following:
- keeping you moving forward
- time and task management
- prioritizing and staying focused on your big goals
- having your energy at the high level
- dealing with inner resistance and hidden blocks
- safeguarding and enhancing your inner assets (self-confidence, motivation, balance, resilience).
You can opt for the both parts or one of them according to your needs. Please note that the program is rather a framework to lean on than a strict plan and can be easily customized according to your personal situation and preferences.

Credentials: EPC (Erickson Professional Coach), ATCP ICF certificate, 240+ hours of coaching practice.
Languages: English and Russian.
Reviews
3 reviews (5.0)
Being coached by Tatsiana was so good - she helped me dig deep within myself and explore new angles & ways of seeing things. I had plenty of breakthrough sessions with her. I highly recommend her!

Willene Freddy
My cooperation with Tatsiana was extremely productive. Before it I had felt stuck in my life without a clear notion what direction to follow. She helped me to look into my deep self and realize my unique strengths and talents. She supported me on setting the life goals which align with my authenticity and are enhanced with my true values. Now I am on the way to my goals and I am full of energy, enthusiasm and anticipation. I feel more confident and fulfilled than ever and my life opens up to me with new opportunities and rewards.

Iryna Kipiashchuk, Accounting & Financial Reporting specialist, PhD in economics, Cyprus
I very appreciate cooperation with Tatsiana. We were working on my personal project and under her guidance I discovered some new possibilities and opportunities.

Lucia Petrusova