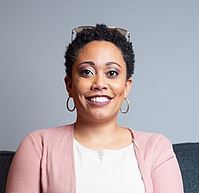 Taylore Mountain

Chicago, Illinois
Executive Coach, Relationship Coach, Leadership Coach
MBA, AMFT
I coach mid-twenties to early-fourties high-performing men and women looking to increase confidence and performance, and mitigate stress at work and home through effective communication.
About Me
Taylore was born in Germany to US Army parents. Her family lived in Europe for a few years before moving back to the States. Taylore had an older sister who passed away 25 years ago. Since then she has made it her mission to understand life, make the most of it, and help others find happiness in their lives despite what may happen.
Upon high school graduation, Taylore had ambitions of being in the medical field. But after a visit to a bed in breakfast in Washington, DC, she knew hospitality was a better fit. Taylore attended St. Mary's College of Maryland and studied Psychology then attended East Carolina University where she received her Master of Science in Marriage and Family Therapy. While different from her hospitality dreams, she knew these adventures were all going to make sense in time.
For a few years, family therapy was Taylore's main focus...then life happened and she lost her job. While she figured out her next move, she used that time to discover a better fitting career. In 2015, Taylore was accepted into DePaul University's Master's in Hospitality Leadership & Operational Performance program. By the grace of God, Taylore found a job at the University and took the leap to tackle the MBA degree. In 2018, she received her Master's in Business Administration with concentrations in Hospitality Leadership and Entrepreneurship.
Taylore's story has many ups and downs with several twisted paths thrown in there, but her faith kept her positive that everything will work out. She believes that all experiences help us to be better people, and we can use our story to help others. Change is inevitable and growth is necessary. With her experience, outlook, and quirky personality, Taylore wants to help you live a life that is Taylored to you.
Reviews
Taylore doesn't have any reviews yet.