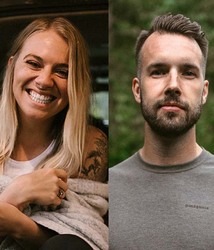 Cottonwood Coaching

Salt Lake City, Utah
Life Coach, Career Coach
Certified Professional Coactive Coach, Licensed Mental Health Counselor (Utah)
Want to create something meaningful in the world but spending your days doing things that deplete you? It can feel like sandpaper grating on your soul. We can help you rediscover your purpose.
About Me
We work people who want to do something meaningful in the world. Do you dread going to work every day? Do you know that what you're doing isn't making the impact you had hoped for? Are you simply feeling undervalued? This feeling of dissonance is becoming more common and it can lead to feeling like you're sleepwalking through your own life. More and more, our clients are reporting feeling stuck and flat because they've been putting their time and energy into endeavors that aren't giving them what they need.
It's time to stop choosing the wrong thing. Our Certified Professional Co-Active Coaches, Ted Winkworth and Corinne Christopherson, provide coaching from the most proven and flexible model and coaching. Since 2018, we've been helping people get unstuck and rediscover excitement and passion about their lives.
We begin by helping you understand your values and your purpose. Then we work to understand the stories in your head that bring you closer to those things as well as the critical voices that pull you off track and keep you playing small. Finally, we take ACTION. The most important part of coaching isn't talking about things, it's moving forward on those things you know are critical to your fulfillment.
Our clients find a sense of freedom that comes from knowing themselves authentically and build the confidence to act from that place. You can rediscover passion for things you have forgotten, buried, or simply never explored. Do the work to let go of the old story and find out what you're actually meant to do.
Book a free intro and see what it's like for yourself.
Reviews
5 reviews (5.0)
If you're looking at working with Ted I can't recommend it enough. I had been going to therapy for years and though it was a great foundation and helped me to understand myself and make meaningful & healthy changes, I still found that I was unhappy, drained, and unfulfilled in my work and my life. I came to Ted thinking I was in need of a career change and was certain my work was the issue, but through our sessions I started to view my life from a new lens and with Ted's help was able to identify the things I actually wanted and needed to focus on. I was able to understand my life values and map out my priorities in a way I had never thought of previously and I was discovering and answering questions I had never asked before. Ted's empathy, professionalism, and knowledge of life coaching and therapy have been life changing for me. I have no doubt that he can and will help you identify what you need in order to feel more fulfilled.

Hayley Boushka
I highly recommend Cori and Ted to everyone. Traditional psychotherapy and modern medicine wasn't serving me well. I am so glad I got connected with Cori and Ted. They both have fabulously large hearts and passions to help others. They are so real, and you can feel it, even over video across the country. I have Ted to thank for my personal growth this last year. His compassion, undivided attention, and pure curiosity and frankness are just what I've needed. Thank you Ted and Cori. Keep the love flowing. Cheers to you both!

KM
Working with Cori has been a great investment in my personal and professional development. I can definitely see the progress and it is exciting! I particularly appreciate Cori's creativity and insights. She has helped me leverage my own strengths to develop new perspectives and successfully address challenges. Thank you, Cori!

Kathy R
f you are considering working with Ted and Cottonwood Professional Coaching, let me save you the trouble of making the decision: Do it. It will change your life, your sense of self, and your well-being forever. Working with Ted at Cottonwood Professional Coaching has been a thoroughly enjoyable, thoughtful, profound, life-altering experience. Ted is extremely empathetic, present, and genuinely cares about his clients to a deep degree. He will celebrate with you in the great times and help you believe in yourself during the difficult times. His level of support is absolutely unmatched and really helps with the process. Coaching has helped me believe in myself more, figure out what I truly value in life, and has given me the tools to design my life in alignment with those values. In terms of logistics, Cottonwood Professional Coaching is top-notch. Scheduling sessions is super easy and intuitive, and they send a perfect amount of reminders for the appointment. They are also flexible and understand that sometimes life happens, which is really helpful. I've never run into a logistical or technical issue. Communication is outstanding, clear, and quick. The entire experience has been extremely smooth from start to finish with no technical, logistical, or administrative hiccups. They are there for you exactly when you expect and need them to be, and the experience itself is flawless. Overall, Cottonwood Professional Coaching is one of the best decisions I have ever made. If you are considering coaching then look no farther. The professionalism, insight, and support will create a profound experience for you as it has been for me, I'm sure of it!

Peter Gierlach
I have been working with Corinne for several months and I am endlessly grateful for her guidance, patience, and insight. She has a remarkable way of validating my experiences, and leading me to see the strengths I already have. She is an excellent coach, and I'm so grateful to be working with her.

Elisabeth Heath