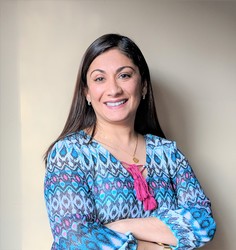 Tejal Kaji

White Plains, New York
Leadership Coach, Executive Coach, Life Coach
MSW, SPHR
I work with people who are ready to really uncover the leaders within them. Are you ready to take the next step in your career? Your life? Let's connect and see how I can you.
About Me
My mission is to connect with people who are ready to take the next step in their careers and their lives. Through the use of 1:1 coaching, assessments, group sessions, and work with corporations, I guide people in the discovery of their skills, passions, and joys that allow them to lead with strength and compassion. My goal is to help people discover their unique strengths, abilities, passions, and values as they navigate through their daily lives and work.
I found my way to coaching, but I took a lot of different paths and turns to get here. I started my career in Social Work working with at risk youth. I went on to earn my Masters in Social Work and then transitioned to working with adults through an Employee Assistance Program (EAP). This is where my love for guiding people through their ups and downs really started to take hold. Some years later, I decided to make a career change and went into Human Resources. It was here that my skills in forming relationships and truly listening to what people had to say really grew.
Through my HR career, I have been at a few organizations and the head of HR at two, and at each place I learned more about the things that made me happy. I found that I was always at my happiest when I was truly "coaching" the managers and staff that I worked with. I decided to take my HR career a step further and received my Senior Professional in HR certification. While I grew in my HR career I added on a variety of different jobs and roles outside of my "regular" job. What I realized was that each of the roles I took on were ways for me to be able to coach and guide people in finding ways to become the best versions of themselves.
Through my career growth I was able to do just what I do now for my clients. I uncovered my inner leader and found a way to live my passion and compassion while helping others.
Reviews
Tejal doesn't have any reviews yet.