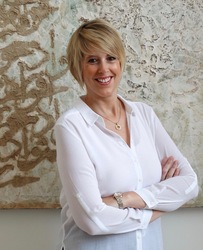 Teresa Townsend

Doha, Doha
Life Coach, Executive Coach
NLP, Mindfulness Practitioner
Accredited professional and personal coach, specializing in life balance, empowering individuals and taking an individuals life to the next level, whether that be in their career or personal life.
About Me
Teresa is a Certified Coach with over 20 years experience in the Finance sector. She holds an ICF Accreditation for Coaching, is a certified NLP (Neuro-Linguistic Programming) Practitioner, and a certified Mindfulness Practitioner. However, her most important and extensive training comes from her own life experience. She realized from an early age the only person who can save is you is yourself, and if you want things to change you have to make a change. This is the common-sense approach she brings to her coaching.
Teresa works with individuals who are ready to take their professional and personal life to the next level and beyond. Teresa is very approachable, fun and warm, however, don't be fooled by this as she is passionate about what she does. Her style is direct and honest, as her intention is always to support and encourage her clients to get out of their own way. She will challenge her clients to take risks, highlight their limiting beliefs and create a vision for their future. She doesn't believe anyone should settle or exist in their life and will show her clients anything is possible!
Teresa does not use a script like many other coaches. She simply creates a safe space, listens, dances with her clients and lets the exciting journey of self-discovery begin.
Reviews
3 reviews (5.0)
From my first meeting with Teresa, I knew I could trust her – this was the most important thing for me. To open up to a total stranger isn't easy, but Teresa made it feel so simple. Our journey together has been a really fruitful one for me; at times painful and others a joy. It has certainly been one of true discovery. Coaching has really made me look at myself in a truly different way. I have learned with Teresa's guidance how to treat myself differently and I've shifted my paradigm on many aspects of my past, and I'm learning to be much kinder to myself as a result of this. No doubt I will have times when self-doubt will creep back again, but Teresa has shown me coping mechanisms to help me overcome these. I would have no hesitation in recommending Teresa.

Diane, Associate Director, U.K.
Before I met Teresa I found myself stuck in a "rut", so to speak. I was battling every day to try and cope, with life's hardships and was a very negative person! There was so joy in my life, no fun activities or laughter. Teresa, really made me take a hard look at myself and ask questions, I'd never before thought of or had the answers to. She has changed my outlook on life, by helping me put things and problems into perceptive. Helped me realise that to grow as a person and letting my thoughts go down that same road, will take time and not to give up! I have slowly taken myself out of my "comfort zone" and I have a far better positive attitude towards handling difficult, life situations. My home environment and relationships with my family have changed a great deal. I am so grateful to have met Teresa and the huge impact she has made in my life. I would highly recommend Teresa!!

Michele, CEO of her household, U.K.
I was intrigued by life coaching but had the notion that it is applicable mostly to job placement and suitability. After meeting Teresa and having a brief introduction I realized that it could provide me with the tools to achieve clarity and focus in all areas of my life including mothering, family dynamics, and my career. Teresa provided a comprehensive framework for us to examine all facets of my life and satisfaction. Through very careful exploration, I began to better understand the areas I had stagnated in my life. Our weekly sessions were insightful and very thought-provoking, and through her coaching, I was able to formulate a vision for myself. We used questions, visualization strategies, and of course lots of conversation. One aspect I particularly valued was Teresa's amazing listening capability and her ability to lead me to decisions through my own volition. I encourage everyone to seek coaching to achieve life balance and satisfaction and strongly recommend Teresa!

Aliya, Yoga teacher & Mindfulness Practitioner, Qatar