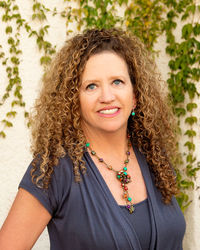 Teri Lerew

Tucson, Arizona
Life Coach, Spirituality Coach, Health and Fitness Coach
Transformational Coaching Method Advanced
Weather you seek a dream job or one that feeds your purpose, with my "Own Your New Direction" plan you won't have to go it alone!
About Me
I welcome working with clients that have had life challenges that range from, not living the life that they want, to experiencing disenchantment in their current careers. Fulfillment to them feels difficult or unattainable. They feel that they are living in a state of entrapment and not
working towards their fullest potential.
Together in partnership, we will curate a rich and valuable program that will emphasize seeking clarity about the next steps required to achieve the desired outcomes. This allows clients to comfortably journey down a path of discovering new possibilities in living their fullest lives! I
promise to stretch my clients and to give structured accountability activities to help move them closer to their current and sustainable goals. Early on, my clients realize that I am supportive, understanding and trustworthy and also quickly understand the benefits of working with a vested life coach!
I am enthusiastic, energetic and adventurous and I love to meet new people! I am a wife and mom and I honor the importance of weaving nature into living my best life! I have been very fortunate to have experienced a diverse employment and entrepreneurial background which has afforded me the luxury to work with people of many talents, dynamics and diversity. I have connected with these humans by many creative means allowing me to foster and encourage hope in them, and others, that I meet on a daily basis.
Let's do this together! I would be most honored to be your coach!!
Reviews
4 reviews (5.0)
Teri was a positive motivator. She took what I wanted to work on to improve myself and helped me develop into the person I am. This is worth the money and the time. It all starts with the small steps which achieves great things!

Matt
I wanted to share my recent experience with Teri as a life coach. She provided me with tools to change my mindset. I was limiting myself based on some beliefs I had about my career choices or even about the possibility of retirement. Since we completed our sessions 3 months ago, I've noticed so many positive changes in my life including a possible career change. She opened my eyes to so many possibilities and I'm so thankful for that. Teri is a treasure and just talking to her made my stress level go down. I looked forward to our weekly sessions because I knew I was going to learn something that would become invaluable to me. She taught me ways to manage my high stress/anxiety behavior and I find myself going back to those practices often. I'm extremely grateful for the opportunity to go through this program and I'm sorry it's over!

Liza, Q
My 12-week journey with Heart & Health Life Clarity has been such an enrichment to my life. Through inquiry and assessments, I was able to discover my strengths and also see areas in need of grace and guidance. Each session with Teri included such a variety of reflections, reminders and gentle challenges to move forward into my desired blessings. The vast areas of growth in my life include: a cleaner and more organized home, weekly meal prep, a dedication of spiritual growth, intentional touch points, family game nights and laughter, an amazing smoothie recipe and a direction of intent towards my life purpose and goals. Twelve sessions with Teri at Heart and Health Life Clarity were the catalyst to guide me into amazing personal growth and forward actions. I am truly grateful and blessed!

Laura W.
I really want to share the amazing experience I had working with Teri. She really helped me find balance and joy in my everyday living and tasks. She helped me get organized. She helped me learn how to say yes to the things that I really wanted to do and no to the things that I realized I had a choice in. She is a very caring and patient individual. I highly recommend working with Teri and going through the first 90-day course.

Pam X.