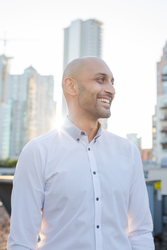 Terry Sidhu

Vancouver, British Columbia
Life Coach, Relationship Coach, Team Coach
BA, Marketing, Advanced Level Diploma - Psychology
Are you feeling unhappy, insecure and overwhelmed? Feeling uninspired and disconnected from yourself? Want to be confident, prepared and motivated to seek lasting fulfillment from life and from love?
Details

Vancouver, British Columbia V6B 5Z6
Send Message
Hourly Rate: $275 to $325 Canadian Dollars
Gender: Male
About Me
My coaching services work on restoring your self-worth and help you uncover and access your potential. By helping you understand more about yourself and your own personal motivations, together we can pinpoint key areas in need of development and construct a program to guide your life into fulfillment. We'll break down your aspirations into manageable steps and strengthen your vulnerabilities to withstand any challenges you may encounter along the way. By unleashing your identity onto your life, I will help you realize that you are your most valuable asset.
Relationships are the assembly of individual identities. They're about support, equality, balance and most importantly acceptance. My relationship services are dedicated to helping couples and group/family units to restore these fundamental components and to be mindful of them.
I also offer mentoring programs that prepare young minds and young professionals to excel in a world where their ideas are just as fundamental to success as their experience and education.
With a bachelor's degree in marketing management and a diploma in psychology, I developed a model that helps others navigate their lives into fulfillment; A model which combines the applied management tools of marketing and the pragmatic, motivational applications of psychology. Furthermore, I actively seek connections and developments in areas such as psychology, science, business and marketing, philosophy and spirituality, to better serve my clients and improve my coaching practice.
The details of our individual lives may differ, but we all desire the same emotional experiences from life. Therefore, we'll explore what you're feeling when I coach, in order to define and guide you onto an honest path, aligned with who you truly are and what you truly desire. You will most definitely laugh along the way and you may even shed some tears, but you will feel more confident, more prepared and more motivated to build the life you were born to live.
Reviews
12 reviews (5.0)
I met Terry at a very interesting point in my life. I found myself at a crossroad completely clueless of what am i supposed to do with my life and my mind just couldn't stop rushing and pulling me in all directions. That's when I decided I need help. I learned during his group coaching program about perspective and about always finding a way out from every situation. What Terry will continue to reinforce is that for the best results you have to be completely honest with yourself, and that's what I was trying to avoid at all costs. Sometimes truth is ugly but we have to face it. He is also emphasizing on how to be comfortable with the uncomfortable. Get out of my comfort zone, look beyond the limits I foolishly set for myself, push the boundaries of my mind and making me aware of the world inside and out. I'm very grateful for the opportunity of being in his group coaching program, I've learned so much more with his help than relying solely on myself.

CRISTINA, 23, GUEST SERVICE AGENT, VANCOUVER, B.C. (8-WEEK GROUP COACHING PROGRAM)
SIMPLY THE BEST. Before choosing to work with Terry, I spoke with 4 other Life Coaches and a psychologist; I was really lost and trying everything (and everyone) that could help me surpass what I was going through. I was convinced that I wanted to work with a female Life Coach (being a female myself), but from the first 2 minutes of speaking to Terry, I felt that this was someone who really gets me (like a close friend) and knows what I'm going through. Terry had the best advice on various "life situations" and all the tips he gave me always made perfect sense. He's truly the best guide to help anyone get through a difficult or confusing period. When I first contacted Terry, I didn't even know what was going wrong. He helped me pinpoint what wasn't going well and how to make it go well - without taking drastic decisions right away that I might regret later. I would recommend Terry to anyone who's feeling confused at any point in their life regarding any situation... Terry will be there to listen to you and to guide you to a happier and more positive place. Thank you Terry for doing this for a living and for spreading positivity in the world.

KARINA, 28, KEY ACCOUNT MANAGER, QUEBEC. (6-WEEK ONLINE COACHING PROGRAM)
I was referred to Terry by a family member who recommended him after using his services. I was skeptical at first as I have generally found most coaching/physiological services unhelpful but Terry proved to be different. If you are looking to make some positive life/career/relationship changes in a short period of time, Terry is your man. He is highly insightful and skilled at reading and understanding people at a core level. Within the first session he recognized my strength/challenges and easily identified self-defeating ideologies and habits that stood in my way from reaching my full potential. In the four sessions I had with him, we were able to find direction in both my personal and career life and develop a plan for implementation. Terry not only spent as much time as I needed during our sessions but he also spent a lot of time doing research, providing useful links/ information and providing written follow-up and action plans. He is professional and personable and genuinely cares about his clients. Most importantly he is highly effective at what he does. I felt his services were excellent value and I would highly recommend him.

Diana, Burnaby, B.C.
This was my first time with professional coaching services and I thought it was a very positive experience. Terry helped me change my perspective on people and situations in my life, and showed me some techniques and tools to better myself, stay positive and move forward in my life. Terry is very perceptive, and taught me a lot about myself. He was organized and put a lot of thought into each session, and any feedback. I felt like he really paid attention and remembered our conversations, and catered the sessions to my interests, goals and what would personally benefit myself.

Madeline Adams, Photographer, Vancouver, B.C.
Terry is an amazing Life Coach. Not only is he compassionate and caring, but he is also intuitive and perceptive and has the ability to quickly see things that you aren't willing to see or are in denial on. When I met Terry I was depressed and lonely. I was in denial that my estranged husband hadn't treated me as well as I deserved to be treated, that he took me for granted and that I deserved better. I was hanging onto what little of it had been good and was in denial about the bad. This was primarily due to my loneliness and childhood abuse issues, so I was hanging on to what was familiar to me and was longing to get back with my husband. Due to Terry's guidance I was able to see that my matrimonial home was a source of loneliness for me and that I needed to find what inspired me, as far as a career was concerned as I had recently been laid off. I decided to sell my house and found another house I fell in love with that I could make my own. I also decided to take the opportunity of going back to school through sponsorship from Employment Insurance. And I realized that my husband had not made our marriage a priority and that I deserved better. But I decided to put any dating on hold until I found myself to be stronger emotionally, and free from any emotional baggage from my marriage. Terry allowed me to see how I could be a positive role model for my young teenage son, by becoming a strong empowered woman and be able to be there emotionally and physically for my son. Now I am feeling positive and excited about my life going forward and hope to one day have a fulfilling career and loving relationship I deserve. And I couldn't have done it without Terry's guidance and enlightenment.

Julianna, Vancouver, B.C.
Fate has brought me to cross paths with Terry and it was the best thing that happened to me in 2015. I lacked purpose and was desperate for some help and guidance and didn't know what to expect from a "life coach" and, in approximately 2 months, I am a more determined person, more positive, energetic and aware of my surroundings because of Terry's coaching techniques. I can proudly say that I am so much closer to finding out my purpose in life thanks to Terry. He managed to get the best out of me and he put me on the right path. He is highly recommended. Terry is genuine, dedicated, very patient, understanding and many more but most of all, he is very passionate about what he does and that's the most important thing.

Nada, Cairo, Egypt
I found Terry to be extremely helpful in gaining perspective in my life, and he offered me concise tools to use in order to increase a positive outlook! He was extremely sensitive, kind and intuitive and was very easy to talk to. He also did not "hold my hand" all the time, and used appropriate moments to pose challenging and awkward questions. We never want to answer those, but it's important for digging beneath the surface of our emotions. This talk was invaluable. Thank-you so much!!

Hayley Crittenden., Opera Singer, Vancouver B.C.
Thank you again Terry for the awesome session. That day you helped me figure out how to have a better state of mind and drive to achieve better in life. You made me realize how to have a more balanced, more fulfilling and more enjoyable life by letting the past go so I'm not carrying it on my back. Before I was holding on to old beliefs and old mindsets that really didn't help me. You made me realize the more I appreciate my present and future the more positive mindset I will have. When you reminded me that It's what I do and how I act is something that will duplicate in my daughter, is what really hit me because I was doing things that I would not want my daughter to ever do. That is when I decided to let go of things and stop putting my life on hold for others and focus on my journey with [my daughter] for the better. Thank you so much again. Keep doing what you're doing because your coaching sessions are incredibly inspiring and I value your expertise and support that guided me to my individual strength and need. Thanks for the motivation and self direction I needed.

PRITIKA GANDHI, VANCOUVER B.C.
Great! Terry thanks so much for meeting with me. - In a very rich and intense couple of hours he opened my eyes to some things I was not considering in my relationship. He was full of insight and wasn't afraid to ask tough questions. He listened to me and tailored his coaching to my specific situation. It was a very valuable experience for me.

Graham Fitzpatrick, Vancouver BC.
I've always been motivated and determined in my life, both in my career and personal life. However, over the past few months, I've ended up losing my sense of direction. I had felt like I was simply going through the motions of things, struggling to find my purpose in life. Working with Terry had been one of the best decisions I've made since. Terry's understanding and expertise in building a solid foundation in life played a key role in reconstructing and redefining my own. With Terry's guidance, I've been able to find my footing and my purpose again. He has been a pleasure to work with and I highly recommend him to others. Two thumbs up!

Justina, Author/Founder of 'The Personal Geographic', Vancouver B.C.
I found Terry through his blog...he is so inspirational and to the point, yet talks to you as if you're his best friend. I have certainly seen a positive difference in my life as a result of applying things he has taught me and my team about motivation and how it works...fabulous stuff!

Ramina Purba, Arbonne Independent Consultant, West Midlands UK
Terry has played a tremendous part in how I approach every day challenges both in my personal life and in my work environment. Confidence and patience have always been two areas I have had difficulty with. My time with Terry has helped me take a calmer approach to numerous personal hurdles such as the frustration of not being able to immediately start a family, an issue I have been anxious about and struggled with for some time. He is a wonderful and kind person who you can easily open up to and feel comfortable around. Terry has the gift of being able to make you understand the bigger picture of any scenario and help you understand the steps involved for you to reach your ultimate goal.

Olivia, Sales Manager, Vancouver B.C.
The Smart Way To Find A Coach

1 Describe Your Goals

2 Get Matched

3 Free Consultations
Find My Ideal Coach Now