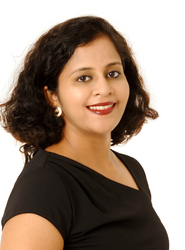 Thejasvi Parthasarathy

Bangalore, Karnataka
Executive Coach, Career Coach, Life Coach
MBA, MBA (IIM Bangalore), Bachelor of Engineering, Certified Yoga Instructor, Reiki Grandmaster
Are you a working professional who is feeling stuck or lost? Or a business owner who feels unfulfilled in life? I can partner with you to discover your Ikigai and design a fulfilled life and career
About Me
I work with two sets of clients:
1. Professionals who feel unfulfilled in their career.
2. Entrepreneurs or business owners who feel incomplete even when they are pursuing their passion.
As a result, they feel stressed, demotivated and hopeless, which rubs off negatively on their personal lives as well. It affects their confidence and self image too.
Through our coaching conversations, they get in touch with their strengths and their passion. This sparks joy and hope in them. In this new state, clarity emerges on how they can serve the needs of the world and get paid for it. They find their 'Ikigai'. This is where the magic begins as they can choose to reinvent their careers with a new zeal or transition into new paths.
I have transitioned from a successful career in sales and marketing leadership of over 11 years to Coaching in the last 2 years. I was a qualified Engineer before moving into managerial roles. Post an MBA degree from IIM Bangalore, I started off on a high potential career track with a large Indian multinational company. I enjoyed the diverse roles, working with people, steep learning curve and ever increasing responsibilities. Yet there came a point when I felt unfulfilled.
Having been through this period of confusion and chaos myself, I can connect with those who are in a similar situation. I found my strengths in deep listening and connecting with people. I discovered my Ikigai in Coaching, where I serve people through one conversation at a time.
I am trained as a certified Yoga instructor, Reiki Grandmaster and Bach flower remedies practitioner among other holistic practices. My continuous learning gives me new perspectives and pragmatic tools to add value to my clients. I continue to grow through inner work and this reflects in my compassionate presence.
I would be happy to connect with you if you think I can partner with you.
Reviews
Thejasvi doesn't have any reviews yet.