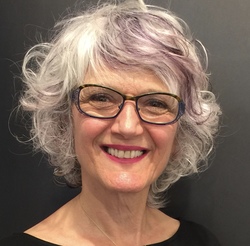 Theresa Conti

Trieste, Friuli-Venezia Giulia
Life Coach, Health and Fitness Coach, Spirituality Coach
Certified Life Coach, BA in Human Services, Trained in Positive Neuroplasticity, Positive Psychology, Gestalt Therapy & Other Methodologies
As a Stress and Life Balance Coach, I offer proven techniques that help my clients alleviate stress and shift from a life of dissatisfaction to one of greater health, happiness and fulfillment.
About Me
I am Certified Life Coach, Reconnective Healing Practitioner, Workshop Leader, and author with more than 25 years' experience.
As a Stress & Life Balance Coach, with an eclectic background, I take a holistic approach and enjoy helping clients achieve balance in all aspects of their lives: mentally, emotionally, physically and spiritually. I believe that when we reconnect to our dreams, and take the steps necessary to implement them, we feel empowered, and move from a life of stress and dissatisfaction to a life of harmony and balance.
Wil will begin with a 90-minute Discovery Session to take stock of your life, identify the changes you wish to make, and create a flexible action plan to achieve them. As we work together, you will gain a greater confidence and develop a deeper understanding of who you are and what you would like to actualize in your life. We will also explore any blocks that may be holding you back, so you can live with greater joy and ease.
My background includes a B.A. in Human Services, completion of a four-year program in spiritual counseling through the Center of Spiritual Living, two years' of training in Gestalt Therapy, and Positive Neuroplasticity with Rick Hanson, Ph.D. to rewire the brain for greater happiness, among other programs. My books include "Alphabet Affirmations: Transform Your Life and Love Yourself," and "I Am the Treasure," both available on Amazon.
I believe we have an inherent ability to transform our lives and circumstances, especially when we have positive support and guidance. It is my wish to support you on your quest for greater health, happiness, and fulfillment.
Feel free to contact me for a 30-minute complimentary consultation to discuss your dreams and goals, ask questions, and see how we might work together.
Serving the U.S. and Europe. Available internationally via Skype, telephone, Zoom, and other online media.
Reviews
37 reviews (5.0)
Theresa is a very talented, skilled, and caring professional who sincerely cares about her clients. I started working with Theresa at a difficult time in my life. I had been struggling for over a year to get my new business off the ground. I was getting nowhere real fast. I interviewed other coaches, but Theresa seemed sincere and professional. I was in a job that was draining me; I was frustrated because I hadn't activated my business plans; and my father, who lived two states away, was growing frailer every day. I was a troubled and confused soul. Theresa recognized and addressed my troubled soul. She helped me break through major personal barriers that I thought would linger with me for the rest of my life. Then, with her expert guidance, practical words of wisdom and advice, she helped me stay on track and focus so that, in the end, I finally accomplished my goals.

Carolyn Campbell, Holistic Fitness & Yoga Trainer, Atlanta, GA
Best training I've ever been to.

PPRS Caseworker, Stress Management Workshop
Theresa was excellent and was extraordinary to listen to. She totally related to us, answered questions, and was so responsive to our concerns that she forced us to listen. We were able to relate this to work and to our personal lives.

Teacher's Aide; Stress Management Class
Thank you for your time and for sharing your expertise with us. I know that because of being introduced to the techniques that you shared with us, my dealing with stress will make my life easier.

Greg H., Mabton, WA
My interaction with Theresa was an amazing source of strength for me and I was able to move forward in my life in powerful ways.

Mary F.
In only a few brief sessions, Theresa's (Teri's) guidance helped me learn how to access and trust my intuition. I now feel so much happier and confident in my decision making process.

Dina Weil, Hair Stylist, Seattle, WA
Theresa does an excellent job of listening. After reflecting back what she has heard and acknowledging the challenges presented, Theresa helps me search out possibilities and take actions that are within reach.

Jeanne R., Seattle, WA
Three weeks ago I experienced a 10-minute Reconnective Healing demo with Theresa and since that time I have slept better than I have in five years.

Randy C., Connecticut
Dear Theresa, Thank you so much for all you have done and will do for my mom. I am so fortunate for and your gift of healing.

Amy P., New Jersey
Our employees rated her as excellent. I highly recommend Teri Conti.

Priscilla H. Lauris, Wellness Coordinator, Washington Mutual Savings Bank
The knowledge and awareness provided to us by Ms. Conti is valuable beyond measure.

Linnea Mattson, Events Coordinator, Riddell, Williams, Bullitt & Walkinshaw
Teri Conti's stress management seminar was extremely beneficial to our office staff. Her presentation style is clear and easy to understand. I highly recommend her.

Betty Fox, Firm Administrator, Treece, Richdale, Malone, Corning & Abbott
Teri exhibits a high degree of professionalism. She teaches by direct experience in addition to other adult learning styles, making for a balanced training. I found her to be engaging and respectful

Scott Thompson, Director, Human Services Workshops Good Shepherd Services, New York, NY
Feedback from the participants was excellent…Teri has good judgment and analytical skills, and is a pleasure to work with.

Janet Sellwood, Director of Human Resources, Children's Aid Society, New York, NY
The best we all have is within us. What a joy it was for me to attend Teri's Intuition Development workshop, where she gently and lovingly pointed us all inward so we could glimpse the treasure there. If you want to learn more about yourself, have fun, relax, and make wonderful friends, I highly recommend that you too attend.

Dori Joyner, Author
Teri clearly knows her subjects and communicates that knowledge easily. Her interactive exercises help the group to bond and to share their own experiences out loud.

Janet Garber, Director of Human Resources, Practicing Law Institute, New York, NY
I would highly recommend Teri to any organization or group that is pursuing ways to enhance the health and well-being of its workforce.

Ron Burt, M.Ed, Manager Business Health Services, Providence / Pacific Clinic, Everett, WA
My Reconnective Healing experience with Theresa was amazing. I was almost immediately in a relaxing and blissful state. I felt as if there was a tunnel inside my body, and it was filled with immense love and peace. I felt like being touched and hugged by this loving energy from the inside. It was such a wonderful feeling! I felt totally rejuvenated.

Su Y, New York, NY
I was recovering from an embolism and experiencing extreme pain in my legs as a result of having had sciatica for several months when I saw Theresa for a series of three Reconnective Healing sessions while she was in Italy. I experienced a great sense of relaxation and well-being during the sessions and had many thoughts and feelings that I had not been consciously aware of. Theresa devoted much time, attention and caring as she listened to me share what I had experienced at the end of each Reconnective Healing session. Even now, over a month later, I am discovering emotions and having insights that are helping me heal from some of the negative experiences of my past. I now have more energy to do the things I want, and my leg is feeling better, too.

Giuliana Cupi, Torino, Italy
I had a great experience meeting Theresa, and found her to be very encouraging, positive and professional. She has a very warm presence, which put me immediately at ease. I enjoyed our relaxing session. She cares deeply about her work and it shows!

Rachel B., Massage Therapist and Doula, Brooklyn, NY
Theresa Conti is a compassionate, intelligent, and sensitive energy worker. I was six months post-partum and profoundly exhausted when I experienced my first Reconnective Healing® session with her. During the session, I experienced an extremely deep state of relaxation, which was even better than sleeping! I also felt several movements in my pelvis, as if my uterus was repositioning itself after childbirth. After the session, I felt a state of relaxation I had never experienced before. I highly and unequivocally recommend Theresa as an energy worker.

Terri-Marie A., Reiki Master & Mom of 10-month Old, New York, NY
Theresa is a committed healer and trainer, who imparts sincerity, compassion and enthusiasm to all her clients and students. Her commitment to her own growth is an inspiration to all who know her.

Jenna W., Organizational Effectiveness Coach, Chevron
Most beautiful lady. You have come into my life as a rare and precious gem. From the moment I met you, I felt love and warmth radiate from you and envelope me and I felt so very safe with you. You have given me back to myself through your love, your insight, and your incredibly special way of healing. I have come to realize that the love I saw in your face was a reflection of the beauty in myself and the love in myself. The love that you give is the love that you are and so it is for me.

Vicki S., Seattle, WA
Teri gave me an exercise that is so simple, and yet it really helps me prioritize my life! On days when I am overwhelmed by my "to do list," this tool helps me focus on what's most important...It's a daily stress relief!

Kate A., Seattle, WA, Editor
Theresa has that special inner quality that elevates those around her and brings out the best in them. She is a pleasure to work with.

Rene Alkalay, CEO, Tree of Life Genesis Center, Forest HIlls, NY
I met Theresa at Life Purpose Institute (LPI) and was drawn to her right away; she exudes such warmth, compassion, and a deep desire to connect. We worked together during our LPI certification training and even more closely outside of that. In that time I've come to respect her tremendously as a coach. Theresa has a calm, soothing presence which makes you feel safe and comfortable. And she not only listens, she truly hears you. She also demonstrates such a solid commitment to your personal growth and results and that makes working together a pleasure. Theresa is a gifted coach and healer and I highly recommend her!

Amy Peloso, Business Marketing Strategist, Career & Life Coach, Long Island, NY
Theresa is a sensitive, compassionate and skilled coach who helped me identify what holds me back from moving forward, helped me break down the barriers and gently encouraged me to move out of my comfort zone! With Theresa's expert guidance, I felt empowered to do so much more than I ever imagined I could. Her heart-centered spirit is warm and touching ... she earned my trust quickly ... I got results sooner than expected ... and, I'm on the road to an amazing new adventure! Thank you, Theresa, for your creative and thoughtful approach to coaching. I would recommend you to anyone who is motivated to make a change, is looking for great results and who wants a coach/partner to be their guide. That's YOU

Maria Tomas-Keegan, Divorce Recovery Coach, Phoenix, AZ
Working with Theresa has really helped me to stay on track when it comes to my goals and my business. She is supportive, while still holding me accountable and challenging me to step outside of my comfort zone. Her gracious support has really been a motivating factor and I'm very thankful for the opportunity to work with her.

Jasmine Briggs, Career Coach, New York, NY
Theresa is a very skilled, insightful and compassionate coach. She helped me get real clarity in a pressing area of life I am making decisions about. I get the sense that she is gifted in helping people find their direction.

Lenore L., Astoria, NY
I had an initial coaching session with Theresa last weekend, and found that she really listens. She helped me to identify areas of my creative work and find realistic actions to take right away. I feel that her skill in listening and compassion will be welcomed by others needing similar help.

Michael B., Musician, Brooklyn, NY
Ms. Conti has the innate ability to capture the essence of my experienes. Her astute ability to express to me her understanding in supportive and positive words gave me a sense of being understood, calmness, and a new awareness of my experiences. I highly recommend Theresa's abilities to help one reach an evolving and better self.

Sandra L., Retired School Teacher, Brookyn, NY
Theresa is a fantastic coach. I was passing through a very challenging period of my life and had the opportunity to have sessions of coaching from her. I was in a state of confusion about what to do in my life and she gave me great help, teaching me, through a step by step process, how to see the light among the fog that surrounded me. In this way, I was able to identify my priorities in life, as well as identify my goals. She suggested new ways of communicating with the people around me, in a way that now I can express my real feelings. I felt like she was always "on my side," ready to TRUST me and that she really thought I could do it! So I would recommend Theresa to anyone who wants to change something in her/his life, or anyone who is looking for a helping, friendly and warm-hearted professional. Feel free to open your heart to her, she will accompany you on a path of well-being and happiness.

Daniela C., School Teacher, Venice, Italy
Thank you so much, Theresa! You have really helped me so much. I think of you, and somehow that translates into me wanting to do good for myself.

Fredda S., Therapist, Forest Hills, NY
Theresa is a true professional, highly flexible and able to individualize each coaching session based on my needs at the time of each call. Theresa is amazingly intuitive; her unique processes helped me unveil core beliefs that were buried deep within and blocking the attainment of my goals. Once identified, Theresa led me through a series of exercises and helped me take manageable steps, which left me feeling successful, empowered and confident. Theresa's coaching has literally changed my life. If you are serious about making changes, I know that Thersa will have a positive effect on your lfie as well! Theresa, thank you again for all you have done for me!

Shelly S., Pilates Therapist, Torino, Italy
Theresa is an inspiration! She has helped me foster the courage to go after my dreams.

Linda H., Physical Therapist, Chelan, WA
I had four coaching sessions with Theresa during a very difficult period in my life. Theresa helped me recover from the grief of losing a child and worked with me in a myriad of ways to help me make a fresh start in my life. Theresa is a truly gifted coach: extremely resourceful, caring, flexible and knowledgeable. My coaching sessions helped me to clarify and meet my goals, and were often quite therapeutic in identifying and clearing emotional blocks that were preventing me from making decisions. I will always be grateful for her help and recommend her without reservation to anyone looking for a professional or personal coach. Theresa is a joy to know and work with!

Carrie S., Business Owner, Pleasantville, NY
Working with Theresa was a profoundly positive and affirming experience. Anyone who has the privilege of working with her will be very fortunate and transformed in the exact way they need. She has extremely strong intuitive skills, amazing listening skills and a lifetime of experience. I felt held, supported and guided. Theresa is truly gifted and I have been enriched by the experience of working with her.

Susan G., Social Worker, Beacon, NY
The Smart Way To Find A Coach

1 Describe Your Goals

2 Get Matched

3 Free Consultations
Find My Ideal Coach Now