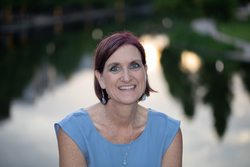 Theresa Maguire

Conroe, Texas
Spirituality Coach, Life Coach
Access Bars Practitioner, Reiki II
Are you being called to follow your heart, but overwhelm, fear and self-doubt keep you from taking action? I help women align with their purpose, ditch the excuses and confidently pursue their dreams.
About Me
Do you know you are capable of so much more, you just don't know where to start?
Do you let your thoughts and beliefs limit and sabotage you from taking action?
Do you let the mistakes and missed opportunities of the past cloud your future?
Do you shrink yourself to fit in places you've outgrown because of fear?
Do you buy into the not enough self talk; not enough knowledge, time, money, or support?
WHO DO I WORK WITH?
I help women 45-65 searching for more balance, fulfillment and happiness in their lives and relationships.

Perhaps, you are considering a career change or want to start your own business. Or, you want to feel more fulfilled and confident in your current job or personal relationships.
Change can be scary, but I can help.
ABOUT THERESA MAGUIRE
As an Empowerment and Spiritual Life Coach, I help women searching for deeper meaning, connect to their purpose and authenticity, identify limiting behaviors, reframe their thought patterns and trust their inner voice bringing more balance, fulfillment, and happiness to their relationships and life.
Through conversation, deep inner reflection and connection to self, I guide my clients to new levels of awareness showing them simple techniques they can use to turn struggle and difficulty into ease and joyful living.
ARE YOU READY TO TAKE THE FIRST STEP?
Let's get to know each other with a complimentary 30 minute discovery session and see if I'm the right coach to guide you on your path to empowerment.
Visit my website to select a day and time or contact me through the button above. I look forward to meeting you.
Reviews
I have known Theresa for many years and also had the pleasure of working with her. Theresa is a natural when it comes to consciousness and empowerment, she shares her knowledge and wisdom in an always inspiring way. Her honest and forthright way of listening and sharing makes her an amazing teacher, speaker and consultant for personal and business growth. I am honoured to call her my friend. Carelyn Wellness & Lifestyle Entrepreneur Suave Lifestyle

Carelyn