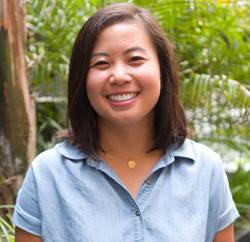 Tiff Pham

Emeryville, California
Life Coach, Relationship Coach, Spirituality Coach
I coach empaths and people-pleasers who are exhausted from taking on other people's stuff. I help them build boundaries so they can confidently say no and create more time for themselves.
About Me
What are five things that you love? Are you included on that list? I believe that self-love is one of the most powerful tools in our control and with it, we can fiercely be in the driver's seat of our own lives. I also believe that to have true self-love, strong boundaries are essential. Let's partner to find your voice, needs, and desires. My coaching approach is mindful with a touch of humor and lots of fun. My clients range from CEOs and solo-entrepreneurs to professional athletes and everything in between. I am proud to be of service to anyone who is ready to strengthen their boundaries so they can live a more fulfilling life.
My pronouns are she/they and I live and dream on Ohlone land, now known as Oakland, CA. I am first-generation Vietnamese-American, queer, and an eternal student of life. I am passionate about working with women, QTBIPOC (Queer, Trans, Black, Indigenous, People of Color), and other members of marginalized communities. I am a Certified Professional Co-Active Coach as well as an Associate Certified Coach, credentialed by the International Coach Federation. I've been a professional coach for the last five years and I worked in marketing at startups prior to that.
Reviews
2 reviews (5.0)
You approach discussions with a positively matter-of-fact attitude that stands in opposition to a quagmire mental outlook that I may sometimes find myself in. You are adept at shining light on problems in a way that facilitates moving toward solutions. As someone who spends a good amount of time alone and in their own head space, I think you've been inspirational in re-enforcing positivity and confidence that can sometimes be eroded by self-defeating thoughts. I had probably initially expected more discussions about organization and concrete tasks, but I'm finding our sessions to be generally empowering and motivational because of the way we have discussions about how to move towards goals rather than just providing specific mechanisms.

BS
The sessions really bring everything full circle, so you can see exactly where you were at the start, and how much youve grown and become stronger. Im able to comfortably set boundaries I was not able to before, and really understanding my intrinsic worth has been life-changing. While the rest of my life will be a journey, I can see where Im headed vs. where I was, and keep my direction on course. Its like being given a map to a healthier, more confident self. I love the fact that though theres a specific process and steps to this journey, Tiffany is able to really personalize it along the way. She is so observant, picking up on and naming underlying emotions and issues in the way I phrased things, or gently noting blind spots that were making life and relationships more difficult for me. Her encouragement and genuine happiness at my progress were so good for my heart!

Steph M.