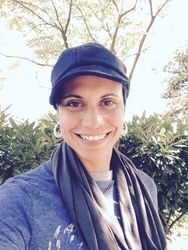 Tina Santos - Soul Circle Healing

Murfreesboro, Tennessee
Life Coach, Spirituality Coach, Relationship Coach
Holistic Life Coach Certification
I coach clients looking to become empowered to take the necessary steps to accomplish their goals. I help find balance in mind, body, and soul through teachings and modalities that fit their needs.
Details

Murfreesboro, Tennessee 37128
Hourly Rate: $85 US Dollars
Gender: Female
About Me
I began my spiritual journey at a young age when I realized my view on the world was different. I have always had an innate deisre to help others, and to encourage them to see their inner beauty and strength. From the first time I picked up a Wayne Dyer book in my early teenage years I knew that I not only wanted to live my life based on the concepts I was reading but I wanted to be a facilitator of it also. Through my life experiences and my own personal journey I made the decision to become a Holistic Life Coach and Reiki Master so that I can experience the beauty of assisting you in healing from the inside out, finding your path, and beginning to live the life you truly desire.
We often are our biggest roadblock to what we desire. We know what we wish to have in our life, but we don't know how to get it. "Where do I start?" is often the first question we ask. We look externally for the answers, only to come back to find that the actual answer is.. get ready for it... ourselves! Yes, we need to start with ourselves before trying to tackle external circumstances. We function at our absolute best when we are clear of blockages. Those blockages can be our own thoughts, our internal energy not flowing fully and freely, our body not being nourished how it should be to be able to work correctly for us. Once we get those aspects in order, those goals that once seemed too hard or possibly impossible become easier to approach and actually fun to work towards!
I have a background in spiritual and metaphysical studies, studying with the University of Metaphysics. I am a certified Holistic Life Coach through the Radiant Health Institute and a certified Reiki Master Practitioner through Healing Today. My business is called Soul Circle Healing, and can be found on the web. Thank you for reading my profile, and I hope to help you on your journey.
Reviews
3 reviews (5.0)
"The discussions that arose from these coaching sessions with Tina centered around an unexpected early retirement due to physical issues and what that might mean for me going forward...finding fulfillment when what was once a large part of my life is no longer there. She was thoughtful, insightful and offered tremendous support while guiding me through thought processes to find clarity. I could tell that she was genuinely engaged with me during these sessions and put me very much at ease speaking with her about this difficult crossroad in my life. I can honestly say that having these conversations with her...answering important questions and discussing some pertinent aspects of the situation, I feel I have come much closer to resolving many of my concerns and anticipate going forward with a positive outlook toward what could be the best time of my life." Read more: http://www.soulcirclehealing.com/testimonials/

Susan A., Massachusetts
"Tina is a great Coach! From the first session, her positive outlook and wisdom has continued to support me on my journey of personal and spiritual growth. She does an amazing job creating a comfortable open space granting me the confidence and security to tackle even the heaviest of subjects. I feel like I can talk about anything with her. Whether I am feeling overwhelmed or just don't know what to do about an issue, her thoughtful questions and insights always help guide me 'out of the woods'. I always walk away feeling more confident about tackling the challenges of life and discovering my true path. These sessions have really helped me in so many ways. I am very grateful for the guidance and clarity she has brought to my life. I look forward to many more!" Read more: http://www.soulcirclehealing.com/testimonials/

Ian W., Pennsylvania
"I had the opportunity of having two sessions with Tina these past few weeks and what a difference it has made! Her pleasant and genuine demeanor made it very easy for me to discuss my struggles with moving forward with my life. For the past few years I have been the primary caregiver for my terminally ill father which has not been the easiest of jobs. I often have felt all alone and struggled with trying to plan for my future without feeling the guilt of shifting my thoughts towards myself instead of my father. With some encouragement from Tina and her sincere sympathy for my situation, she helped me to not feel so guilty and start making strides forward so that I have a good foundation to continue to build upon my future. She has been a blessing with her insightful suggestions on how to proceed even as I continue to care for my father. I now believe I will have the courage and strength to achieve some of my personal goals that I had put on hold these past few years. I'm sure I will need her advice and encouragement in the future, but at least now I don't feel so lost, alone, and helpless to plot my future." Read more: http://www.soulcirclehealing.com/testimonials/

Bill T., Tennessee
The Smart Way To Find A Coach

1 Describe Your Goals

2 Get Matched

3 Free Consultations
Find My Ideal Coach Now