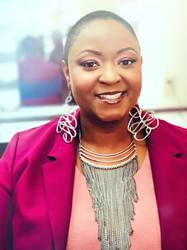 Toccara Steele

Frankfort, Illinois
Life Coach, Career Coach, Entrepreneurship Coach
Life Coaching Certification
I coach women to discover their identity by using insight, discernment, and sensitivity. As the Identity Coach, I unlock the potential of women by exposing their true value!
About Me
I am known for my zeal and enthusiasm for life. I am have often been told, when I enter a room, my presence is felt by all. I am a forward thinker who enjoys helping others embrace their brighter side of life. My motto is, "Choose to live on purpose, for purpose." I find joy in shifting my clients from their "now" to their "next."
2012 was the year of transition, transformation, and confirmation for me. It is known as the year that shifted my heart and mind, forever. For years, I allowed for my identity to be defined based on my education, career, title, or position. I even allowed my identity to rest in the hands of those who didn't even know who I truly was. It was the year I lost my job which allowed me to deal with depression and self-esteem issues I never dealt with until then. I broke through and this was the year I began my quest to boldly reclaim my identity.
2012 was the year I launched out to become a speaker and model which wasn't in my plan at all. It was this launch of faith that allowed me to continue to own my identity as I began building my brand. I started to realize that I was more than equipped to assist women, like myself, come through some of the most hardest and darkest places of their lives only to transform them into their most beautiful state of being... embracing their own identity.
What makes me an epic coach is that I use my discernment, powerful insight, sensitivity, personal experiences, my personality, love, wisdom and most of all humor to coach my clients. I never belittle them and always coach them to see the other side of where they need to shift their minds, hearts and souls to embrace the power of shifting from their "now to their next."
Today, I am the proud founder of Vault of Steele International. It is here where I house Toccara Nicole: Identity and Life Coach, LLC; Vault of Steele International, LLC and Vault Life Apparel, LLC.
Reviews
3 reviews (5.0)
Toccara is a bright, outgoing individual who can take your scattered thoughts and turn them into the reality that you are looking for. She always gives off positive vibes and ensures you are in a good place before the end of each session. Toccara helps you to brainstorm through many ideas to get you going and fired up with whatever your goals are. She is definitely a joy to work with and I'm so grateful to be working with her.

Krystal Bradley
Yes so much knowledge and experience! Highly recommend this kind, genuine elite coach!

Amanda Watt
Toccara is the sister I never had. I met her and instantly connected and she was real and transparent. It's good to know there are still women in this world that are true to who they are and don't want to hide. She owns who she is, spreads joy and is always uplifting women, especially young women as she is out and about. I watched her speak life to every young girl she saw at an event and I wondered how that life would change because of that one interaction. Her actions inspired me to be intentional about how I speak to and present myself to others when I'm around other people. She is always thinking about others and how she can impact someone's life, even in her business. Dr. Toccara Steele has really inspired me to dig deeper and find out what my purpose here on earth is; without knowing that you're lost. Lost is not a good feeling to have nor a good place to be. Dr. Steele helps you find your voice again and I am glad to call her sister, coach, and friend.

Riika Wright