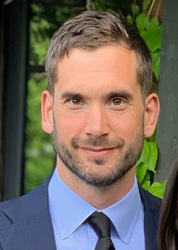 Tom Morgan

New York, New York
Career Coach, Health and Fitness Coach, Life Coach
FMCA
Personal Best NYC is for people stuck at a personal or professional crossroads. I can bring clarity to those lacking direction and hope to those feeling trapped. The experience is uniquely personal.
About Me
The world is faster-paced and more uncertain than ever before. Too many people are trying to manage the evolution of their lives and career on their own. 
You don't have to.
I have spent years researching the topics of career transitions and personal meaning. I strongly believe that a highly-personalised coaching relationship can help you find your meaning and purpose in the world. Coaching can provide us with the precious space to grow and evolve. 
As a former Managing Director on Wall Street I understand the many pressures of working in a fast-paced environment.
Personal experience with chronic pain led me to a qualification as a Functional Medicine Certified Health Coach (FMCHC). This is an intensive, year-long health-coaching qualification with a focus on nutrition, wellness and positive psychology (you can read more here).
I hold a first class MA from Oxford University in Philosophy, Politics and Economics.
Reviews
Tom doesn't have any reviews yet.