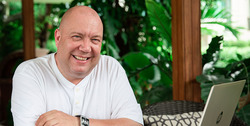 Tom Stenshavn

Chiang Mai, Chiang Mai
Business Coach, Life Coach, Retirement Coach
PBCA Professional Business Coaching Alliance, ICF - ACSTH International Coaching Federation, NLP Master practitioner
⭐Let me see your challenges with other eyes!⭐ Specialty: Problem solving / Living & Working in a foreign country / Cultural differences / Time management / Work-Life Balance / Travel &Tourism.
About Me
Hi. I am Norwegian, but i have lived in Thailand the last 20 years.
I am a business and life coach, able to assist you in finding the right path in your career and life, either it might be to find a new career or just do some changes in your existing one, change your life to create more happiness and stability in you and your family`s life.
My coaching resonates in any kind of industry, any place in the world, and one of my special fields is to assist foreigners who are working or are in the process of establishing themselves in a foreign country. Both in Business and in Personal Life. I have myself worked in foreign countries around the world, and i learned it the hard way. I will make sure that you get an easier path.
And I:
- Give assistance and guidance on both business and personal improvement.
- Make result oriented changes in your business to help reach your goals.
- Assist in how to relate to cultural differences.
- Assist in all it takes to starting your business.
- Training you and your management on keeping your business growing.
- Training you and your team to work perfectly together even if you come from different parts of the world.
- Train you on how to work with people from other countries than yourself.
You are my ideal client if you have one or more of these challenges:
- You feel that you work too much.
- You feel that you are not getting anywhere in your career.
- You have problems "fitting in".
- You have issues with your leader.
- You are a leader and have issues with your employees.
- You are looking for a career change.
- You wish to start your own business.
- You are working in a foreign country and have cultural challenges.
- You are planning on moving to a foreign country.
I am always starting our cooperation with a complimentary 20 minute to 1 hour session to see if we are the best fit.
Reviews
2 reviews (1 verified) (4.5)
Tom is a good career coach who aims to give you room to make your own decisions after considering different viewpoints. Also, he has a great time management course with lots of helpful material.

Amr
I was a former employee of Tom in his former tour company until 2017. After he sold the company, I started my own IT Service company in Thailand with help and assistance from Tom. He coached me on how to start a business, through business planning, strategic planning, and helped me through all the paperwork to avoid all the bureaucracy and trouble that was showing up along the way. He also did a 3 month coaching on how to operate my business, making sure that I now have a successful company operational for more than 3 years already. I recommend Tom as both a coach and an advisor/consultant, as he has strong knowledge about how to do business in Thailand and Asia, and he is also a person that never gives up on a client. Both thumbs up!

Ole Petter Løbak