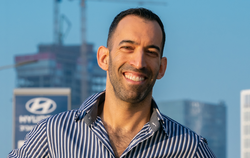 Tomi Dagan

New York, New York
Life Coach, Career Coach, Business Coach
BA, UC Berkeley, Lahav Executive Education (TLV University), ILCC (Coaching Chamber Certified), ISSA (Nutrition Coach), MBSR (Mindfulness Coach)
I help my clients build confidence, motivation & self-belief. Together we set goals and a roadmap to get there! You will take action and move from stuck to STAR of your life, relationship or career.
About Me
Do you know how AMAZING and CAPABLE you are? If you don't already know it, and sing it out loud and proud, well - it's a good thing you are here!
Welcome Aboard, I'm Tomi - a Board Certified Life, Relationship & Career Coach. UC Berkeley alumnus, with 8 years of experience. Prior to coaching I was managing and building large teams in various fields (High Tech, Retail, Wellness and more) - so if you have a business and want to grow it or get yourself promoted at work - this will also be your stop.
Having me as your coach will ensure you begin to adopt new forward-leading behaviors - and FINALLY dump those bad habits. You will feel proud of yourself, confident in your capabilities and begin to take action to move yourself, your relationship or career forward!

If you feel STUCK or UNSURE what to do - look no further. Get ready to be boosted with confidence, motivation and self-belief that will propel you forward. I have years of experience and acquired a myriad of tools and techniques to get you from stuck to STAR of your life!
Setting up goals and a clear roadmap with milestones will be an integral part of our work together. I am with you all the way until you reach your goals.
If you work with me, you will quickly begin to lead your life and not be led by it. You will start to take action instead of feeling a victim of circumstances.
I am here by your side all the way through - even when it gets tough. We will get through it together! I will be your listening ear, accountability partner and the one giving you that extra push when you need it the most.
I work with professionals, entrepreneurs and just anyone who wants more from life and is NOT willing to settle for where they are today. If this is you - read on.
**I offer a FREE 30 min consultation**
This is your space to check-in and for us to explore different strategies for moving you forward. Send me a message and we will set up your free session today!
Take a Step Forward. You Deserve it!
Tomi
Reviews
5 reviews (1 verified) (4.2)
Was not impressed with his values.

Paul
Tomi is an amazing coach with a knack for polishing your strengths and elevating areas for improvement. The concrete steps we took helped push me forward when I was in a bit of a rut. Tomi worked with me on scaling & revising my resume, cover letter, LinkedIn, sharpening my interview skills, and setting focused goals. After a few sessions with Tomi, I now speak more clearly and learn how to focus during an interview as well as tell a real-life story to illustrate my strengths. We were also working on other related topics such as problem-solving techniques and better time management (I now have blocks of time dedicated to myself ). He is an active listener and genuinely a positive person looking to ensure his clients' best outcome (along with having a fair price). Anybody would be lucky to work with him - I recommend him wholeheartedly.

Ryan L.
I have been working with Coach Tomi for the past 6 weeks and it has been life changing. I came to him in the middle of a very challenging personal struggle that was causing me tremendous pain. I had very little confidence, low self esteem and worried constantly about my future prospects. Coach Tomi has an incredible ability to get to the heart of any issue and work on practical solutions in his gentle-fun loving way. I leave all of our sessions feeling genuinely better and optimistic about myself and the future. Each week we come up with items to be accomplished before our next session, this keeps me on track and I can see in real time that our work together is making a difference. I am confident that you are in great hands in working with coach Tomi and will be on the path to great progress. I strongly recommend working with Coach Tomi!

Matthew S.
Tomi has helped me change my life in ways I could not have done on my own. He has helped me professionally, with my personal business, my finances, my social life, relationships, with health and fitness, and my psychological challenges. I know what I want to accomplish, but Tomi set things out with tangible goals for 3 months, with each week having its own goals. This has been an important tool for me to use alone, and while I have his help, he keeps me accountable to them on top of that. The biggest thing he has helped me with is fundamentally shifting my perspective in how I see myself, equip myself, and live my life. I thought being hard on myself was the way I'd accomplish what I want in life, but it was a key to what was hindering me. I've been comparing myself to my ideals rather than who I am now, and seeing things as problems rather than challenges. Tomi asks me what I've accomplished in a week or in a day, and with that tool he's given me, what even seems like failures become successes in learning about myself and making changes, and seeing things as stepping stones. When I address challenges in this way, I've adapted rather than feeling like I'm staying in place or going backwards. Tomi was a great choice from the beginning. I did introductory sessions with five other life coaches, and he was the only one who I felt helped me during the session, and listened and didn't sell himself and spend time going through his methods. Tomi doesn't act like he's an expert on you either - he gives you the steering wheel, but also asks you questions to find clarity and keep yourself honest about where you want to steer things. I have so many challenges, he has helped me more and more with all of them, and it's only the beginning. I was hesitant at first, but it's been worth everything I've spent, and will in the future. If you want to improve your life in a way that you will only live once, then I certainly recommend Tomi.

Nitin
In the time that I have spent with Tomi I have come to learn more about myself than I ever expected to. Tomi is very personal, understanding, and charismatic in is approach to challenge you to find the answers that you are looking for. I strongly recommend sharing with Tomi because you will definitely come out of it with a mindset that can not only better yourself, but better those around you as well.

S. Finan